What copywriters don't want you to know about writing the best email subject lines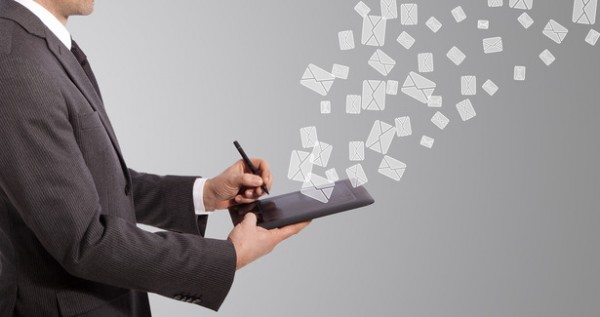 Be a thief.
If you need to write professional email subject lines that deliver high open rates, one of the best ways to do it – and one that's shared by almost all copywriters – is to steal ideas. And unless you live under a rock, you get some of the best email subject line examples in your own inbox every single day.
Professional email subject lines in my inbox lately have me stuffing my swipe file with a fun new one-word trend from political organizations that is still going strong, two years after we first wrote about it. (I don't know why they're the only ones doing it, but we should all try it.)
Which subject line would be more likely to get you to open it?
Stuck?
or
Please help me get the Highway Trust Fund renewed.
The former got me to open, even though I suspected that it might turn out to be an email requesting a political donation. Curiosity got the better of me – me, an old marketing hand! (It was a U.S. senator looking for constituents' help in pressuring the Senate on the HTF.)
Not only did the "Stuck?" subject line prove enticing, it's also well under the preferred character limit – on average, 45-51 characters are all that some email clients will show to your recipients, and generally speaking, shorter subject lines deliver higher open and click-through rates.
Email subject line examples
What else can you learn from your inbox? Here are some of the best email subject line examples from mine, starting with one from an investing publisher:
Why 95% of traders lose money in the stock market
The reason why subject line sparks curiosity – yes, why do 95% of traders lose money in the market? As this publisher did, you can shorten your subject line by using "why" alone, because "reason" is implied. In this case, that brings the character count down to an acceptable 49, instead of a risky 60.
Are organic foods worth the extra cost?
Marvelous! The question subject line is a classic, because it forces the reader to pause and wonder what the answer is. Result: A well-deserved open.
Here's a pure teaser subject line from the masters at Guideposts:
Threatened and scared, she turned to an angel
Even if you don't believe in angels, you'd be curious enough about the story after being teased like that to open the email!
Professional email subject lines can be fairly relaxed, leaning toward cute, clever and fun. They can also be serious and straightforward. Have no fear: There are plenty of best email subject line examples to come:
Do not live with regret let us help protect your family
This is a command subject line from a home security company – with a teaser subject line twist. The command subject line always starts with an action verb that demands attention. The "let us help protect your family" phrase is the teaser part – because who doesn't want to protect their family?
NOTE: Obviously this subject line is grammatically horrendous. I would rewrite it to:
Do not live with regret. Let us help protect your family.
Not only is this correct grammar, the two short, punchier sentences are more compelling. But why should you care about correct grammar? It's only a subject line, after all! No one uses correct grammar these days, right?
Well, yes. (Sadly.) But the entire point of correct grammar is to make your words more readable, and because the run-on sentence in the original subject line actually makes no sense as it is, it forces the reader to go back at least once to figure out what's being said. That may be the nail in the coffin for any subject line. Most readers will move on to something that does make sense.
Finally, for this subject line, I would also test the dire and curiosity-inducing Do not live with regret, all by itself.
7 prostate cancer warning signs
This is a list subject line. People just can't get enough of numbers, a truism that hasn't changed since marketing began. Have you ever noticed that half of the headlines on magazine covers are lists? "Seven fun new dresses" or "62 women influencing tomorrow's generation" – we use them because they will always work.
Then there's the very popular how-to subject line.
How to get 12 hours out of an 8-hour day
Just make sure your audience really wants to know how to do whatever it is you're promising, because this one is almost too classic – that is, overused. The one thing you have to guard against in writing professional email subject lines is familiarity among your audience. Change up your subject lines continually! To help you do this, Mequoda has identified not just all of the above types, but quite a few more in our post and video about the 17 Best Email Subject Lines.
What are some of your favorites? Do you borrow well-written subject lines? Share your ideas with us!
This post was originally published in 2012 and is updated regularly.