There are days when active decisions lead to favorable results
Over the Memorial Day weekend, I took a trip to northern Vermont. After a long day of hiking the state's tallest mountain, I experienced the concept of 'timing is everything' firsthand.
After the hike, we were seeking refreshments to replenish after the five-hour trek. In true Vermont style, we stopped at the Ben & Jerry's factory in Waterbury. We had arrived at 5:58 pm, and just as we entered the line to place our order, the gate was closed. If we had arrived mere seconds later, we wouldn't have been able to satisfy our craving. On that humid, sunny day, our timing was just right.
I brought this tip back with me because it relates directly to email campaigns. How you time your email communications will certainly have an impact on open rates and engagement. Are you sending the right emails at the most beneficial times? Let's take a look at some data so you can decide for yourself.
A look at sending email at the right time
If you were to ask the folks at MailChimp, they'd tell you that sending email in the afternoon is the best strategy. According to data released last quarter, the most active hours for email opens is 2-5pm. Their data, which includes millions of campaigns throughout many industries, shows that 3pm had the highest open rate of 6.93%. The lowest results were reported at 6am, when open rates reached 2.06%.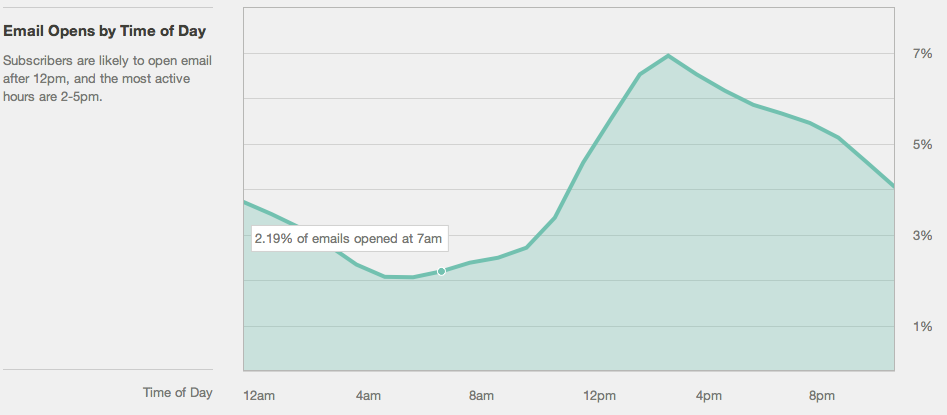 As a side note, the MailChimp data reported on the number of links in email campaigns. It found that more links led to more clicks. This isn't too surprising, but it's worth sharing the data. Email campaigns with 19 links faired the best, with a click-rate of 3.95%.
[text_ad]
Mail Chimp has one set of data, while Baydin has another. According to an article published at CBS News last month, "emails sent from 6 am to 7 am are about three times more likely to be opened than emails sent at 4 pm."
Clearly we have two sources with differing data. What's this mean for email marketers? Knowing your audience dictates the best time to send emails. As a B2B, we send at 9 am every morning so online business professionals can utilize relevant information at the start of their day.
Beyond knowing your audience, and testing different emailing times, providing the right message at the right time is crucial to better individual relationships. This notion refers back to lifecycle email marketing, which we've discussed in past articles. As StrongMail points out, email lifecycle marketing has helped their survey respondents increase subscriber engagement by 67%, and open and click-through rates by 55%.
Three tips for evolving your email campaigns
-Look at your email open rates and click-through rates. Send campaigns based on those statistics.
-Develop a lifecycle email marketing strategy that fits your needs and the needs of your subscribers by providing information at the most relevant times. After a user subscribes to your email newsletters, they are at the highest point of engagement. Welcome them to your publication and provide high quality content to further the relationship.
-Express your knowledge of your subscribers through email. Once subscribers make purchases, email them with surveys, learn about their thoughts on the product, and thank them for their business.
How are you developing your email campaigns? What time has worked the best for emailing your audience? Please share your story in the comments below.