The "social" in social media is what makes it so effective. Consider how the always sassy and witty @ColonelTribune has built a following of more than 807k followers as compared to its more corporate counterpart @ChicagoTribune with just 83k followers. While both accounts are run by The Chicago Tribune, the Colonel plays the role of community facilitator by encouraging feedback and responding to their readers.
While having a news persona like the Colonel isn't as popular in the news industry (although you might now be baffled as to why), there are a few great magazines who are reaching back out to their Twitter followers and encouraging conversations, rather than acting as a firehose of articles. Let's check them out.
Entertainment Weekly | aka @EW | 2 million followers
Entertainment Weekly isn't too big for its britches at over two million followers. When someone gives them a virtual high five, they give one right back.
@Keri_Moliterno We love you, too! Hidden gems are all @EWAnnieBarrett brilliance! — Entertainment Weekly (@EW) May 16, 2012
Newsweek | aka @Newsweek | 1.6 million followers
While not directly responding to readers, Newsweek does give them the official Twitter nod—the retweet—when people mention them.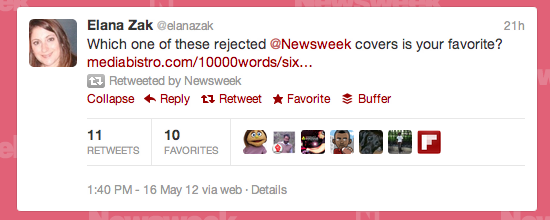 Health Magazine | aka @GoodHealth | 1.5 million followers
Health doesn't let a nice recommendation hang by the wayside, they show their appreciation by thanking their readers.
So glad to hear! Thanks for reading! RT @candice_bennatt: I love @goodhealth ! Great workouts and good quick healthy meal recipes! — Health magazine (@goodhealth) May 9, 2012
LIFE | aka @LIFE | 1.5 million followers
LIFE doesn't ask rhetorical questions for the sake of asking questions on Twitter, instead they go the extra step to complete the conversation cycle they started.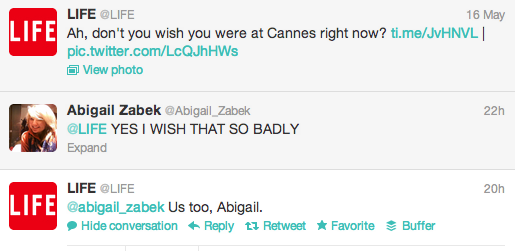 Learn the secrets behind today's most rapidly growing niche publishers. Download a FREE copy of How to Develop a Multiplatform Magazine Business Plan, and discover how large your magazine business could become and how much of an investment will be required to build your business to maturity.
Teen Vogue | aka @TeenVogue | 1.1 million followers
Teen Vogue has tripled their followers in the last year and a half, and that's after starting an entirely new Twitter account in November 2010. While they do get a decent amount of feedback from readers, they could really take even more advantage of their very social demographic with more thank-yous and other acknowledgements like below, possibly adding a little more elbow grease to those responses.
@daisymcnairy Thank you for the shout out!

— Teen Vogue (@TeenVogue) May 16, 2012
@samarahpoe Thank you for your feedback! — Teen Vogue (@TeenVogue) May 16, 2012
Elle Magazine | aka @ELLEMagazine | 1 million followers
The number one fashion magazine in the world isn't snobby. In fact they've more than doubled their follower count in about a year by using strategies that include responding to their fans, even if the statement is a little abstract.
@kristengracelam We dig that — ELLE Magazine (@ELLEmagazine) May 16, 2012
TV Guide | aka @TVGuide | 736k followers
TV Guide puts their editors on a pedestal by giving them recognition on the articles they write and also by displaying their Twitter names in the sidebar of their main profile page. By doing this, they're doing readers a favor by giving them more information about the articles they're promoting, and also giving shout outs to their editors too.
We're down to the final 3 on @AmericanIdol! @LindsaySilb recaps the performances: bit.ly/J0BKUL Who will go home tomorrow? #Idol — TV Guide (@TVGuide) May 17, 2012
People's StyleWatch | aka @StyleWatchMag | 668k followers
People has it's own branded feed, but StyleWatch gets it's own designated Twitter account as well. The folks at the helm of these tweets often comment on those who link to their articles. On the backend, they must be watching for mentions of their URL or brand name, because most often these retweets don't address the account specifically.
Such a cute look! RT @nyclaur: Annalynne McCord in her @BettinisBikinis in Star-Loved Swimwear for Less! peoplestylewatch.com/people/stylewa… — People StyleWatch(@StyleWatchMag) May 15, 2012
Nylon Magazine | aka @NylonMag | 478k followers
Nylon recognizes style when they see it, that's why they occasionally should out their stylish followers, which still keeps their feed relevant because it's all about fashion in their feed.
FANCY! "@StevenRojas: Kicking off @internetweek right with my @sandronewyork suit #iwny instagr.am/p/KnNQjkllqQ/"

— Nylon Magazine (@NylonMag) May 14, 2012
Prevention Magazine | aka @PreventionMag | 67.6k followers
This example from Prevention is a manual re-tweet of a follower who is sharing one of their articles. Getting this type of "shout out" for sharing is common practice for Prevention, and is a great way to encourage people to share your articles.
Ahh! Feeling relief already RT @fitsugar: If you suffer from lower back pain, these are great tips from @PreventionMag bit.ly/JlBylt — Prevention Magazine (@PreventionMag) May 15, 2012
One strategy that I wasn't able to find by a magazine,  is where you feature one of your followers. You might hold a contest asking them to hold up your magazine in a photo, or submit their favorite article. Then you give back by picking your favorite and shouting out their tweet as the winner. Here's a good example of retailer Kohl's doing it.
Friday's #KohlsLovesMoms winner is @SensiblySara, with a tweet that any mom would love. Find out how to enter: ctx.ly/r/395dc #contest — Kohl's (@Kohls) May 8, 2012
The goal of talking back to your readers is to get to know them better, and that's also the reason you're using social media to begin with. You can't expect them to shout your product from the rooftops, or ask questions, or even respond to your questions if you're not giving back in the same way, recognizing their efforts.