How less is often more, according to the results of a few landing page multivariate tests at Business & Legal Reports and Kiplinger
This week we've been at the 2009 SIPA 33rd Annual International Conference in Washington, D.C.. Yesterday there was a fantastic session called "Use a Proven Testing Method to Build Landing Pages That Work" with Bob Brady and Josh Baker of Business & Legal Reports, and Greg Krehbiel of Kiplinger.
The session focused on the many A/B and multivariate tests both Business & Legal Reports and Kiplinger have performed, and several ways they have boosted email and membership website conversions.
Two big take-aways from the session
One big take-away I got from Greg at Kiplinger was that response to one of their salesletters dramatically decreased when they added the price to their salesletter above the fold with a big red "order now" button.
Once identifying the depression in response, they removed the price entirely from the salesletter and now only feature the price on the second page of any given orderflow.
The second big take away I got, from Bob and Josh at Business & Legal Reports came in the form of their email newsletter signup page.
They found that these two changes, as identified by the results of a multivariate test, boosted email registrations by a whopping 73%:
– Removing the fields that asked for a username and password in the signup process
– Adding benefit copy to the registration page, which had previously been a simple registration form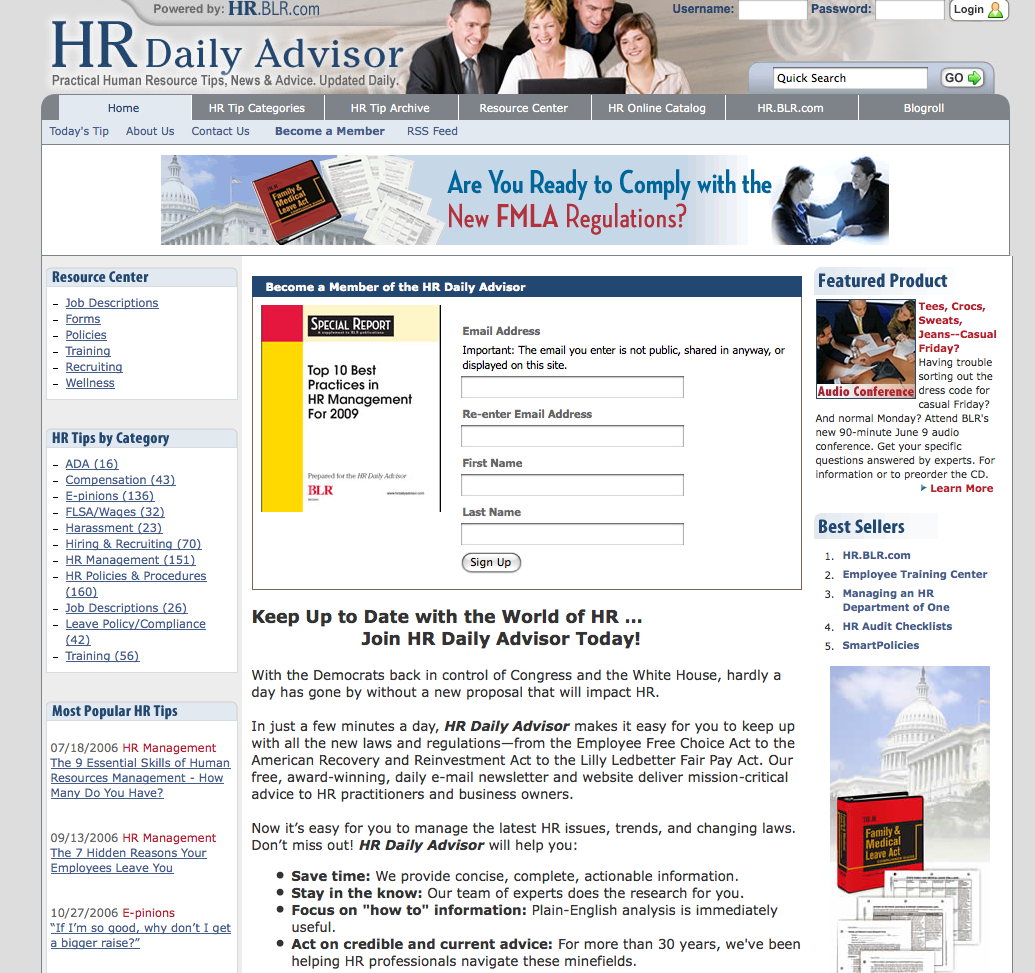 Sufficed to say, it was (from the feedback I heard, and in my own opinion), one of the best sessions of the entire conference. The take-aways gave publishers a solid notebook full of items to test or implement the moment they get back to work.
Coincidentally, Bob, Josh and Greg will be presenting the same material with us on June 10th in a webinar called Landing Pages that Work. If you missed this session at SIPA or were unable to attend, I urge you to attend with us in this "second chance" ideal situation.
There are many more take-aways that you'll get from Landing Pages that Work: Using a Proven Testing Method to Increase Conversion Rates, though:
How to use Google Website Optimizer to do A/B and multivariate tests on landing pages.
The startling facts about "ugly" web pages, (why you must be wary of beautiful landing pages created by graphic designers.)
How changing just five seemingly innocuous words in a headline improved response by 36 percent.
The critical elements to test in a shopping cart order flow. Get this right and you'll minimize user abandonment.
The surprising effect of photo images and colors on response rates.
How to use your web-analytics data to uncover which high-impact pages and user paths to test.
The ideal duration of an A/B test for reliable results.
The proven sequence in which to test variables. Get this right and you'll reap the maximum results from multivariate testing.
Where to get ideas for testing that will fine-tune your initial results.
How to understand the role of static vs. dynamic web pages.
How to structure URLs for maximum effectiveness.
How to properly use templates. Learn this and you'll save real time and effort.
How to measure and interpret site analytics. There are clues in the numbers that go way beyond the obvious.
The importance of keeping records and taking screenshots, and how to use them.
How to evaluate the effect of outside variables, e.g. when a sensational national news story breaks.
How to know if you have a large enough sample size to receive statistically significant results.
How to look for and document alternate lessons from your test results.
How to know which metrics to use to declare a winner (and how to guarantee you get them).
Bob's list of 13 best practices for testing and evaluation.
If you are a publisher, marketer, copywriter or website designer, you will walk away with tons of new ideas and a new found motivation for testing your landing pages, I promise.
Go ahead and register for Landing Pages that Work on June 10th at 12:30EDT. If you can't attend at that time, you can always register for the webinar CD instead and we'll ship it to you by June 12th.