Is responsive website design the future for digital publishers?
As websites optimize for growing mobile demands, popularity turns towards responsive website design. Although not a new technique for designing, digital publishers are quick to consider the possibilities that come with responsive website design.
After researching the topic, I've come to find three important elements to responsive website design: flexible layouts, flexible images, and media queries.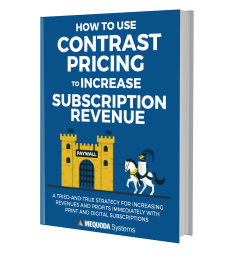 Learn how to choose the best subscription pricing & single-copy pricing strategy for your subscription websites & subscription apps when you download a FREE copy of How to Use Contrast Pricing to Increase Subscription Revenue.
Responsive website design element: flexible layouts – This aspect of responsive website design allows websites to match the device they are being viewed on. It resizes and repositions content as needed. For instance, the website would properly optimize for a computer's 17" screen or a smartphone's 3.5" screen. Flexible layout gained popularity as tablet design became a necessity for publishers.
Responsive website design element: flexible images – Similar to flexible layouts, developers can easily adjust images with responsive website design. Resizing of the image or cropping can be easily done.
Responsive website design element: media queries – This element allows designers to create layouts using the same content. This way, different style sheets can be used between mobile or PC settings.
If you are in the process of using responsive website design, this article from .net offers 50 tools for responsive website design.