Membership Website Mistake #8: Ignoring Organic Marketing
By— Chris Sturk • 12/13/2011
Publishers need to embrace organic marketing methods for audience development purposes. Utilizing only premium models is a mistake that isolates the single biggest channels for adding new subscribers to your database like search engine optimization and social media marketing.
It's important to understand that in a content-driven world you need at least one of two different types of subscription websites: the portal and the blog. Both of these content models are Google-friendly options, which makes it easier for your content to get noticed, crawled by the Google bots and ranked within search engine results pages.
------------------------------------------------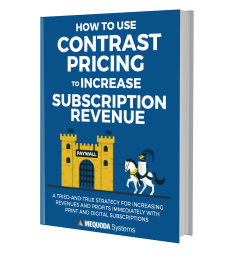 Learn how to choose the best subscription pricing & single-copy pricing strategy for your subscription websites & subscription apps when you download a FREE copy of How to Use Contrast Pricing to Increase Subscription Revenue.
------------------------------------------------
A lighter version of your content offered for free through your own blog or portal will increase website traffic and converted users. You can use this list of audience members to market aligned products that incorporate more content.
In order to start upon this process of developing a successful blog or portal, begin by taking advantage of the products you already have. At the same time, you can build out what you don't have. Launching an affinity site as a blog or portal allows you to open the organic marketing channel to a much wider audience.
Posted in Subscription Website Publishing