There are solutions to every website problem
You have a website and it costs money. So it should be generating revenue, right?
As we described Wednesday, that is not always the case. Most publishers have websites that contribute less than 10 percent of their total revenue.
We listed four reasons why a website could struggle Wednesday, but there are dozens more.
A lack of website traffic is a common problem. The best way to solve it is to use as many tactics as possible, including:
Beginning a viral marketing campaign in discussion forums
Including incentives to visit your website in direct mailings
Writing more press releases
Offering free content
Advertising in magazines
Pay per click advertising
Lead generation partnerships
Other website problems can be harder to define. They might include:
An over abundance or shortage of products
Improper website architecture
Disorganization
Poor usability
Inconsistent navigation
Stale content
Slow load time
Those problems, while not always clear, affect website revenue.
Defining and solving those problems is not easy, especially for a publisher trained in the print industry. But don't fret, there are solutions to every website problem.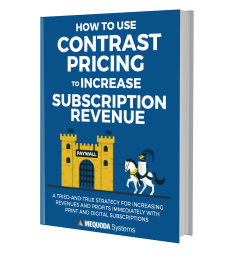 Learn how to choose the best subscription pricing & single-copy pricing strategy for your subscription websites & subscription apps when you download a FREE copy of How to Use Contrast Pricing to Increase Subscription Revenue.
The Mequoda Group's mission is to help publishers and authors master the Internet, and a large part of that is turning your website into a revenue machine.
If you attend the Mequoda Summit, you will learn everything you need to know to transform your publication into a successful online business.
At the Summit you'll learn how to:
Monetize more visitors
Create more products with the content you already have
Drive more visitors to your website
Create a user friendly website design
Develop publishing strategies for the digital age
Optimize your landing pages
Increase conversion rates
And much more…
We will help you define and solve your website's problems at the next Mequoda Summit, and help you improve on what you are already doing well.
If your website's revenue stream needs a boost, come spend a couple of days with us in Boston. You'll be glad you did.