eBay: People, Places, and Lots of Things
Just as the Internet was blossoming in the mid-90s, software engineer Pierre Omidyar established the world's first online auction site for mostly personal reasons. His fiancée (now wife) Pam—an avid collector of PEZ™ candy dispensers—was having difficulty finding other collectors with whom she could trade. Sitting in his living room in San Jose, California, Omidyar solved her dilemma—and that of millions of other collectors and traders in years to come. He created eBay.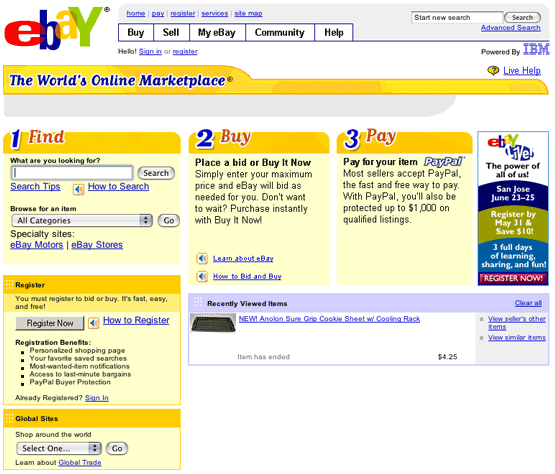 eBay.com
Filling a Need
On Labor Day, 1995, Omidyar launched a simple, easy-to-understand online auction format that he initially called AuctionWeb—a "perfect marketplace," where buyers and sellers were on a level playing field, the market set the price and people could meet others with like interests. He tacked AuctionWeb onto eBay.com, a site that belonged to his consulting firm, Echo Bay Technology Group.
The fledgling operation grew quickly and, in 1997, became a real company—with real venture funding and real employees—and officially adopted the name "eBay." In 1998, Meg Whitman joined eBay as CEO, a position she retains to this day. That same year, eBay went public. The eBay mission—"to provide a global trading platform where practically anyone can trade practically anything"—attracted a passionate community that now includes 135 million registered users around the world looking to buy and sell goods and services online.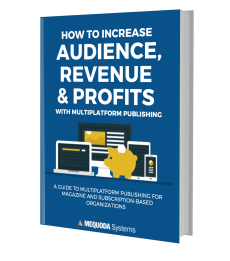 Learn the secrets behind today's most rapidly growing niche publishers. Download a FREE copy of How to Increase Audience, Revenue & Profits with Multiplatform Publishing, a guide to multiplatform publishing growth for magazine and subscription-based publishers. Download now.
Omidyar relinquished his involvement in eBay's day-to-day operations by the end of 2001, but continues as chairman of the board of eBay Inc. Meanwhile, his "perfect marketplace" has evolved into "The World's Online Marketplace™."
Automating the Auction
The auction is one of the oldest ways to negotiate a sale and one that has been commonly employed over the years to set prices for agricultural commodities, financial instruments, fine art and antiques. eBay pioneered the online auction site by automating the business model, popularizing it and broadening its scope to include unique attributes, a wide array of goods and services and a global reach.
EBay's main strength, according to its founder, is that its system is able to adapt to user needs without heavy intervention from a central authority. "Back in 1995, when I launched eBay," Omidyar explains, "eBay wasn't my business. It was my hobby. I had to build a system that was self-sustaining." In fact, Omidyar wanted to create a marketplace in which every individual—not just corporations—had equal power and equal access to information. Therefore, building a vibrant community—or, as he puts it, "an organic, evolving, self-organizing web of individual relationships, formed around shared interests"—was a crucial element.
EBay, which has been profitable since launch, has evolved into the most valuable e-commerce franchise in the world. It provides unparalleled selection and value for buyers and, at the same time, a cost effective way for sellers to reach millions of shoppers. Over the years, numerous services have been added—and continue to be added—to enhance the trading experience. Today, people spend more time on eBay than on any other site, making it the most popular shopping destination on the Internet. And in terms of revenue growth, eBay is the fastest growing company of all time.
Broadening the Base
eBay Inc. has three major business areas.
eBay in the US
About 40 percent of eBay users are U.S.-based, and some 430,000 of those (and thousands more around the world) actually make all, or most, of their living selling on eBay. In 2004, 24 percent of all e-commerce in the United States was accomplished on eBay.com (up from 16 percent in 2000), according to IDC. The company is looking to increase its market share through several new innovations targeting user acquisition and activity, trading formats, search functionality, category management and buyer marketing.

Category expansion is a prime driving force for growth at eBay. At launch in 1995, the site offered 10 categories of merchandise. Today, eBay members trade in more than 50,000 categories! Business strategies for 2005 and beyond involve accelerating growth in the largest categories (i.e. automotive, consumer electronics, computers), extending the breadth of related products in a category and nurturing the growth of emerging categories.

eBay has also used acquisitions to drive growth:

In 2000, eBay purchased Half.com, a fixed-price marketplace for previously owned products (e.g., books, music CDs, DVDs, videos) priced at least half off the list price. Fixed-price sales now account for about 30 percent of eBay's sales.

In 2002, eBay acquired PayPal, a service that enables any individual or business with an email address to securely, easily, and quickly send and receive payments online in real time—on eBay or elsewhere. (see #3 below)

And in 2005, eBay acquired Rent.com, a leading apartment and rental housing listing website and the premier third-party producer—online or offline—of verified lease transactions in the nation. Listings are available to renters, property owners and property managers in most American cities, including the nation's top 50 metros.

eBay International
Acquiring and building international online auction sites on a country-by-country basis has allowed eBay to rapidly leverage its infrastructure. eBay first went global by acquiring Germany's largest personal trading site in June of 1999 and, shortly thereafter, launched eBay in the United Kingdom. eBay.co.uk has become the U.K.'s largest online marketplace, with some three million items listed at any one time, and an audience of 10 million users per month. In January 2005, one out every three Internet users in the U.K. visited eBay.co.uk, spending more time on eBay than on any other website and more money than going to the movies.

"The World's Online Marketplace™" now has a presence in 32 international markets, and some 60 percent of eBay's new registered users come from outside the United States. EBay has integrated into its operation country-based auction sites in Asia, Europe, South America and Australia. The front-end experience for international users includes important features such as local currency, appropriate trading categories and a native community. Earlier this year, eBay launched an online classifieds site in select international markets under the brand Kijiji (Swahili for "village"), where people in the same city can share ideas, trade goods, and help each other through housing, job, and personal classified ads.

eBay management continues to enable cross-border trade to expand existing markets and seed new ones. While Europe is a major growth engine, Asia is the fastest growing region for eBay. In particular, China's eBay EachNet boasts 10 million registered users and exceeded $300 million in volume in 2004.

PayPal
PayPal, with a total payment volume of $18.9 billion in 2004, currently has 64 million registered accounts and is available in 45 countries (and five currencies) around the world. Nearly 9 percent of all consumer e-commerce in the United States and 5 percent globally (a market that exceeds $300 billion in sales) went through PayPal in 2004, according to Forrester Research and other studies. Some 73 percent of the U.S. transactions on eBay (and 58 percent of UK transactions) closed with PayPal in the fourth quarter of 2004.
Organizing Around the Community
Omidyar didn't have a specific plan in mind when he created eBay regarding how it would evolve over time. Instead, he encouraged eBay users to take responsibility for building the site. He solicited their emailed suggestions and considered their ideas for improvement—a practice that eBay management continues today. And he instituted the Feedback Forum, a system where buyers and sellers can publicly rate each other's transactions. Interestingly, most of the ratings are positive. Providing a forum for people to praise each other also ties the community together.
Of course, every community must have certain rules. For eBay, that means a long list of protocols (e.g., warranty rules, authenticity disclaimers, comparison policy, international trading procedures) and fairly obvious prohibitions (e.g., the sale of alcohol and firearms, bootlegged or counterfeit items, fireworks, government licenses).
Omidyar warned in a BusinessWeek Online interview in 2001 that eBay must be cautious as it grows and remember that its core is personal trade and the values are communicated person-to-person. "Our success is really based on our members' success," he said. "They're the ones who have created this, and they're the ones who will create it in the future. If we lose sight of that, then we're in big trouble."
In a 2002 commencement speech at Tufts University, his alma mater, Omidyar noted five essential values for the eBay platform:
We believe people are basically good.
We believe everyone has something to contribute.
We believe that an honest, open environment can bring out the best in people.
We recognize and respect everyone as a unique individual.
We encourage you to treat others the way that you want to be treated.
In the intervening years, eBay has become a profitable public corporation with 8,100 employees, and its user base has ballooned to 135 million people worldwide. Nevertheless, building a community with a strong spirit of camaraderie has been a—if not the—key to eBay's success.
"The World's Online Marketplace™"
eBay—the first, the largest, and still the most powerful online auction site—simply facilitates transactions between buyers and sellers and receives revenue via listing fees and/or commissions paid by the sellers. In a nutshell, eBay.com and its affiliated sites around the world feature:
An automated method of selling unique items. Every day on eBay, millions of people buy millions of items listed in thousands of categories sold by millions of members. Some items are rare and valuable, others are old or collectible, some are amusing and quite odd. At any given time, approximately 44 million items are available on eBay worldwide, some four million items are added each day, and nearly $1,200 worth of goods are traded each second!

A fixed-price purchase option. Besides the auction format, members can also buy and sell in a fixed-price, or "Buy It Now," format, which accounted for 30.7 percent of eBay's volume in the fourth quarter of 2004.

Thousands of product categories. eBay members trade in nearly 50,000 categories that include new or used items and professional services. Worldwide, a dozen categories delivered $1 billion or more in annualized "gross merchandise volume" (the value of all successfully closed listings) during the fourth quarter of 2004. The top-selling categories in that quarter were automotive ($11.1 billion), consumer electronics ($3.5 billion) and computers ($3.0 billion).

Reliable online payments. eBay's own PayPal system offers anyone with an email address a secure method of sending or receiving payments online. PayPal is the payment option used in nearly three-quarters of the transactions on eBay.

A community environment. In addition to its unique Feedback Forum, eBay offers members tools and services for both buyers and sellers, step-by-step guidance, news via a general announcement board and "The Chatter" newsletter, discussion boards and chat rooms, online workshops and events, mentoring groups, and the Developers Program for members who want to develop their own technology solutions.
Adding and Diversifying Traffic
Omidyar's enduring focus on the community—which, of course, is the site's lifeblood—has proven to be the most ingenious tool for increasing, expanding and diversifying traffic on eBay. Specifically, new and repeat use is encouraged by offering members free useful resources such as About Me (a personal eBay page) and My eBay (to track listings and transactions), valuable information through its discussion boards, newsgroups, and workshops, and promotional tools such as a warranty program.
Beyond that, eBay offers advertising tools to encourage traffic and make the site—and the member experience—more robust:
eBay Stores is a customizable storefront solution on the Web that includes advanced merchandising and marketing tools to attract and retain buyers, as well as business analysis and reporting tools to track and understand performance. eBay Stores is available to sellers for a monthly fee of $15.95.

eBay Keywords is a cost-per-click advertising program that allows sellers to create and manage their own keyword-targeted ad campaigns on eBay. The ad links directly to the seller's eBay Store or listing. Keywords average 20 cents per click, but the cost depends on how many sellers bid on the particular word.

eBay Affiliate Program allows members to link their own sites to their eBay listings. Joining is easy and free, and a commission is paid each time a site visitor clicks onto the eBay site, becomes a registered user, and either bids on or buys an item. Some affiliates report earnings of $25,000 or more each month!
eBay's global reach also serves to attract people, whether they're selling an item or looking to buy. Many brands that are popular in the United States are difficult to find elsewhere, so eBay's platform provides a broad marketplace for sellers and an enticing array of merchandise for potential buyers located anywhere in the world.
A Good Thing Can Only Get Better
eBay carefully measures its own performance. Total net revenues in 2004 were $3.3 billion, a 50 percent increase over the year prior. Of that total, $1.4 billion (42 percent) was realized from the U.S. marketplace, $1.2 billion (36 percent) from the international marketplace, and $.7 billion (21 percent) from payments (PayPal).
Of course, eBay carefully measures the performance of its members, as well. In 2004, the value of all successfully closed listings on eBay worldwide was $34.2 billion. Interestingly, in about 15 percent of those transactions, the buyer and seller were in different countries. "I'd be surprised if that's not 50 percent to 60 percent 10 years from now," notes president and CEO Whitman.
But money isn't the whole story for a community-oriented business such as eBay. Omidyar continues to be impressed by "the remarkable fact that 135 million people have learned that they can trust a complete stranger…an incredible social impact."
In the fourth quarter of 2004, eBay hit a rather astounding record of 889 million page views, 270 million searches, 15 million bids, and 11.7 gigabits of data per second in a single day! "eBay's potential for growth is greater today than it has ever been," reports Whitman. "We believe our businesses will continue to grow ahead of e-commerce, and we are extremely confident in the future."
No kidding!