If what we learned in Psychology 101 is true, the basic motivators of human behavior are simple: humans seek pleasure and avoid pain. You either have something you don't want (avoidance principle) or you want something you don't have (pleasure principle).
Psychologists tell us that everybody wants: food, shelter, health, sex, love, money and general well being. Look at every product you see advertised on the Internet or elsewhere. The ultimate reward to losing weight, finding a better job, buying a better home or car, etc., is finding intimacy with the person of your dreams—your soul mate.
Perhaps no one recognizes this desire, or helps fulfill it more scientifically, than Dr. Neil Clark Warren. He has the academic credentials that create a unique selling proposition.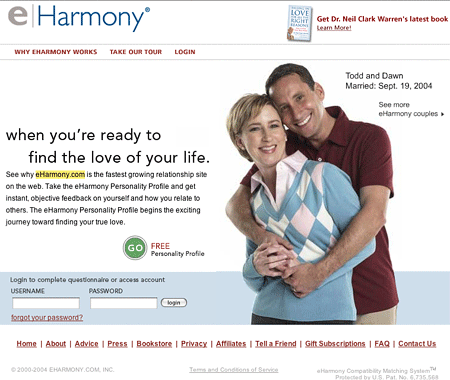 eHarmony Homepage.
Bringing science to online matchmaking
Although there are more than 3,000 online dating and introduction services competing to match up computer-savvy singles, Dr. Warren's eHarmony.com is the only service in the United States designed and operated by a psychologist. In addition to a Ph.D. in clinical psychology from the University of Chicago, Warren has a divinity degree from Princeton Theological Seminary and extensive experience as a marriage counselor. Plus, he is the author of eight books on relationships and a frequent guest on Oprah and other TV and radio talk shows—more than 4,000 radio and television appearances to date.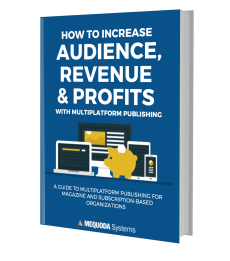 Learn the secrets behind today's most rapidly growing niche publishers. Download a FREE copy of How to Increase Audience, Revenue & Profits with Multiplatform Publishing, a guide to multiplatform publishing growth for magazine and subscription-based publishers. Download now.
It doesn't hurt that he has the perfect grandfatherly appearance for his role as TV pitchman for eHarmony.com. The commercials also feature testimonials from extremely attractive, smiling couples who have met through his online match-making service and are beaming with the happiness of married bliss.
eHarmony has changed the face of online dating, spearheading the movement from playful, online "meat markets" to more serious sites dedicated to helping singles find life-long commitments.
And the singles are not all 22-year-olds, either.
eHarmony reports that 10 percent of its current membership is over the age of 55.
"Single seniors, over a third who are widowed and nearly eight percent divorced, are turning to the Web for a chance at love," said Dr. Warren. "We are seeing an explosion in the numbers, and expect that to continue as baby boomers enter their golden years with greater life expectancy and disposable income. We are extremely honored to serve our mature customers in their search for a soul mate."
It's never too late to find your soul mate, eHarmony suggests. You simply need someone to match you up with someone who shares your essential values.
Dr. Warren's approach is a blend of the scientific and the romantic. It begins with collecting your basic criteria for a spouse or lover. His research, according to the company's website, found combinations of 29 key dimensions that help predict great relationships. These include character traits like adaptability, curiosity and intellect; family background and values, such as spirituality and feelings about children; and emotional temperament and skills, such as conflict resolution.
Patented process
In May 2004, eHarmony secured a patent on its proprietary "Compatibility Matching System," which the company characterizes as "the first and only industry patent of its scope," and established itself as the premier site to match singles based on scientifically proven dimensions that are present in successful marriages.
In studies of over 5,000 married people, Dr. Warren and his colleagues exhaustively researched what makes marriages succeed and fail. Some of their findings are no surprise, e.g., chemistry is not enough. "Almost all marriages start out with good chemistry, yet three out of four couples end up unhappy or divorced," says Dr. Warren.
Two eHarmony psychologists—one a Ph.D. and the other a Ph.D. candidate—validated eHarmony's compatibility matching models and presented their findings to the American Psychological Society's annual convention. They studied 273 eHarmony couples who married and compared them to other married couples. The eHarmony couples scored a higher degree of happiness, optimism and commitment to the success of the relationship than did other marrieds.
Wade through the scientific gobbledygook and the conclusion eventually emerges: eHarmony's program works "to assist the choices made by singles when searching for a relationship partner."
The eHarmony business model
Online dating takes the lead in online spending. According to Nielsen/NetRatings, an estimated 21 million Americans visited online dating/personals sites in December 2003, or a quarter of all singles in the United States.
In 2003, consumers spent $313 million on
U.S.-based dating websites alone.
(Jupiter Communications Inc., an Internet market research firm.)
Jupiter forecasts that will double to $642 million by 2008.
Dr. Warren's eHarmony.com dominates this market. Since the company launched on August 22, 2000, its growth has been phenomenal. Today, the site claims more than five million registered users who are seeking long-term relationships with compatible matches. eHarmony claims to be growing faster than any other online dating site, having quadrupled in size since January 2003. Its user base is doubling every quarter, adding 10,000 to 15,000 new users daily.
Seven months ago (June 2004) eHarmony announced that 4,786 couples matched by the service had married to date. The number now exceeds 6,000 couples and eHarmony claims the distinction of producing more marriages per match than any other online dating service. Who's going to prove them wrong?
eHarmony's unique selling proposition is its proven matching system based on the 29 dimensions of compatibility. The company says its service is underpinned by its highly accurate, patented scientific model for matching, which, it claims, is squarely built upon research conducted with more than 5,000 married persons. From careful statistical analyses of this data, a team of Ph.D. psychologists, led by Dr. Warren, extrapolated a series of insights and understandings about relationships that have become the core principles to the company's patented matching methodology and guided relationship-building process.
436-item questionnaire
Each new eHarmony user fills out a comprehensive 436-item relationship questionnaire. This inventory is designed to identify a person's key characteristics, beliefs, values, emotional health and skills.
Once the profile is complete, eHarmony employs its patented scientific matching methodology, which is based on the 29 dimensions it says are required for compatibility and relationship success.
When the matching technology has found a pool of compatible candidates, eHarmony guides each member through a four-stage process for meeting his/her matches and making intelligent decisions about whether to initiate contact. eHarmony calls these "rounds of communication," during which it assists its clients in communicating, beginning with identifying the characteristics that are most important to them in a mate.
In the next stage, eHarmony provides a forum for its clients to ask potential matches the important questions right up front, instead of waiting months to discover fundamental issues that can break a relationship. If both parties want to take the next step, the company presents the singles with a safe avenue to begin communicating directly with each other. Finally, they are given the option to show photographs and share email addresses and phone numbers.
"We do not, and can not, match a couple on chemistry. We urge people to join eHarmony for a year to give us the opportunity to give them as many matches as we can based upon their profile and parameters," say Dr. Warren. "They are urged to communicate with all their matches, but discard the ones who do not seem to spark an interest for them."
Unlike casual dating and photo personal sites, eHarmony requires a significant investment of time and effort. Based on the premise that finding a mate for life is the most important decision a person can make, eHarmony membership takes dedication and perseverance.
And it takes money.
eHarmony members pay:
$49.95 for a one-month subscription,
$99.95 for a three-month subscription,
$149.95 for a six-month subscription and
$249.95 for an entire year.
The company says eHarmony costs more than other dating sites because its users want more than just a date.
With upwards of 15,000 new members daily, eHarmony has found a formula for making money as well as matches. And it is extending its reach by forming partnerships with other online businesses.
Additional revenue streams
In November (2004), the company announced an exclusive partnership to bring scientific matchmaking to the rapidly growing community at Friendster®. As part of the agreement, the companies will jointly launch a co-branded matching service that will combine eHarmony's patented Compatibility Matching System with Friendster's 13-million member community to help Friendster members find love and long-term relationships.
Also in November (2004), eHarmony announced a partnership to launch branded online personals for USA TODAY and Gannett Company's other daily newspapers. Here, too, eHarmony's Compatibility Matching System will power personals for Gannett's news and information websites, including USATODAY.com, which gets more than eight million unique visitors each month. The partnership is expected to enable millions of online visitors to Gannett's other newspaper websites, such as AZCentral.com, DetNews.com and IndyStar.com, to also experience true compatibility with the click of a mouse.