Create a Website Inbound Links Report Using Site Explorer
By— Amanda MacArthur • 09/29/2008
Identify the percentage of inbound links coming to your conversion pages versus your home page
A successful publisher tracks inbound links to two places. The first is your home page. The second is your collection of Rapid Conversion Landing Pages that collect an email address in exchange for a report or free product.
Yahoo! Site Explorer is a free tool used to track the number of inbound links to a website. By tracking your homepage, or root domain, you can also see where on your website people are linking to you. More importantly though, to rank high in search engines you should have a stealthy brood of incoming links to your Rapid Conversion Landing Pages.
If you only have a few RCLPs, your link report won't be too long, but if you have dozens of RCLPs, the report will be a little more complex.
Here is an example of a generic inbound link report, and below are the steps to building one for yourself:

Go to Yahoo! Site Explorer
At the top of the page, type in your homepage URL and click "Explore URL"
Above your results, you'll see a set of numbers for "Pages" and "Inlinks". Click on "Inlinks".
Select the options that say Show Inlinks "Except from this domain" to "Entire site"
The number displayed next to "Inlinks" is the number of pages linking to your entire site.
Insert this number in your link report on line C2, under "Inbound Links" to your domain.
------------------------------------------------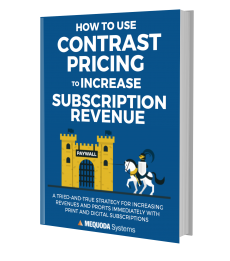 Learn how to choose the best subscription pricing & single-copy pricing strategy for your subscription websites & subscription apps when you download a FREE copy of How to Use Contrast Pricing to Increase Subscription Revenue.
------------------------------------------------

Now you have the total number of inbound links to your entire site. Next, you want to get the number of inbound links to each of your RCLPs. The process is the same.
In your link report, you can enter the number of inbound links in the "Inbound Links" column next to each RCLP. The "Total % of Inbound Links" is determined by dividing the number of inbound links to your RCLP by the total number of inbound links to your website.
At the bottom of the report, you can see the difference between what percentages of inbound links are coming to your RCLPs versus your home page.
Remember, when linking to yourself from external websites, think about what you will be linking to. When you comment on an external blog, you might think linking to your homepage makes sense, but often times it makes more sense to link to your RCLP where you can build incoming links for SEO and convert more traffic. Linking to your homepage is a brand strategy; linking to your RCLP is a conversion strategy.
Posted in Subscription Website Publishing