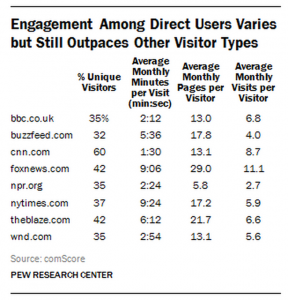 According Talking New Media, "three months of data from comScore finds that readers that enter a news website directly spend about three times as long on that site as those that come via a search engine or though social media such as Facebook."
For comparison:
Direct Website Traffic: 4 minutes and 36 seconds
Facebook: 1 minute and 41 seconds
Search: 1 minute and 42 seconds
I don't think any of this research is particularly alarming, since direct website traffic typically comes from someone who already knows and has a relationship with you. What's more important to me about this research is that Facebook and Search both have equal lengths of engagement.
These numbers in our experience can be drastically different based on which client you're talking to. Typically, social visitors last longer since not all search visitors know what they're getting into when they click a link. The study claims the same thing, saying that "Pew still found enormous variation in the time spent on a site, even when visited directly. FoxNews.com web users, for instance, spend over 9 minutes per visit, on average, compared to visitors to CNN.com." Pew also says that people who visit the website often tend to use the same channel every time (direct, social, search).
Another study published in November showed that "web readers consumed far more news through reddit, Twitter and Facebook than other social media sites, including LinkedIn, Instagram and Vine." Sixty-eight percent of news readers who get their news from social use the same social media site every day to get it.
More about all of this over on TNM.