How to define a social media policy for employees, using almost 200 different examples
Just as I found a database of over 174 different social media policies online today, I realized that we haven't really talked about them that much on this blog.
So, let's talk about it. Do you have a social media policy for your editors? Or, are you an editor that has any type of guidelines to go by, when deciding what (and what not) to tweet? If you're having trouble even trying to figure out what should be a part of your social media policy, take a look at a few very different examples:
The Roanoke Times lists their social media policy for employees right on their website, included with the rest of their blogging, privacy and editorial guidelines. The list isn't entirely specific and goes along the lines of "use your head before posting anything".
Microsoft's social media policy for employees looks like a Q&A sheet. Questions like:
Are there limits on the kind of micro-blogging account names I can create?
Should I register an account that identifies me as a Microsoft employee?
Should I disclose my Microsoft affiliation?
These are all very important questions that you could insert a "Your business name here" on.
The University of Michigan offers Guidelines for the Use of Social Media for their staff. This 7-page downloadable PDF starts off in the form of an instruction manual on the "how" and "why" they use social media and leads into robust sections on how to tweet as your self, how to tweet as the university, and also privacy policies.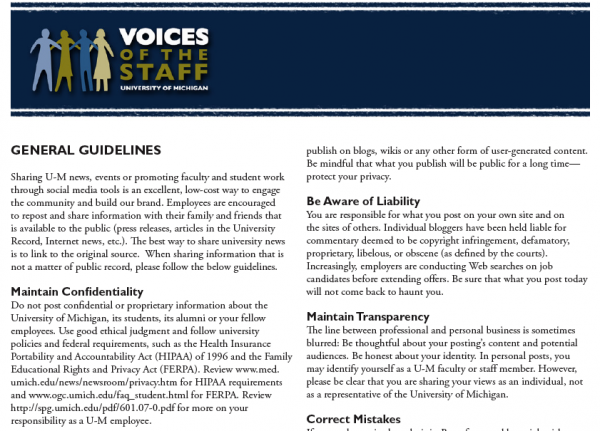 In order to not reinvent the wheel, I'd like to point you to About.com's guide for creating a social media policy for when you're ready to create your own. Shift Communications also offers a social media policies template to download.