Tablets begin to replace laptops when it comes to simple tasks like search and email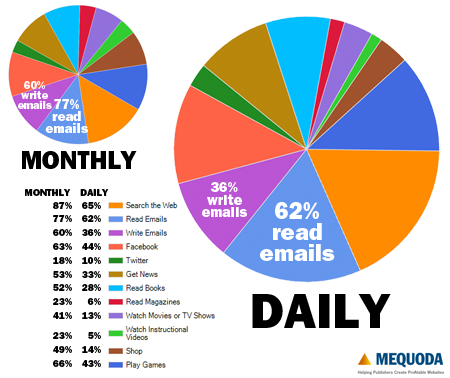 Everybody checks their email daily. I'm one of those millennials who stereotypically uses my phone as an alarm clock and checks my email before I even roll back the blankets and crawl out of bed in the morning. Personally, I find urgent morning emails a great incentive to wake up!
But once I'm out of bed in the morning, my phone loses second place to my tablet, an iPad mini. I spend the day with the tablet because it has my morning news (via FlipBoard), my digital dayplanner and editorial calendar. I have a 17″ laptop, but the iPad functions as my extended screen, personal organizer and quick  information shooter-outer.
I think, like most Tablet users, I use Tablets interchangeably with smartphones. If I don't have any calls on a given day, I don't even see my phone after its morning wake-up call and email check. It's tucked away. Unless I'm out and about, I'm probably using my tablet, not my iPhone. And after the workday is over, if I'm watching a movie and need to IMDB the actresses, or read the movie trivia, I'll use whatever device is closest.
If you had to ask me which device I check email on most frequently, I'd say it's equal now, but I'm using my iPad more and more. I've owned every iPad they've ever produced, but since I "upgraded" from the regular-sized iPad to the snack-sized iPad mini, I take it more places and use it to replace the functions of my laptop more often when I can. The size is perfect. And until they start making the MacBook Air in 17″, I'm happy not to lug my laptop around when I can avoid it!
In our first annual 2013 Mequoda Tablet Study, we discovered that the majority of tablet users feel the same way—they check their email daily on their tablets. The only thing people do more than check emails on their tablets is search the web.
In fact, while 65% of tablet users check the web every day, a whopping 62% read emails on their tablets daily and 77% say they've checked it on their iPad at least once in the past month.
Despite the limitations of a tap and type keyboard, 36% of the users in our tablet study say they also write emails on their tablets daily.
Email consumption is alive and growing right along with tablet consumption!
The tablet study, which consisted of 1,293 U.S. Adult tablet users, consisted not just of people who own tablets, but also those who use them, since we know so many families share tablets. The iPad won the vote for popularity, reining in 62% of ownership, which parallels similar numbers to their market share. The Kindle Fire was a strong second place, and a combined number of Android-based tablets rang in third.
Download your copy of our 2013 Mequoda Tablet Study: How American Adults Consume Magazines on Tablets.