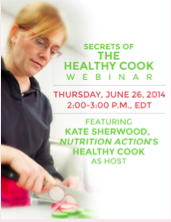 NutritionAction.com will present its Secrets of the Healthy Cook webinar on Thursday, June 26, at 2pm. But unlike most webinars, this one is meant for consumers, as opposed to businesses.
The program, which will feature the publication's Kate Sherwood, is a one-hour live event focusing on preparing healthier fare. The $19.95 registration fee will also include a digital recipe booklet, announced Director of Online Publishing Nat Parsons. In addition, NutritionAction.com will provide an archival recording for those who can't join the webinar during the scheduled time.
We're excited about this twist on live events from Nutrition Action, a Mequoda member. This unique B2C approach with the Secrets of the Healthy Cook webinar instead of the customary B2B webinar shows confidence in their strong content and represents a great opportunity to grow their audience.
To read more about Nutrition Action's Secrets of the Healthy Cook webinar, visit NutritionAction.com