Web 2.0 Expo Notes: Web 2.0 Supply & Demand Metrics Aaron Kim, Emerging Technologies Evangelist with IBM Global Business Services talks about metrics in a Web 2.0 world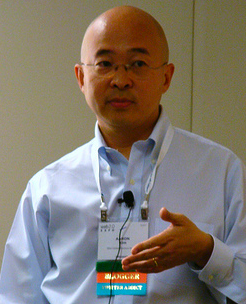 In a session called "Realizing Business Value from Web 2.0: An IBMer's Perspective on ROI, Metrics and Anti-Patterns" at the Web 2.0 Expo today in NYC, Aaron Kim delivered some Web 2.0 metrics to think about.
Supply Metrics (good, but not the same as business value)
Number of wiki articles
Number of wiki contributors
Number of wiki registered users
Contributors per page
Editing activity per page
Number of blog posts
Number of bloggers
Number of social bookmarks
Number of communities
Number of forum posts
Demand Metrics (think conversions!)
Page Content views (includes mouse-over)
Searches that are satisfied by user-generated content
Searches that are not fulfilled (helps to understand what content is in high demand and low supply, or just not "discoverable"
Comments by blog posts
Replies to forum posts
Social bookmarks per blog / blog posts
Qualitative Metrics
Create a simple questionnaire based on the business objectives you are trying to achieve and measure it on key project milestones: before implementation (baseline), after pilot, after training sessions, after 6-12-24 months.
Kim's Food for Thought:
There's an ROI for calculating ROI
Funding is a scarce resource
Bean counters prefer projects where ROI is easier to calculate
Corporate strategy often entails a decision on what NOT to invest on
Even when a decision is made to invest on Web 2.0 and Social computing, a measurement framework is required to decide which alternative to pursue
It's important to track progress compared to targets: when should you stop investing in something?
More notes and quotes from the Web 2.0 Expo (and still more to be added so stay tuned):
7 Ways to Get Ranked in Google
Web 2.0 Supply & Demand Metrics
Customer Service is the New Marketing