Discover ways to make your digital endeavors more profitable
Publishers are always looking for new ways to generate revenue online.
Since the Internet is consistently evolving, new opportunities arise for publishers.
A recent article from eMedia Vitals discussed five strategies for producing more digital revenue:
-Single-copy sales: with the popularity of eReaders and tablet devices, the single-copy, "iTunes model" can be utilized for editorial content. Companies have experienced a modest amount of revenue from this strategy.
-E-commerce: do you have products associated with your editorial content? Companies that sell aligned products experience a boost in revenue as their audience members discover value through editorial content.
-Marketing Services: Content syndication and custom publishing is being used to reach niche audiences while incorporating sponsorship deals.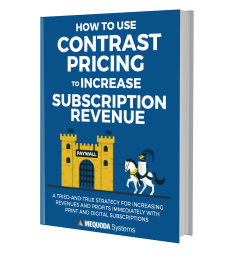 Learn how to choose the best subscription pricing & single-copy pricing strategy for your subscription websites & subscription apps when you download a FREE copy of How to Use Contrast Pricing to Increase Subscription Revenue.
-Archives: As we've discussed at length, archiving content and offering subscriptions through a subscription website allows users to hold on to their legacy content as long as audience members are interested.
-New ad formats: Tablet users are more into advertisements and like to see media-rich, photo or video heavy ads. Social media also allows publishers to experiment with social initiatives in hopes of going viral.
We are certainly in an interesting time for online publishing as new opportunities for revenue generation are being looked at, while older strategies are getting new life.
For more information on these five strategies, including examples of how companies are utilizing them, check out this article from eMedia Vitals.