Your blog or portal is central in building an audience. The amount of content provided in these locations equates to the amount of landing pages that can bring in audience members. The search engine optimization used on each of these pages and posts dictates the visibility behind them.
Multiplatform publishing has become the name of the game for digital publishers as they've realized there is a vast landscape online, one with many different options for users. In harnessing the power of multiplatform publishing, digital publishers can attract subscribers through their blog, portal, social media, RSS or email.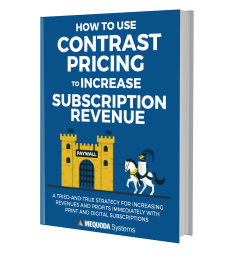 Learn how to choose the best subscription pricing & single-copy pricing strategy for your subscription websites & subscription apps when you download a FREE copy of How to Use Contrast Pricing to Increase Subscription Revenue.
At this July's Digital Publishing Bootcamp at New York City's McGraw-Hill Conference Center, tips on creating, curating and aggregating great content will be shared. This knowledge will help in the process of optimizing blogs, portals and other content types to perform as successfully as possible.
If you are planning on registering for the Digital Publishing Bootcamp, we recommend you do it by June 26th. After that date you will no longer be able to receive early bird pricing specials.
Learn more about the Digital Publishing Bootcamp now so you can register early.