Amazon.com: Bigger IS Better
Size may not always matter, but being big certainly does matter (and always has) to Amazon.com. After all, the company's mission is to be "Earth's most customer-centric company—a place where people can find anything they might want to buy online at the lowest possible price." That's a tall order in anyone's book, a big idea that finally, after 10 budget-busting years, has brought Amazon.com big success. The company behind what may be the most recognized brand on the Internet now generates billions of dollars in annual revenue and multimillions of dollars in annual profit.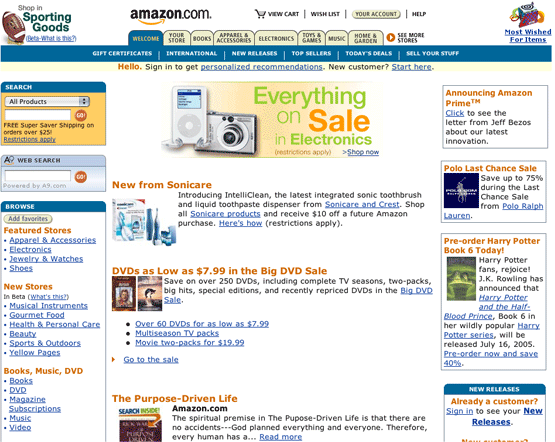 Amazon.com
E-commerce pioneer Amazon.com began, as most people will recall, as an online bookstore, dedicated to making book buying "the fastest, easiest, and most enjoyable shopping experience possible." But why books? For founder and CEO Jeff Bezos, the choice was obvious:
The selection and future supply of books is virtually unlimited.
Books are easily sampled online. Reviews and product descriptions that brick-and-mortar retailers depend upon to market books also work in the online environment.
Internet search technology allows customers to access the entire database of books in print. And an online bookstore can offer millions of titles, whereas the largest brick-and-mortar book retailer might stock about 200,000.
Today, Amazon.com has evolved into a mega-marketplace, offering Earth's Biggest Selection™ of products to customers in more than 220 countries around the globe. Besides books, its product lines include CDs, videos, DVDs, toys and games, cameras, electronics, kitchenware, furniture, computers, clothing and more. In addition, the site offers rich search options, browsing opportunities, personalized recommendations, auctions, responsive customer service, merchant partnerships, and website affiliations.
Get Big Fast!
Shortly after Amazon.com sold its first book online in July of 1995, Bezos is said to have described his concept to a colleague, who also happened to be an avid kayaker. Bezos explained that a visitor searching the word "kayak" on Amazon.com should not only find books on kayaking but should be able to read articles on kayaking, subscribe to kayaking magazines, book a kayaking trip anywhere in the world, discuss kayaking with other kayakers, even buy a kayak and have it delivered to the house. Amazon.com should offer everything to do with kayaking, he said, and that should be true for anything!
Bezos's vision wasn't only for Amazon to be big. His plan was for Amazon to get big fast. Expansion was accomplished partly by adding huge market chunks at once—music CDs, DVDs, jewelry, clothing, kitchen equipment, electronics, and so on—rather than gradually increasing its product lines over time. It was also accomplished through strategic partnerships and affiliations.
The most unusual element of Bezos's "Get Big Fast" business model, however, was placing market share and long-term growth before profits. The plan didn't forecast Amazon turning a profit for four or five years after launch—a strategy that frustrated investors and stymied observers as even that lengthy period of time passed without earning a profit. While Bezos and company were focused on broad, solid expansion, other dot-coms (many with little substance behind the site name) were racking up enormous profits for their investors—if only on paper.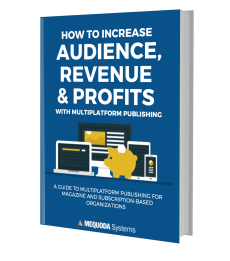 Learn the secrets behind today's most rapidly growing niche publishers. Download a FREE copy of How to Increase Audience, Revenue & Profits with Multiplatform Publishing, a guide to multiplatform publishing growth for magazine and subscription-based publishers. Download now.
But the "Get Big Fast" model paid off. When the dot-com bubble burst, most of the overvalued, undersized companies fell by the wayside, employees lost their jobs and shareholders lost their investments. As in the parable of the tortoise and the hare, Amazon.com marched forth at a slow, steady pace and, because of its sheer market size and depth, could deflect the blows delivered by a suffering economy.
The long-awaited sigh of relief for Amazon's investors finally came in the fourth quarter of 2002, when the company saw its first-ever profit, albeit a meager one. Amazon has been profitable ever since. Annual revenue in 2004 amounted to $6.92 billion, a 31 percent growth over 2003, of which $588 million was profit. For 2005, annual revenue is expected to reach $8.65 billion.
The Web Strategy
Besides sheer size, Amazon's success is based on strong core values—customer satisfaction, operational efficiency and employee enthusiasm—and an effective Web strategy. Indeed, the following tactics are responsible for bolstering the company's leading-edge status, enhancing its competitive advantage and driving its overall growth:
Marketing a line of quality products that interest and appeal to customers,
Offering those products at competitive prices,
Providing hassle-free service that satisfies customer needs, fulfills their expectations, and quickly resolves any problems,
Applying technology to make ordering easy, secure, efficient, and exciting,
Operating an efficient distribution network throughout the world, and
Growing exponentially via strategic alliances and acquisitions.
Conceptually, the Amazon.com website is an online catalogue of information and products, where customers can easily browse in various "e-stores" and search for specific products and services. From a content standpoint, the site has a hub-and-spoke structure. The home page is a hub from which visitors can click various e-store tabs or can use the main search tool to find a specific product or kind of product on any part of the site. Each satellite area, or store, is a separate hub, with full search capability within the satellite. Ultimately, all spokes link to the checkout, help or account management areas, which are also individual hubs.
The Customer is King
"Earth's most customer-centric company" obviously focuses on customer relationships. In a nutshell, that means making sure that customers find what they want, enjoy their buying experience, receive their orders promptly and come back again to purchase more. Amazon's huge selection of products, easy site navigation and order entry, and fast shipment do, indeed, cultivate customer loyalty. Some 40 percent of Amazon's sales are said to be to repeat buyers. But it isn't so much what Amazon does as how it does it.
Amazon tracks the browsing and purchase history of its customers and, through a collaborative filtering system, computes the similarity of preferences from one person to another. That allows the company to create a unique experience for each individual by suggesting products likely to interest that person. The suggestions are made in real time while navigating the site and also in email promotions.
The same system is used to recommend related books at the end of each book review that appears in the online bookstore. While this information is of interest to the customer, it also creates a tremendous cross-sell and up-sell opportunity for Amazon.
Amazon's powerful "A9" search engine allows site visitors to easily find whatever they're seeking. The landing pages are clean, colorful, and full of information relevant to the product or products featured on the page, and images don't take too long to load.
"One-Click Ordering" allows repeat customers or registered users to check out quickly without the hassle of keying in shipping and billing information each time they make a purchase. Orders are instantly confirmed via email and include an expected ship date.
Products are shipped promptly and confirmed, with tracking information, in an email to the customer.
Any problem? No problem. Returns, refunds, questions, complaints are all handled cheerfully, quickly, and satisfactorily.
In a postscript to his letter to shareholders in Amazon's 2003 Annual Report, Bezos highlights the company's customer-centric focus. "The widely followed American Customer Satisfaction Index gave Amazon.com a score of 88—the highest customer satisfaction score ever recorded in any service industry, online or off. A representative of the ACSI was quoted as saying, 'If they go any higher, they will get a nose bleed.' We're working on that."
"The right frame of mind is that your customers are loyal to you right up until the moment somebody else offers them better service." — Jeff Bezos
All Things For All People
In 2004, Amazon offered 4.5 million books and countless other products at unbeatable prices to customers around the world on its U.S.-based Amazon.com website, as well as on five additional sites geared specifically to customers residing in Canada, the United Kingdom, Germany, France and Japan, and an affiliated site in China. In addition, the websites of Borders, Waldenbooks, Virgin Megastore, CDNow and several other international retailers automatically redirect to Amazon's site, while Amazon operates the e-commerce functionality for Toys 'R Us, Target, and a number of other companies.
Besides the opportunity to purchase products, Amazon provides its customers with additional online functionality and interesting experiences, some of which include:
Book review opportunity, where readers can post their own opinions;
Used books, an option offered alongside the new versions;
"Search Inside the Book" feature, whereby users can search by keyword in the full text of 250,000 books;
"Friends & Favorites," chat rooms and wish lists that bring customers into a community;
Amazon.com Auctions, which allows customers to sell their used books, CDs, DVDs, collectibles, and other products;
"Amazon Prime," the company's first-ever membership program with an annual fee of $79, where members receive unlimited two-day shipping for free or overnight shipping at $3.99 per order regardless of the shipment size or weight;
"Yellow Pages," a beta program, where business can post listings for free; and
"Customer images," a beta program for certain product categories, where customers post photos alongside a review to illustrate specific attributes of the product and to show it in action.
Driving Traffic
To become the biggest and best retailer on Earth, Amazon has to drive a high volume of traffic to its site. Setting up strategic partnerships with other retailers and affiliations with numerous online publishers through its Associates Program helps accomplish that goal for the company.
Strategic partners pay an annual fee to Amazon, along with a commission on each unit sold. There are four different types of partnerships:
Major strategic partners such as Target, Toys 'R Us, Babies 'R Us, and Office Depot sell their own merchandise on their own sites via an e-commerce interface that Amazon.com provides; Amazon is responsible for order fulfillment and customer service.
Other major partners, such as the NBA and WNBA, use Amazon's technology platform to operate their online stores but also allow Amazon.com to sell the partner's merchandise on a co-branded page in an appropriate online store on Amazon.com
Still other partners, such as Circuit City and The Gap, offer some of their products in appropriate Amazon.com online stores. Those products appear along with similar products offered by other partners and by Amazon itself.
And finally, partners such as CarsDirect.com, Ofoto.com, and The Vacation Store provide products and services that Amazon doesn't offer. Those sites are merely linked to Amazon.com, and the customer actually transacts business on the partner's own site.
The Associates Program is basically an online referral scheme. Associates receive a percentage of revenue from sales generated by Amazon via click-through from the affiliated site. Amazon.com currently has nearly one million associates enrolled in the program and is said to derive 40 percent of its sales from this source. The program has five distinct membership categories:
Publishers whose books are included in the Amazon.com catalog.
Authors who have their own websites
Familiar sites that generate a lot of traffic
Print Publications that wish to enhance their online presence with book sales.
Special-interest sites or virtual communities that share a common interest
Amazon: Big River, Big Company
Forrester Research recently estimated that online sales would more than double over the next six years, growing from $144 billion in 2004 to $316 billion in 2010. With $6.92 billion in annual revenue for 2004, Amazon.com represents a healthy portion of total online sales. What began in 1995 as Earth's biggest bookstore with no profits year after interminable year has become Earth's biggest "anything" store that is now very much focused on profits. Big profits.
Incidentally, ever wonder why Jeff Bezos named his company Amazon? Obviously, it was named for the Amazon River, the longest river in the world. But here's the relationship: the Amazon is also the most voluminous river on Earth. Books, volumes, most volumes on Earth…get it?