By Amanda MacArthur • 09/06/2008
A hot new tactic for increasing landing page conversion rates for every entry point on your website is called a Floater. While it may look like a pop-up, it's not. Floaters do not open in separate windows and therefore cannot be blocked or banned. Website publishers we've talked with report a two to three times increase in conversion rates when pop-ups are replaced with Floaters.
Although a Floater looks like a separate document floating on top of a website page, it is really just a layer in the HTML code. To the user, it looks a lot like a magazine blow-in card. While printing blow-in cards and inserting them into print products is cheap, Floaters, like their Pop-Up predecessors, are virtually cost-less. Like blow-ins and Pop-Ups, Floaters can irritate users if over used or used to promote offers that seem out of context to website users.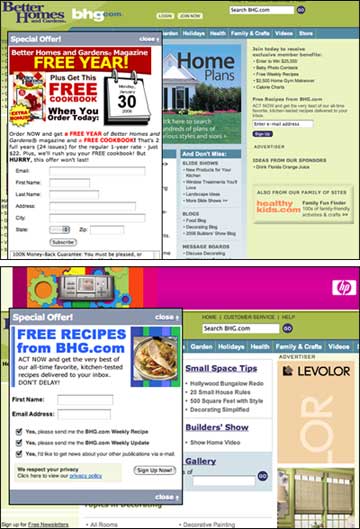 Example of Floaters on BHG.com
Related Posts
Posted in Glossary
No Responses to "Floaters"
Leave a Comment