Do you have all the "answers"? Quora, LinkedIn and O'Reilly do.
As an online editor for a reputable magazine, newspaper or newsletter, you are already considered an expert in the niche that your in and the "beat" that you cover. Otherwise, you wouldn't be trusted with being the voice of authority for your publication.
Fortunately, there are also several online platforms available to savvy online editors who want to increase website traffic by extending their reach outside the usual circles of their own network. At the end of the day, participating on these sites can indirectly send people to your website.
Quora – I can't recommend Quora enough to any professional who is looking to learn more about the companies around them, establish themselves as the experts that they are, and also extend an arm of their brand into a very popular professional platform.
This very popular professional Q&A forum is meticulously managed (by Quora and its users) and never littered with spam. If someone asks something like "Why did Google Answers fail"? Someone like Jeremy Miles who actually worked on Google Answers ends up answering. Or when someone asks, "What features did the early version of Facebook have?" you have someone like Adam D'Angelo, an early employee of Facebook giving you the details.
Don't think it's all buttoned-up business-like either; Questions like "What do people from Buffalo, NY think about the wings from "Buffalo Wild Wings?" pop up every day. In fact, sometimes Facebook employees respond to questions like that too.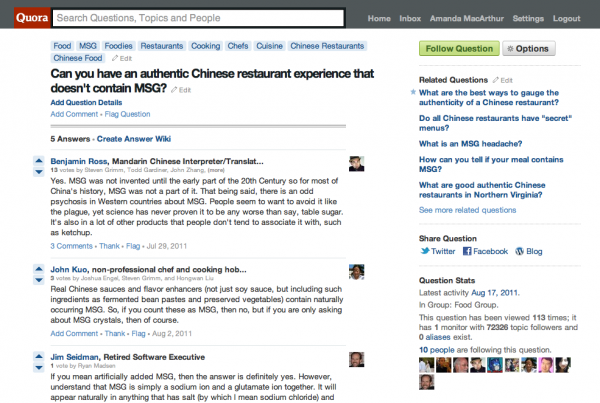 LinkedIn Answers is another great platform that works similarly to Quora except that you're still working within your own existing circles. Still, you can participate in Q&A threads and your LinkedIn Network will be able to see your answers in their network updates.
More importantly, people who aren't already in your network will be able to see your answers too if they're browsing. I've personally used answers on LinkedIn Answers as quotes in blog posts and sent web traffic to numerous commenters. Also, since answers are voted on by the users, you always have the chance to land on the front page in the glamorous "This Week's Top Experts" section.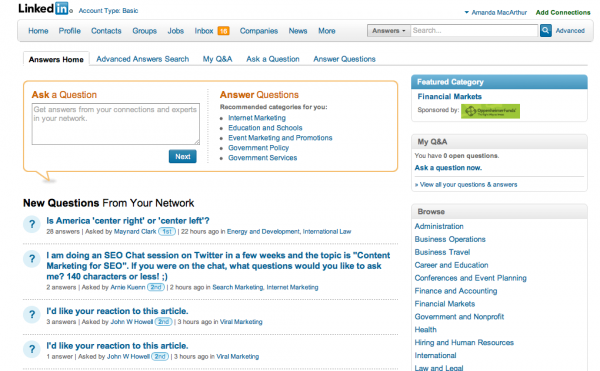 O'Reilly Answers – As long as O'Reilly isn't a competitor, you'll be hard-pressed to find another technology-driven Q&A forum. If your expertise lies anywhere in the technology field (or even if you dabble in web design), this could be a great forum to utilize.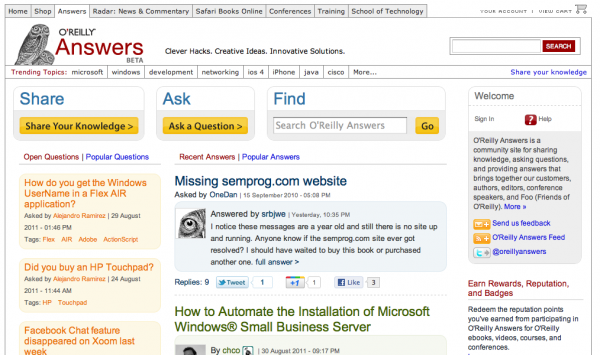 Oh and did I mention that this is just another platform that you may consider adding to your website? Like Daily Deal sites, Q&A sites are likely to be the next platform to over-saturate the market, so if you plan on getting in on it, now's the time.