Tips from the pros on how to create social media press releases
Ian Capstick of MediaShift at PBS.org defines a Social Media Press Release as "a single page of web content designed to enable the content to be removed and used on blogs, wikis and other social channels. In practice, social media releases (SMRs) feature multiple embedded links (a YouTube video, Flickr slideshow, SlideShare presentation etc.) and blocks of text similar to those found in traditional releases (spokesperson quotes, boilerplate and contact information)."
More and more press release sites are encouraging multimedia elements in press releases, making it easier and easier for us to create releases that can grab more attention.
The MediaShift blog on PBS.org shows an example of what MarketWire distributes as their social media press releases: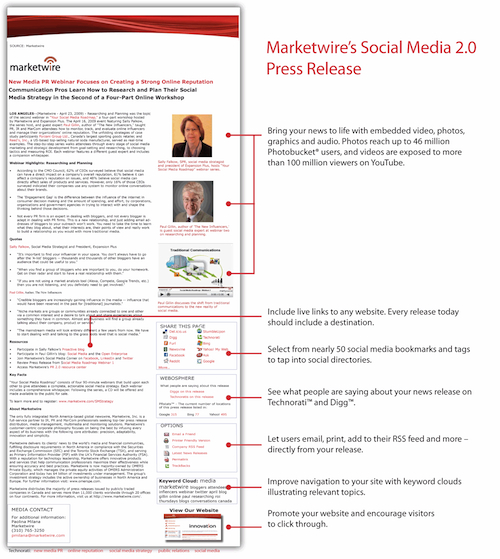 [text_ad]
Back in February 2006, Tom Foremski, journalist at SiliconValleyInsider.com proposed a new format for press releases, in an article called "Die! Press release! Die! Die! Die!".
In this article, he explained to companies exactly what he was looking for in a press release, which would make his job as a journalist much easier:
Deconstruct the press release into special sections and tag the information. This would allow the publisher to pre-assemble some of the news story and make the information useful.
Provide a brief description of what the announcement is, but leave the spin to the journalists. The journalists are going to go with their own spin on the story anyway, so why bother? Keep it straightforward rather than spintastic.
Provide a page of quotes from the CEO or other C-level execs.
Provide a page of quotes from customers, if applicable.
Provide a page of quotes from analysts, if applicable.
Provide financial information in many different formats.
Provide many links inside the press release copy, and also provide a whole page of relevant links to other news stories or reference sources.
And tag everything so that I can pre-assemble my stories. The tags would be things like: recent share prices, founders, first quarter revenues, analyst quotes, etc.
His clear, and not so subtle message was that "we should produce new media communications releases".
Additionally, now that the platform is available, we recommend adding video and pictures wherever it's appropriate.
So how are you recreating your press releases these days? What are you doing differently? Does adding video and pictures get you more press?