One of Google's corporate missions is to promote the creation of original content on the Internet, so finding a revenue model for quality content was a completely aligned goal. In June 2003, Google launched its AdSense program, through which a network of online publishers makes money directly off their content. Using its proprietary software, Google automatically matches advertiser-supplied text ads to the publisher's page content and instantaneously places relevant ads on the page. It's easy. It's risk-free. And everyone benefits—more or less.
Very few alternatives existed a couple of years ago for small publishers to monetize their sites through advertising. Banner ads or pop-ups were common; otherwise, the market was scarce. Google AdSense was designed to fill that vacuum.
"We wanted to create a program where website owners could easily sign up online and quickly be up and running and making money off their sites," said Gokul Rajaram, senior product manager of Google AdSense. "In most cases, the money that publishers earn through AdSense exceeds their revenue from any other online advertising source."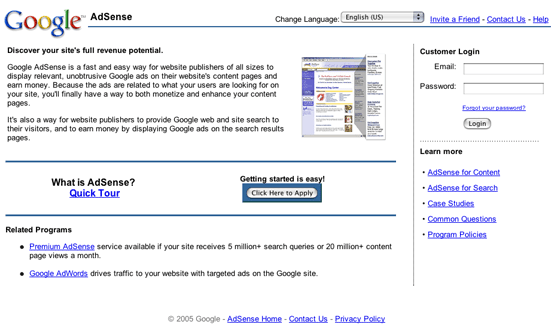 Google's AdSense homepage
How AdSense works
Implementing AdSense couldn't be easier. You simply sign up online and, after a basic approval process, Google provides a code to add to the pages on your site that you want to include in the program. "There's no cost, no risk, and no obligation," says Vik Kachoria, president and founder of RealAdventures, a vacation-planning portal with about three million page views and 500,000 unique visitors per month.
Kachoria joined AdSense in 2003. "Google has critical mass," he notes. "Other programs are out there, but Google has the computer power and technical resources to scan billions of pages of data, figure out what every page is about and which ad to serve, then serve it instantaneously."
The RealAdventures site has more than 15,000 pages of travel provider listings. By simply adding the code to a template, his database engine automatically incorporated the code onto selected pages. "Depending on your technical ability and the engine that drives your site," he says, "setting up the program could take five minutes or an hour."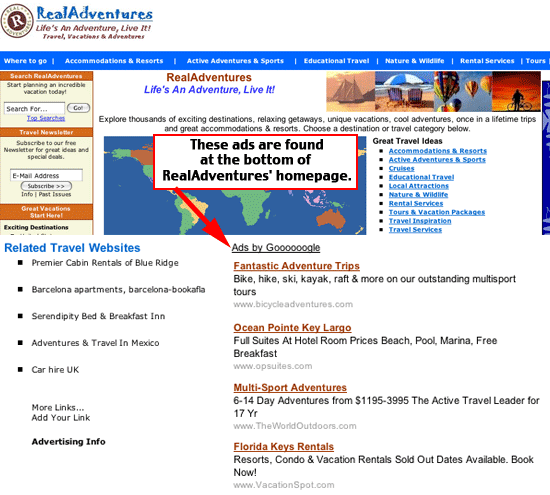 RealAdventures.com
AdWords, the advertiser component of the AdSense program, allows advertisers to create their ads right on the Google site, then bid on selected keywords. Advertisers don't bid on or select specific sites for their ads to appear. Google's powerhouse system then matches the selected keywords to AdSense partner site pages and determines exactly where to place each ad—all in a nanosecond. Every time a site visitor clicks on an ad, the AdWords advertiser is charged and the AdSense partner is paid (less Google's commission).
"We have so many sites on our network," Rajaram explains, "that it would be inefficient for advertisers to pick and choose sites." Instead, the advertiser can use Google's cost and traffic estimator to get a sense, based on historical and predictive data, of how much traffic a certain keyword might generate if a certain amount is bid. For example, by bidding 50 cents (or a nickel or $50) on a specific keyword, the traffic estimator might indicate that the advertiser could expect 5,000 page views. With an estimated click-through rate of, say, 1 percent (or 50 clicks) per day, the advertiser can then decide whether that's an acceptable response at $25 per day or whether to bid more or less.
The advertiser can monitor the system to see the actual number of page views that the selected keyword generates, along with the actual click-through rate, and then decide whether to make an adjustment.
Is the program right for your site?
Size, in terms of traffic or the number of site pages, doesn't really matter as to whether a publisher can, or should, become a Google AdSense partner. Quality content is the defining feature. In fact, the program is a great opportunity for publishers with quality content, but limited or light traffic and/or few site pages.
Our-Hometown, Inc., a service bureau that helps about 60 small-town newspaper clients leverage the latest Internet technology, partnered with Google AdSense when the program was still in its beta stage. "Trying to get third-party advertising revenue when you're not a big player has always been a problem," says Steve Larson, founder, "and performance is also an issue."
He put the AdSense program on his client's sites, which are all driven by Our-Hometown's proprietary software, "and we just couldn't believe the return," he says. With an aggregated total of just 1.5 million page views per month, the program provides about $6,000 in monthly revenue—and did right from the start. "The nice thing about AdSense," adds Larson, "is that it's made for anyone regardless of the site's size or its page views. Even our smallest client generates about $50 per month."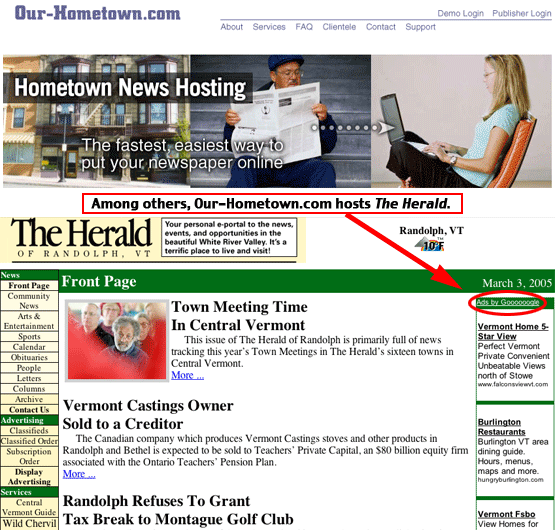 Our-Hometown, Inc., a service bureau that helps about 60 small-town newspaper clients leverage the latest Internet technology, partnered with Google AdSense when the program was still in its beta stage.
For RealAdventures, the benefit is also cash in hand—but Kachoria feels the Google ads also enhance the site. "Because all the ads are travel-related," he says, "they are an additional resource for our site visitors and add value for our travel provider clients."
RealAdventures is strictly informational; neither Kachoria nor his clients book trips on the site. "I can tell you," he admits, "that I was initially concerned about losing traffic by having a link to someone else's website—even though we would make a few cents or a dollar for every click. I spent a lot of time getting visitors to come to the site, so sending them away didn't appeal to me. But to my surprise, traffic actually increased and visitors spend more time on the site. It's sort of counterintuitive. Sure, some go away; but they come back, look at something else and explore even further. And on top of it, we make a little money!"
Google encourages any publisher to try AdSense. "It's absolutely risk-free," says Rajaram, "with no contract and no hosting fees. You simply sign up, download the piece of code and put it on your website for a few days. Watch it work and compare it to other revenue alternatives. In most cases, publishers have found that Google AdSense exceeds the revenue that they can earn through any other source, and they have opted to keep us on."
Google does, however, have basic policies with which AdSense partners must comply. For example:
The site must be:
Family friendly

no porn, profanity, violence, or racial intolerance
no sales or promotion of beer or hard alcohol, tobacco or related products, prescription drugs, or certain weapons
no gambling or casino-related content
no content that promotes illegal activity or that sells or promotes illicit drugs or drug paraphernalia

Functioning properly and easily navigable, with no broken links;
Adequately supporting user requests or inquiries
The site may NOT:
Have excessive pop-ups, pop-unders, or exit windows nor excessive advertising
Blend content and advertising in a deceptive manner
Offer or associate with some types of client-side software (spyware)
Place Google ads or search boxes on pages with ads or services considered competitive
Require the user to download a "dialer" in order to view content
Artificially generate clicks, draw undue attention to the ads, or contain any incentives to encourage the user to click on the ads
One reason why an otherwise qualified publisher might not want to participate is purely philosophical: The publisher may want the site—or certain pages of the site—to be completely ad-free. "On most sites, content is supported by advertising" Rajaram notes, "and we believe Google AdSense has the best type of advertising to support content."

iCalShare is another website that uses AdSense.
Some money is better than no money!
Each publisher partner receives an online "reporting console" to monitor activity and to review the precise effects of any changes made to the site. The revenue a publisher can expect depends on three main factors, according to Rajaram, which include:
Site traffic. The New York Times website, which is an AdSense partner and generates millions of page views per day, obviously is more likely to earn far more revenue than a site that generates only a few hundred or even several thousand or a million visitors per day.
Content category. If your site is about airplane manufacturing, the AdSense advertisements that appear are likely to be about buying and selling airplanes. And those advertisers are likely to pay more per click than, say, advertisers selling pens and stationery that are targeted to an office-products site.
Click-through rate. Publishers are paid per click. All things being equal, if 5 percent of your users click on an ad and 15 percent of the users click on an ad on another publisher's site, the second publisher would earn three times the revenue. Of course, all things are not usually equal, so the click-through rate must be considered with the content category and site traffic in mind.
Google AdSense provides its online publishing partners with a number of online tools to enhance the program's effectiveness and maximize revenue. For example, tools allow partners to incorporate colors, borders and other graphic elements. The most important tool, though, is a tracking tool. "We encourage our publishers to use quantitative methods," says Rajaram, "and we provide a lot of channels that they can use to track the performance of various parts of the site."
Sites often have several logical divisions, and each different content category can perform differently. A newspaper, for example, might have separate sections for general news, entertainment, sports, business, classified, etc.—and the revenue per click can be quite different for each. Or a travel site may want to create a separate way to track one destination vs. another. An advertiser bidding on a European city keyword, for example, may bid higher than an advertiser bidding on a keyword related to a destination in Africa.
To understand the divisions and help determine ad placement on the various pages, Rajaram recommends preparing a conception model of the site. Is the site small and homogeneous, with the same kind of content and design throughout? Or is it more general and heterogeneous, with many different kinds of content and various designs? A newspaper site's sports section, for example, might have a large photo in the middle of the page, while general news may be text-heavy and the classified section might have only listings. A publisher will want to treat each section differently and track each individually.
Meanwhile, don't think you'll get away with any tricks, such as artificially incorporating keywords into the text to generate more sales or leads. Google has something called "smart pricing," which is a ranking system that can detect that kind of thing—and resulting in your page being selected less frequently by the system. "Just create quality content," Rajaram advises. "Users will come to your site, and that will increase the number of page views. Then, use the channels to track your metrics. See how it affects your site visitors. And if you're selling products on your site, see if the ads help or hurt sales. Within a week—perhaps within a day if you have enough traffic—you can determine whether to continue. Lots of publishers are doing just that."
In fact, AdSense must be working for its partners—and for the AdWord advertisers. It certainly is working for Google. The company's 2004 revenue of nearly $1.6 billion from the Google Network, comprised of AdSense and AdWord, represented 49 percent of Google's total 2004 revenue and a 147 percent growth over 2003.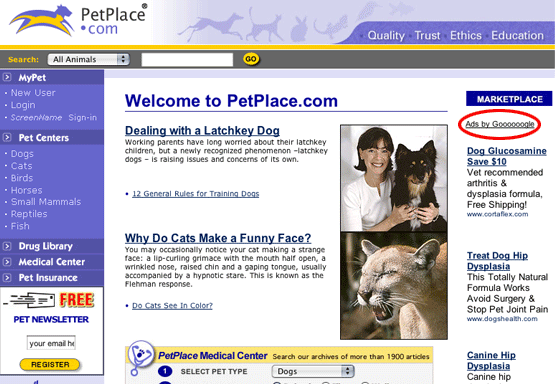 PetPlace.com also uses AdSense.