How large will your online publishing business become, and how much of an investment will be required to build your Internet business to maturity?
Every viable online publishing business, whether existent or contemplated, needs a business plan, including a five-year financial forecast suitable for senior managers, equity partners and venture capitalists.
Start in the red, break even in year two, and then move ahead to increasing nets sales and profits. That's the ideal (and simplest) publication business forecast.
Every senior manager and investor wants to see a formal business plan, and especially, the five-year, profit and loss forecast. They want to know immediately how large the business will become, and how much of an investment is required to build the business out to maturity.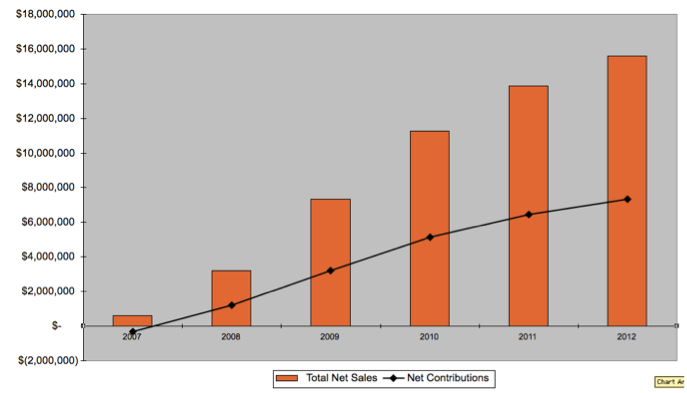 A bar chart like the one here for Flora Daily illustrates the three major factors.
The amount of money that must be invested in the project (net contributions).
The size of the business after five years (total net sales).
The profitability of the business.
Do you have an exit strategy?
If you know your market, these online numbers will also enable you to extrapolate the value of your business, and plan your exit strategy, should you decide to sell.
At this writing, the exit multiples for online publications are running between 10 and 15, with an average of 12. That means if your business is making $1 million in profit after five years, it probably can be sold for $12 million.
If we know, in the planning stage, that the business can be launched for $500,000 and sold for $12 million in five years, that is an attractive return on investment.
In other words, a business launched for $500,000 in 2009, that in 2014 is making $1 million annually, can be sold for $12 million. That's a simple return on investment of 24X.
Projecting how much your publishing enterprise will be worth requires you to take the long view of your business, as a banker or investor would. It's not only about how much the business makes, year-to-year.
A five-year business plan is an absolutely essential calculation for attracting investors. Their diversity of expectations can be very wide ranging.
Some financial backers might be satisfied with 5X or 10X their investment after 5 years.
Venture capitalists are often looking for a 40X or 50X multiple.
Alternatively, when a mom-and-pop operation launches a small publication with $100,000 of personal savings, the owners might be very satisfied with a business that simply pays them a good salary. They may not have expectations to sell the business in the foreseeable future.
The five-year business plan can forecast that scenario, too.
What's your publication's five-year business plan?
A complete Mequoda business plan strategy includes creating a publishing model, using the formal Mequoda publishing business plan creation technique, including key statistics and a five-year financial forecast for your market.
One of the many benefits of Mequoda Pro membership is the Mequoda Pro Online Publishing Model interactive spreadsheet, which contemplates all the factors you need to consider, whether you are launching or retooling an existing publication.
The Mequoda Pro Online Publishing Model interactive spreadsheet is available 24/7/365 for immediate download from the Mequoda Pro Download Library.
Join Mequoda Pro today at the special charter membership rate and get answers to your questions about online publishing and marketing, plus unlimited online access to all eight Mequoda Pro Online Seminars.