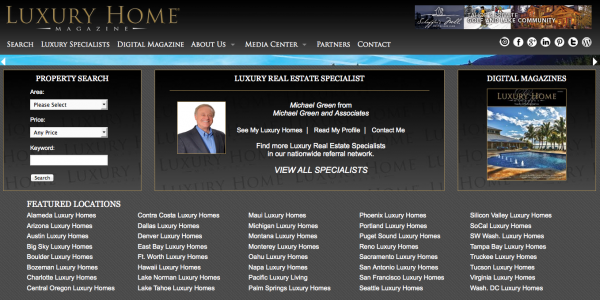 Luxury Home Magazine has announced that its new responsive design site represents a renewed commitment to full digital integration.
The "largest publisher of market specific luxury real estate publications" released details of its revamped website via PRWeb.com and Digital Journal earlier this week, touting a full compatibility with mobile and emphasis on strong social. Visitors can access free, market-specific digital magazine subscriptions through the site, as well.
"Our team has been hard at work for over a year, fine tuning this site and making the perfect adjustments to really make LuxuryHomeMagazine.com an interactive experience for the user," said Brad Taylor, CEO and founder, in a statement. "We are more than just a magazine; we are a fully integrated print and digital medium that focuses on one thing: luxury. Our site needs to maintain the same level of quality and visual appeal as the homes we showcase in Luxury Home Magazine."
Added SVP Emile Bonfiglio: "We have seen a constant rise in use of mobile devices and tablets accessing our website."
To read more about Luxury Home Magazine's new responsive design site, visit Digital Journal.