Three strategies your web magazine can take to the bank
Back in 2014, we partnered with Prime Publishing to launch America's first web magazine. Since then we've launched more than a dozen and have learned a lot. Prime's web magazine, I Like Crochet, is a linear, finite edition of a magazine. Readers progress through the magazine the same as they would an app or print magazine, except the pages are built in HTML and read like a webpage.
Unlike the magazine app edition, the web edition is accessed on the Internet through a web browser, meaning it's accessible on any device and any platform, without restrictions. And unlike print magazines, it also delivers access to a library of all past articles and special curated collections, instantly available with just a click.
[text_ad]
We recently made several major updates to the web magazine order flow that we expect to have major beneficial effects on Prime's bottom line, and which you can take advantage of too.
First, we updated payment processing systems. If you're not on a tier one payment processing and fulfillment system, you're leaving money on the table that's incredibly easy to pick up if you make the best choice for your business. I Like Crochet moved their fulfillment and payment processing to Strategic Fulfillment Group (SFG). This was a massive upgrade based on success with our other clients who have seen an increase of 20 points from a retention rate of 50% to 70%! This represents a 40% lift over the base in year one and a 121% lift by year five. This is the easiest money you'll ever earn.
Second, we took advantage of SFG's "FlexPage" system. They set the standard on allowing clients and agencies to easily create new subscription order pages that facilitate testing. The faster you test, the more you learn, and the more you learn, the more money you make. We'll also be using their system to deploy Six Sigma testing, so stay tuned for that.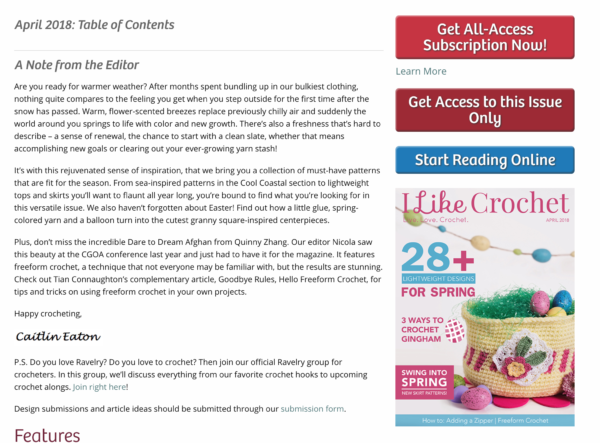 Finally, we enabled single-copy pricing. What's most interesting about this is that it shows a commitment to selling subscriptions. An annual all access subscription (includes both web and app editions) is $34.97, while annual access to a single web issue is $8.97. We did this to create parity around access, so that a subscriber to a single issue gets it for 12 months, just like an annual subscription. But when a user sees that they can access 3+ years worth of back issues in the web library for $34.97, they may do the mental math and decide that if they read just four issues in the next 12 months, it's cheaper to get an annual subscription. Plus if they were to buy all 26 issues in the archive individually, it'd cost $233.22. It is this overwhelming value creation, a phenomenon from economic behaviorism, that dramatically increases consumer adoption and response rates. We expect the single copy sales will generate less than 10% of all transactions, but will create a tempting comparison value that will increase annual subscription sales.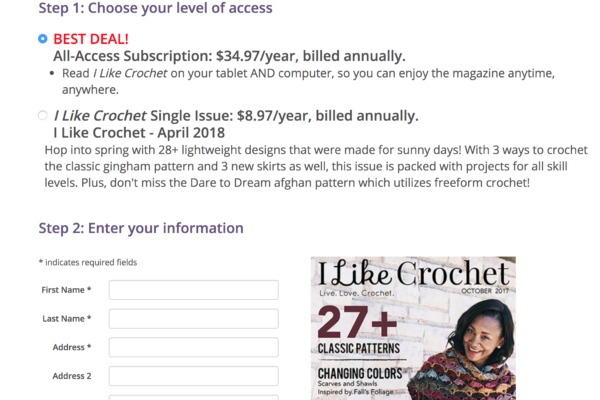 You might be thinking "what kind of face lift is this? It's all happening behind the scenes!" Well, if you were to look at I Like Crochet a month ago versus today, you might not notice the changes. To a civilian, they would appear subtle, but to an expert subscription marketer, they are revolutionary.
If you'd like to explore how we could double or triple your online magazine, newsletter and membership sales, please schedule a free consultation with a member of our consulting team.