How to Use Six Sigma for Subscription Offer Testing
By— Kim Mateus • 08/10/2017
If your sales are plateauing or losing steam, consider the last time you aggressively tried subscription offer testing with different offers.
"Never stop testing, and your advertising will never stop improving," said David Ogilvy, known as "The Father of Advertising" the "Original Mad Man". 
Even our best performing clients—who publish on multiple platforms, run several subscription websites, and have helped define our pricing best practices—will see a drop in subscription sales when they stop testing. I told this to a client recently who went from having some of the highest conversion rates of our clients to having our worst performing rates, and we believe the culprit is a lack of subscription offer testing with new offers, like a 30-day free trial. 
As Ogilvy made known, when you stop testing offers and creative, they fatigue. It's that simple. 
------------------------------------------------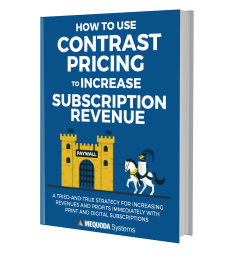 Learn how to choose the best subscription pricing & single-copy pricing strategy for your subscription websites & subscription apps when you download a FREE copy of How to Use Contrast Pricing to Increase Subscription Revenue.
------------------------------------------------
One of our clients experienced this recently and in response, we launched a high-frequency Six Sigma email spotlight program focused on selling more magazine subscriptions. We increased the number of magazine spotlights from the standard 2-3X per week to 5X per week and introduced editorially-driven creative to alternate between offer-driven creative. We saw a 70% increase in their TOPX (total orders per 10K email subscribers) from this program.  
The email campaigns are planned and measured in 2-week cycles, where we identify the 5 best performing spotlights and the 5 worst performing spotlights in a given 2-week cycle. We keep the 5 winners and include them in the next 2-week email cycle, and we replace the 5 losers with brand new creative.
Meanwhile, we are also testing the offer. For example, for this particular client, we ran one offer for 4 weeks and we ran a different offer for the next 4 weeks. The reason we recommend doing offer testing sequentially is because of the multi-device nature in which our consumers engage with our content.
For example, they may be reading your emails on their phone, but prefer to visit your website on their computers to subscribe to your magazine. In this scenario, we'd want the consumer to be able to find the same offer on your website as they saw in email. This can present a challenge of course in measuring attribution, but we prefer this approach as it provides a cleaner read on the strength of a particular offer when it's the only one being promoted across web, email and social. 
While this approach is a significant amount of work, requiring active coordination between editorial and marketing, on-the-spot analytics, great copywriting, and interaction with fulfillment to manage the offers, we have seen it work and strongly recommend all publishers try it.
Why do we call this Six Sigma and how is Six Sigma applied in subscription offer testing? 
Six Sigma methods are used in direct marketing to test a control against a number of variables. You test each variable against the control in order to declare a winner and this continues until all the variables have been tested. This can take place over the course of a month, or over the course of a year depending on how many variables you have to test. 
In subscription marketing, we adapt this structure to continuously test both offers and creative. Thanks to digital delivery and the power of continuous service, we're able to get creative with offer testing. In the coming weeks you can expect a list from us with 13 continuous service offers we recommend you start testing, like first issue free or 30-day free trials. 
And while it may be possible to find the ultimate offer or a selection of 2 or 3 from the 13 that can be rotated for maximum impact, the much bigger emphasis is on the email creative testing that's happening simultaneously with the offer testing. The high-frequency email spotlight testing described above is the only answer we've found to beat the fatigue. We believe the email spotlights are where we are making the most impact on increasing sales. Another leverage point we get from identifying winning email creative is that we're able to roll the winning copy out in other channels like web and social. 
The least successful subscription offer testing results show the hard offer is a loser
Selling your magazine without a soft offer, like a free trial or a free incentive, is tough. We've seen hard offers work with low introductory prices, but at full price, selling these alone can be a hard way to make a living.
Hard offers typically deliver only 25% of the response that can be generated using soft offers, such as free trials and free issues.  We experience a higher response rate when we test trial offers that include incentives such as free special issues or other digital content available only to premium subscribers.
Before the Internet and email, that 25% could have still been a good strategy because it saved publishers a ton of money in mailing bills and conversion series efforts. In today's world that advantage has disappeared and so we are more encouraged to offer aggressive introductory offers to build our subscriber base.
With introductory pricing, we recommend using two different prices for new subscribers and renewals. Another option we often recommend is step-up pricing, a strategy that has three prices: One for new subscribers, a slightly higher one for renewals, and an even higher price for those who have already renewed once.
Start thinking about new ways you can begin subscription offer testing and how you're going to leverage your editorial team and their expertise to craft intriguing copy specific to what the consumer will find in the current or archived issue of the magazine you're promoting. Start coordinating with your fulfillment team to create different offer types to include free trials and monthly price points billed quarterly or bi-monthly. So many options, let the fun begin!
Next, read Six Sigma Subscription Marketing: 12 Offers That Boost Response Rates.
To discuss how we can help you use subscription offer testing to grow your audience, revenue and profits,schedule a free introductory conversation with Don Nicholas, our Chairman & CEO.
Posted in Subscription Website Publishing