What to look for in online calendar management software, from Haven Calendar, to All In One Events Calendar, The Events Calendar, My Calendar, and Booking Calendar.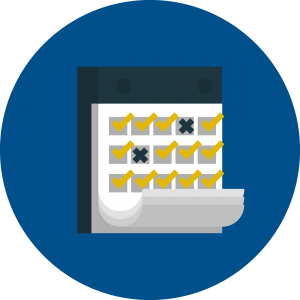 Online calendars are used by all kinds of organizations, from the largest trade associations to the smallest garage bands. Like many other things in digital publishing, the functionality itself isn't so special, but how you use it can make a huge difference.
Many publishers use website calendars as another way to reach out to their audience by providing an online, centralized source of event information. These publishing events can range from the biggest industry conferences to the smallest get-togethers (like a happy hour) for learning and networking. Many publishers not only lists event details, but allow users to add the event to their Google calendar or export to another calendar system.
Also, members of the community can submit event listings for approval by the publisher – bringing an interactive element between the publisher and the audience. Nothing gets a community going quite like user-generated content. Allowing your audience to submit events to the calendar can create a sense of a shared community with your audience, and build the publishers reputation as leader in the niche.
[text_ad]
Mequoda's Online Calendar Management Software: Haven Calendar
To display an event calendar on your event website we created Haven Calendar as an online calendar management system that allow you to set up and categorize event listings with all of the relevant date, time and location information. Users can add the event to their Google calendar, or export to iCal, and easily search and share events. This allows the publisher to deliver specific, relevant information directly into your customer's calendar.
These tools allow you to effectively capture your customer's time and attention.
The module allows event organizers to submit event and venue information for approval by the system operator. The system also allows the operator to define associated SEO tags and expire listings that are no longer relevant.
Other à la carte online calendar management systems
If you are using a WordPress site, there are plug-ins with various levels of functionality. Simple event calendars that list date, time, location etc. can be used just to list events for others to browse. Other solutions are more advanced and can allow users to confirm their attendance to an event, or even charge for the event using a payment gateway such as PayPal.
Some of the providers include All In One Events Calendar, The Events Calendar, My Calendar, and Booking Calendar.
If you are not using WordPress or another CMS, the easiest option is to go with one of several vendor services. The implementation is easy, but you will have to do some customization work so that is appears as you wish.
Google Calendar requires a free Google account, but is widely used and popular with many people. You will have to set the calendar to public, instead of private, and you can allow staff members to add and edit entries.
Similar functionality is available with Windows Live Calendar. You can embed a calendar on your site and customize the display. This option makes sense if you already use Hotmail or Windows Live Calendar to track events yourself.
Regardless of the choice, website calendars are not difficult to implement, but can add a nice functionality for your audience.
Haven Nexus is built with efficiency in mind
Haven Nexus CXMS is a state-of-the-art SaaS content management and publishing tool built, owned and maintained by Mequoda to enable all the functionality that multiplatform publishing businesses need to be successful and profitable.
Unlike retrofitted websites with disparate systems that make customer service and reporting more difficult, Haven Nexus gives you a complete, central database that informs your marketing decisions and helps you maximize the lifetime value of each subscriber. We manage all the infrastructure, so you never have to look under the hood.
We've even identified the best partners so you don't have to research software, email, hosting, and other functions on your own, or take stabs in the dark. When you put your system management into the hands of the industry's only strategy-centric provider, your organization reaps the benefits of stress-free technology, content-focused implementation and ongoing profitability.
Schedule a 30-minute complimentary consult with Mequoda's founder Don Nicholas to learn more about Haven Nexus.