Discover the membership website content model that fits your content best
In our new Membership Website Strategy free report, you will discover the nine deadly membership website mistakes and the nine membership website content models, including six premium and three affinity models. Premium membership website content models require registration and payment to access all of the content. Affinity membership website content models require only registration to access all the content. These membership website content models include:
Premium Membership Website Content Models
• Newsletter – The newsletter model is used to build subscriptions for a related print or digital newsletter and to provide access to issues of the newsletter.
• Club – The club model provides content and a place for interaction to their core audience members.
• Magazine – The magazine model is set up to build subscriptions for a related print or digital magazine and to provide access to issues of the magazine.
Find out the CMS features that publishers require to manage an online publishing business. Download a FREE copy of 7 Ways Haven Wordpress Goes Beyond Wordpress, and discover the features all publishers should have access to for a bigger audience, greater revenue, and higher profits.
• Periodical – The periodical model offers regularly updated news content, which is expectedly consumed online, primarily in HTML, rather than downloaded.
• Application – The software application model allows access to specialized online software (also known as "apps") that allows users to input information, use calculators and/or search a proprietary database, and access results.
• Reference – The reference model allows paid subscribers continued access to a library of content that is updated constantly with new information.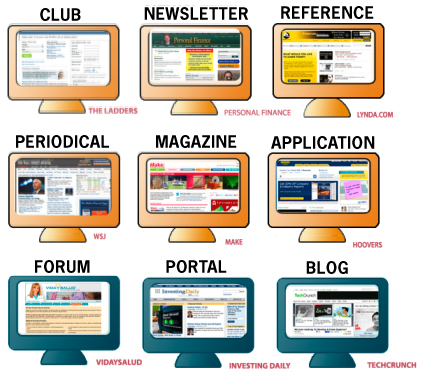 Affinity Membership Website Content Models
• Blog – The blog model blends publisher and user-generated content that is updated frequently and consistently with articles posted by one or more authors and corresponding reader comments.
• Portal – The portal model aggregates content from outside sources. Portals are intended to build and feed an audience; they are specifically designed for SEO, email marketing, list building, and lead generation.
• Social Network – A social network is a powerful networking tool that relies primarily on user-generated content.