Discover how we increased conversion rate by more than 30% when you download our updated Rapid Conversion Landing Page Optimization Guidelines
Download a free copy of Rapid Conversion Landing Page Optimization Guidelines now
Most content marketers we talk to wouldn't mind having a higher conversion rate.
How about you – would you like to have a higher conversion rate? If so, we have a major suggestion for you…
Our Rapid Conversion Landing Page Optimization Guidelines free report has been updated and re-released with information on how we were able to increase our conversion rate by 32% with one simple, yet radical, change to our free report landing pages.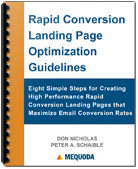 In addition to this actionable information, this free report contains eight simple steps for improving your rapid conversion landing pages.
With this report, you will learn:
-How to pick a topic to create a free report and rapid conversion landing page on
-A step-by-step process for writing the related content, including information on creating keyword-rich headlines, subheads and meta data.
-The process for developing a free report that your audience members will want to read and share with friends, family and colleagues.
-The strategy we used to increase conversion rate on our rapid conversion landing pages by 32% in only a few months.
-Examples of well optimized, highly converting landing pages
Unless your landing pages are converting at 100%, you could use some suggestions for maximizing your conversion rates and building your email file.
Generate more revenue with a bigger email file, and develop that email file with rapid conversion landing pages. Download your free copy of our updated Rapid Conversion Landing Page Optimization Guidelines now.
After you've read the free report, please leave a comment and tell us what you think. Also, please forward this email to colleagues that can benefit from the information.