Discover what you can gain from testing landing pages, and the associate costs that may apply to the process
Do you understand the benefits behind testing your landing pages? What about the costs? Time and money are needed in the testing process, but the results can be well worth your investment…and then some.
In yesterday's Mequoda Daily, we discussed multi-variate and A/B testing. Utilizing both of these landing page tests can help you increase the number of conversions you obtain throughout your entire website – from actual product sales to free email subscriptions.
However, those new to running landing page optimization tests may not fully understand the costs associated with testing, or the benefits. Sophisticated online publishers testing often will tell you the value behind the process.
To paint a picture of the testing process, I will first begin by explaining possible costs you may need to be prepared for.
The cost of running landing page optimization tests
Landing Page Testing Cost #1: If you need to buy the license of testing software, that will be the first expense you'll incur. Some website optimizers, like Google's Website Optimizer, is free to use.
Landing Page Testing Cost #2: The time it takes you and your team to brainstorm about a good experiment that you want to test.
Landing Page Testing Cost #3: The creative professionals that you may have to hire for freelance work. This can include designers and copywriters if you do not currently have them on staff.
Landing Page Testing Cost #4: If you do not have someone on your team capable of setting up, implementing and analyzing results, you will need to hire a web analyst to assist with your experiment.
Landing Page Testing Cost #5: The time your most analytical marketer will take to interpret the results you receive.
Now, let's get to the benefits of performing landing page optimization tests.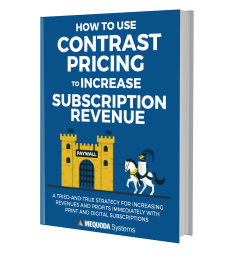 Learn how to choose the best subscription pricing & single-copy pricing strategy for your subscription websites & subscription apps when you download a FREE copy of How to Use Contrast Pricing to Increase Subscription Revenue.
Three benefits of landing page testing
Landing Page Testing Benefit #1: Since conversions are the biggest reason for performing these tests, the conversion improvement times loan-to-value is a main benefit.
Landing Page Testing Benefit #2: Performing landing page tests can give your ideas a solid, scientific basis to build on.
Landing Page Testing Benefit #3: Conducting tests on your landing pages will help you avoid future issues. The results of a test can stop you from blindly implementing changes to your landing pages that will lower your conversion rate and make you lose audience members.
The need for landing page testing & optimization
There is absolutely no reason to continue guessing on changes to your landing pages that may hinder your converting process…or keeping components that aren't converting as well as others. Begin testing your landing pages through multi-variate or A/B tests. Perhaps you may even use both, depending on the time and money you have to spend on the project.
If you need a crash course on performing landing page tests, and you want to know the best possible processes for conducting them, join us for Landing Page Testing & Optimization. This 90-minute live webinar will take place on August 2nd at 12:30pm ET and will teach you a proven method for increasing website conversion rates.