Going Global with Web Libraries, Collections and Editions
By— Kim Mateus • 03/07/2018
Web libraries, collections and editions provide a profitable opportunity for global subscribers, and for special-interest publishers.
"Our global audience is not interested in another local news source…Our signature journalism is the biggest draw." These were the words of an associate managing editor at The New York Times who also oversees NYT Global, according to Digiday. And despite denying claims that the "Trump Bump" increased sales, the numbers prove international readers were looking toward the U.S. for our internal perspective on affairs last year. According to Digiday, in 2017:
"The New York Times' international digital subscriber base grew to 14 percent of its total 2.2 million digital subscriber base after adding over 100,000 international subscribers.
The Atlantic, just a few months into an effort to expand its audience in Canada and the U.K., saw its international subscription orders more than triple in 2017, and international subscriptions grew from 6 percent of new subscribers to 16 percent.
The Washington Post, which has been trying to broaden its base internationally, quadrupled the number of international subscribers it has, and international subscribers now make up just under 10 percent of the Post's customer base."
According to Wikipedia, there are 258 million English-speaking people in the United States, and 122 million more in other countries that speak English as their native language. It's estimated that that are somewhere between 470 million and one billion more who speak English as their second language. 
So perhaps one of the most unexplored revenue opportunities for American special-interest publishers is global growth.
------------------------------------------------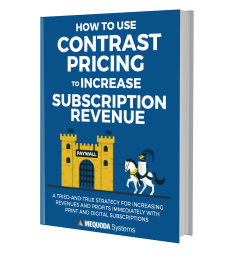 Learn how to choose the best subscription pricing & single-copy pricing strategy for your subscription websites & subscription apps when you download a FREE copy of How to Use Contrast Pricing to Increase Subscription Revenue.
------------------------------------------------
After decades of being constrained by print distribution systems, the Internet makes it just as easy to sell a subscription in Peoria as Paris and in London as Los Angeles. Long acknowledged as a thought leader on most special interest topics, American journalists can now truly reach a global audience with the Internet powering both their marketing and distribution systems.
While this is certainly a great opportunity for news and specifically politically-driven media, special interest publishers perhaps have even a larger opportunity to unlock the archives of back issues covering everything from health and home design to cooking and crochet. Special interest articles are often quite evergreen and even those that show their age are often of interest as they reflect tastes and styles from an earlier time.
Indeed, a savvy library curator may choose to focus not only on creating special collections around themes, but may also take advantage of the depth of their library content to create collections that focus on coverage that is no longer part of the current magazine.
Subscription marketers must relearn and rethink how they promote content in the age of the Internet. Instead of promoting the next 12 issues, you can promote back issues, special collections and categories of content that can span decades. This provides many, many options for launching a diverse marketing program. One empowering a content marketing frequency that would be unthinkable if you're only promoting the next 12 issues.
As we've mentioned here in past articles, for the more than 40 web libraries we manage, promoting past content often produces results that are double or triple the new order volume we see when promoting current or future issues. Once you see this reality, the foundation is quite plain given the depth of evergreen content that most special interest magazines and newsletters can access in their archives.
If you'd like to explore how we could double or triple your online magazine, newsletter and membership sales, please schedule a free consultation with a member of our consulting team.
Posted in Subscription Website Publishing