Discover the probable path your online business is headed on
If you are looking to expand upon your current business, create new aspects of it or develop an entirely new online business, it's worth your time to properly research the market.
A strategic opportunity analysis allows you to build a future plan based on research and predictions from knowledgeable sources.
This document outlines consumer media trends to detail how your audience is consuming media, and how they are predicted to do so in the future.
It details a multi-platform media strategy for adequately spreading your content in the most profitable manners.
Strategic initiatives are also defined so revenue generation is properly mapped out in a realistic and reliable manner.
A Benchmark Forecast shows the predicted revenue broken by up channel and a section on untapped opportunities provides a further look at places to expand your content initiatives.
If you're contemplating the future and would like to have a Strategic Opportunity Analysis designed for your online business, contact Kim Mateus via email or phone at 401-293-0401 for more information.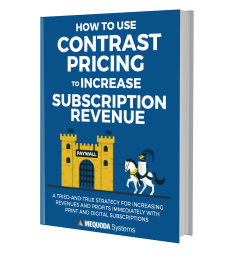 Learn how to choose the best subscription pricing & single-copy pricing strategy for your subscription websites & subscription apps when you download a FREE copy of How to Use Contrast Pricing to Increase Subscription Revenue.