Internet Movie Database: The screen's big scene
By its own declaration, the Internet Movie Database (IMDb) is a HUGE collection of movie information. Its database catalogs every pertinent detail about a movie — which actors were in it, who produced and directed it, filming locations for it, trivia about it, even where you can find reviews and fan sites elsewhere on the web. IMDb presents all that information and more in a manner that is easily accessible and searchable. In fact, IMDb is the Web's most comprehensive, authoritative, and, best of all, free source of information on movies and the film industry. It's a favorite of hardcore film fans, industry professionals, random moviegoers, and trivia aficionados — all of whom appreciate a serious resource that can also be fun. So grab some popcorn and settle in. It's show time!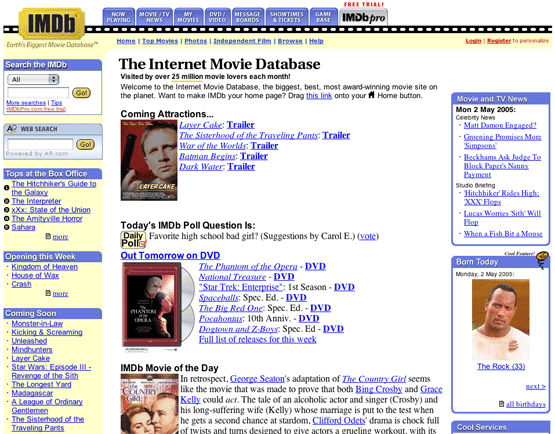 IMDb.com's Homepage.
Opening Credits (the Mission)
IMDb was the brainchild of British-born Col Needham, a self-described movie fanatic and computer geek who, along with his young friends, enjoyed discussing films and entertainment programs in a Usenet discussion group. 1n 1989, merely as a hobby, Needham began to log the films he had watched (reportedly about 1,100 per year) into a computer database. By 1990, his database included details on nearly 10,000 movies and television series — searchable information that he shared with others in his user group. The data continued to expand over the next few years to include trivia, biographies, and plot summaries that users donated via an email interface. In 1993, the database moved to the World Wide Web, which, at the time, was just beginning to gain ground.
Needham launched IMDb as a commercial Website in January 1996 and, within weeks, sold his first advertising campaign. Two years hence, IMDb.com was generating more than 18 million visitors a month and had become one of the most popular sites on the Web. Before long, there was a knock on Needham's virtual door. Amazon.com founder Jeff Bezos was seeking a partner to enhance Amazon's new venture — an online video store. The deal was done in April 1998, when Amazon acquired IMDb.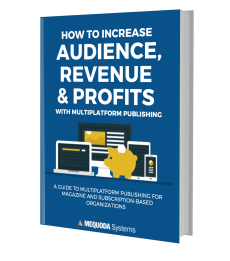 Learn the secrets behind today's most rapidly growing niche publishers. Download a FREE copy of How to Increase Audience, Revenue & Profits with Multiplatform Publishing, a guide to multiplatform publishing growth for magazine and subscription-based publishers. Download now.
Today, IMDb, which Amazon operates as an independent subsidiary, has moved gracefully from humble to humdinger without changing its original mission: "to provide useful and up-to-date movie information, freely available online, across as many platforms as possible." In keeping with its parent company's "Earth's biggest…" theme, IMDb claims to be "Earth's Biggest Movie Database™." Undoubtedly, that's true.
Created by movie fans for movie fans, IMDb happens to be the most comprehensive source — online or offline — of free information on the film industry. Its website offers easy access to data on movies, movie stars, and those behind the scenes dating from the birth of film in 1892 to future releases. And 38-year-old Col Needham, who now claims to have viewed more than 70,000 movies, remains managing director of IMDb.
Setting the Stage (the Business Model)
In the 15 years or so since inception, the IMDb website has attracted a vast community of people — some 25 million visitors each month — who share a common interest in film. Movie lovers, avid fans, and industry professionals are attracted to the searchable, cross-referenced, and continually updated content, as are average moviegoers looking only for information on what's playing locally or new video releases.
The 1998 deal with Amazon created a customer resource for the Amazon.com DVD and video store. It also ensured that the information on IMDb.com will always be available to site visitors at no charge. So browsing the pages of IMDb.com is free, but visitors must register (also free) in order to participate in and/or personalize various interactive features on the site.
IMDb.com is supported by a variety of advertising, licensing, and sponsorship opportunities aimed at people both inside and outside of the film industry. Links to Amazon.com appear in "Shop" boxes on various IMDb.com pages to accommodate anyone interested in buying books, videos, or DVDs. Private, noncommercial sites may link to IMDb pages for free —with proper accreditation, of course. Licensing packages for commercial operations wishing to include certain IMDb content on their own sites begin at $10,000 per year.
Building the Scenery (the Network)
The centerpiece of IMDb.com is the original movie database product devised by the young Col Needham in 1989 — albeit bigger, broader, richer, and with both U.S. and U.K. versions. The site provides:
free access to more than 440,000 movie titles,
up to 30 pages of data per title,
some 6.3 million individual film and TV credits,
1.7 million "filmographies," or listings, of cast and crew members, and
more than 150,000 links to external websites for reviews, images, and clips.
The site covers every genre of film (including foreign and independent movies), new and future releases, television movies and shows, and video games. Further, IMDb.com offers cast lists, quotes, trivia, reviews, box-office data, celebrity bios, photos, a calendar of festivals and events, and streaming trailers. The U.S. and U.K. versions are similar; obviously, box-office data, local show times, and the calendar of events are among the items that differ.
IMDb Publicity Photo Services was added in early 2001 to give actors and crewmembers already credited on IMDb.com the ability to add photographs to their listings. The self-service system also provides an opportunity for filmmakers to promote new projects, for stunt people to show their talents, and animators to showcase their work. IMDb charges a one-time fee of $35 to place a photo on the site and $10 for each additional photo.
Eventually, IMDb recognized that two distinct user groups — movie-loving consumers and entertainment industry professionals — were accessing IMDb.com. With that in mind, a separate premium subscription service was launched in December 2001. IMDbPro is targeted to industry professionals — directors, casting agents, producers, programming executives, movie critics, and others. They pay $12.95 per month (or $99.95 for a full year) to access a directory of more than 10,000 companies and the names of more than 55,000 contacts, as well as use message boards and review entertainment news from The Hollywood Reporter. Additional online tools allow subscribers to track the popularity rankings of the movies (MOVIEmeter) and actors (STARmeter) listed in the database, become privy to worldwide box-office data, track production schedules for more than 1,500 film and television projects, and view an up-to-date calendar of film festivals and events.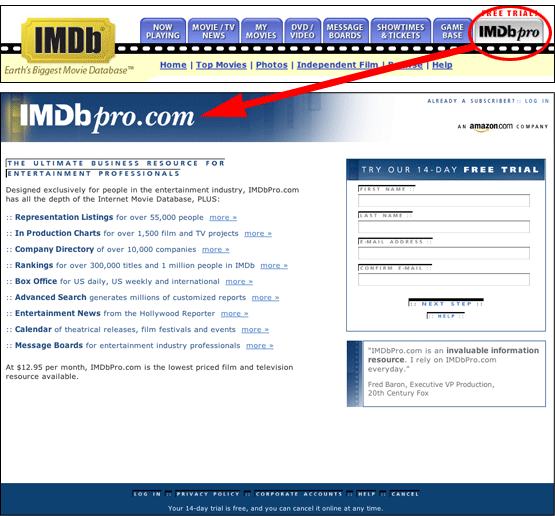 Eventually, IMDb recognized that two distinct user groups—movie-loving consumers and entertainment industry professionals—were accessing IMDb.com. With that in mind, a separate premium subscription service was launched in December 2001. IMDbPro is targeted to industry professionals.
Involve the Audience (the Visitors/Subscribers)
While the 100 or so IMDb staff members actively gather some of the data that is incorporated into IMDb.com by perusing on-screen credits, press kits, official biographies, and interviews, the bulk of the information in its database is submitted by industry sources and site visitors. In fact, processing contributed data is the primary job of about 70% of the staff.
And the data actually flows both ways. IMDb allows limited use of some files and software to private, noncommercial users who want to construct part of its database on their own PCs. Otherwise, interested parties can link their sites to IMDb.com or pay to license certain content.
Registered IMDb.com users — whether fans or pros — may submit information about favorite movies and celebrities, rate movies, create individual movie listings, catalog personal DVD collections, participate in polls, and set up a personalized directory of local theaters with show times. Message boards, which foster a strong sense of community, allow registered users to initiate discussions about any profile in the database or on any topic that strikes them. Site registration requires only an email address, password, and a few basic bits of data (gender, birth year, zip code, and country or residence).
On IMDbPro.com, paid subscribers can access tools to find contact information on more than 51,000 names and nearly 10,000 companies, search localized job openings, exchange ideas within the IMDbPro community or in private messages, and create an infinite number of customized reports from the 7.5 million film, television, and talent credits in the site's database.
Developing the Plot (the Websites)
IMDb's rich database of movie and entertainment information has been the centerpiece of the enormously popular IMDb.com (and its Usenet predecessor) for the entire 16 year period since Needham began to compile his film log. And the mission to provide free access to movie information has never changed from day one. The web interface was redesigned, however, when Amazon got involved in 1998 and significant resources became available. The data was reorganized, site navigation was improved, and new editorial features and columns were added. The home page was also beefed up to include blurbs, trivia, and highlights that change daily.
Perhaps the most important change, however, was the IMDbPro spinoff— a premium B-to-B operation that was inspired by, benefits from, and links to the consumer-focused IMDb.com. Specific content selected from the IMDb database was expanded and repackaged to suit industry professionals and repositioned on IMDbPro.com. STARmeter and MOVIEmeter popularity rankings that appear on IMDbPro.com, for example, are based on the searches and page views generated on IMDb.com and updated weekly.
Beyond the repositioned content, the tools available on IMDbPro.com make it easy for industry professionals to find answers to work-related queries. A casting director, for example, may search for actors who meet specific characteristics such as experience, age, personal features, popularity, etc. IMDbPro responds to a void that industry users had sought to fill for some time, according to Barnaby Dorfman, group product manager in charge of IMDbPro. "Prior to launching IMDbPro.com, we had a one-size-fits-all solution for both consumers and professionals," he notes. Now, IMDb has separate, tailor-made solutions for each [user] group."
Maintaining Interest (the Traffic)
It's smart for any website — even sites as unique and compelling as IMDb.com or as targeted and useful as IMDbPro.com — to give users good reasons to keep coming back.
IMDb.com keeps movie fans interested by updating its home page daily. What's coming to a theater near me? What's happening today in the entertainment world? What happened today in movie history? What celebrities were born today…or on my birthday? Besides the answers to those questions, the home page includes a daily poll, movie review, trivia, quote, and more. Registered users, of course, are encouraged to participate on the site by using the message boards, rating movies, submitting information on favorite films and stars, and many other "interactivities."
Meanwhile, the folks at IMDbPro.com pay close attention to how subscribers are using the site and carefully scrutinize user feedback. Each page on the site has a feedback form. Based on all that information, continuous adjustments are made to the size and placement of links, the ordering of pages, and the introduction of new features.
IMDb fans and pros alike can sign up to receive weekly announcements of newsworthy items, changes, and new features related to IMDb or an e-newsletter sent every six-to-eight weeks that covers developments and features in more depth. In addition, users have posted on IMDb.com links to numerous movie-related mailing lists that cover general information about or specific aspects of movies and entertainment.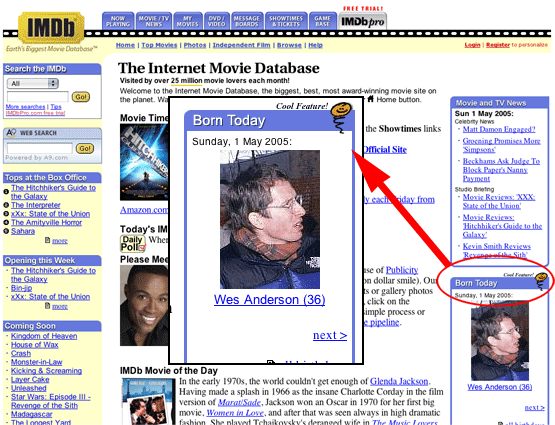 IMDb.com keeps movie fans interested by updating its homepage daily. What's coming to a theater near me? What's happening today in the entertainment world? What happened today in movie history? What celebrities were born today…or on my birthday?
The Critical Reviews (Measuring Performance)
IMDb.com logs 25 million visitors per month — an enviable statistic by anyone's measure. IMDbPro doesn't disclose actual subscriber information except to say that the response is "fantastic." Obviously, managers of both sites are paying careful attention to the statistics. And whether the numbers reflect visitor traffic, registered users, or paid subscribers — or the movie titles (442,924), people (1,721,712), and offsite links (246,440) collected in the database that powers both sites — all stats appear to be trending steadily upwards. Evidently, IMDb is doing something right!