Getting your emails opened is the most crucial part of email copywriting
Any time we write about email subject lines, our readers thank us. Over the years, they've especially valued posts in which we use MailChimp's subject line suggester to test some of our favorite email subject line formulas.
The tool instantly calculates how well words have performed in the millions of emails sent via its system. Access to data like that is rare, and incredibly valuable. Like our SEO system, this tool means you don't have to guess, or wait until you've performed dozens of tests to get data of your own.
Another thing we learned is that "how to make" has the highest open rates of all the "how to" subject lines. We also learned that the word "why" has an incredibly great open rate in general, but using "5 reasons why" is practically guaranteed to get you an open.
Let's look at some other examples, if only because I love playing with this tool.
[text_ad]
Subject Line:  [New Webinar] Are you blogging well for your business?
My initial reaction, and something I couldn't test with the MailChimp tool, was that [New Webinar] is a great way to catch someone's attention. It's the same reason why Mashable used to write HOW TO in capital letters for their blog titles and in their Tweets. It grabs your eye and intrigues you. I'm not sure why they stopped, but I'd love to know.
So the part I ended up testing was the "are you".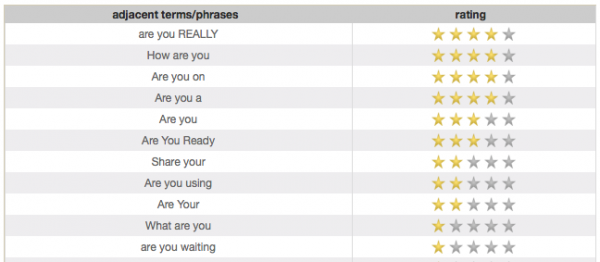 According to the tool,"are you REALLY" gets a decent open rate, as does "how are you" and a couple others. "Are you" on its own has a slightly worse open rate.
New subject line ideas:
[New Webinar] Are you REALLY blogging well for your business?
[New Webinar] How are you blogging for your business?
[New Webinar] Are you REALLY blogging in the best interest of your business?
[text_ad]
Subject Line: 5 ways to keep arthritis from slowing you down
A couple of years ago, we tested "10 things to do in April" because we know checklists work especially well for subject lines. We were a bit chagrined to discover subject lines that start with "10 things" don't have the best open rates after all.
So I turned to another similar subject line. Surely, I thought, "ways to" do something, especially with a number in front of it, would be a blockbuster. Right? Wrong…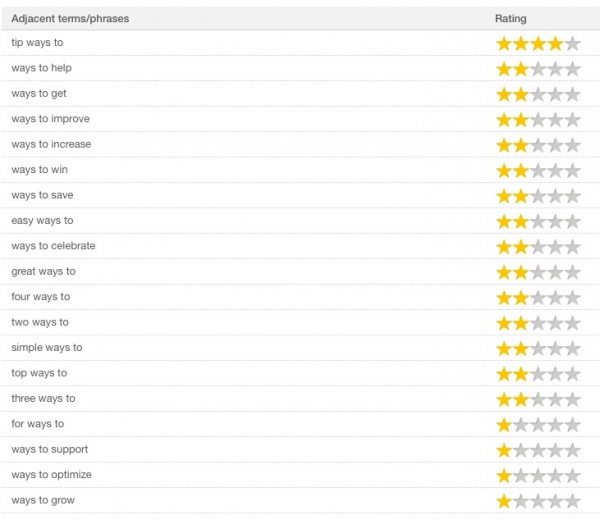 Contrary to popular belief, there's not much to work with for "ways to." The only thing I could come up with is awkward. So I tried the old standby,  "How to," as a replacement for "ways to." We preach "how to" continually based on our own open rate data, so it's worth checking with Mailchimp.

(Interestingly, if you can teach people "how to paint," your subject line is a five-star winner.)
And there's only one other relevant phrase, "article how to."
New Subject Line Idea:
•    Latest article: How to keep arthritis from slowing you down
Subject Line: 15% off today only + last-minute deals
Here's another common subject line. So I typed in:
% off
today only
deals
last minute
right now
now available
The best relevant results with five stars:
clearance deals
sweet deals for
Monday deals for
With four stars:
special offer just
Friday deals at
deals for you
Wednesday deals
an exclusive offer
are now available
With only two stars:
New subject line ideas:
Sweet deals for you are now available!
An exclusive offer: Monday deals for [name]
Subject Line: It's finally here …

One last experiment, this one a reference to a new diet plan. "It's finally here" is average, according to Mailchimp, which gives it three stars. So I decided to try to beat that.
As it turns out, "Lose weight" is a loser (two stars), while "dieting" also earns only two stars, "diet" isn't in Mailchimp's database at all, and even the positive "feel great" earns only two stars. Everything connected with dieting, in fact, apparently dies a quick death in email subject lines. So "It's finally here" is probably the best bet.
So this last lesson is what not to say in a subject line, and we can't improve on the one the mailer used.
Fun, huh? As always, it's instructional to work with the subject line suggester and even more fun to feel confident rather than guessing when writing subject lines. I'd love to hear what you've learned in your own A/B email subject line testing. Please share in the comments!
This article was originally published in 2011 and is updated frequently.