Simple tips for using a third-party video hosting platform like YouTube to maximize audience development efforts
When you put a video on YouTube, you're not only using the platform as a hosting solution, but you're hopefully also looking to send that traffic back to your website. After all, we don't use third-party social media sites for fun, we're hoping to leverage an existing audience and direct it towards ourselves.
Luckily, YouTube makes it fairly easy for us to do this, and gives us ample opportunities to hook people in and maximize website traffic down a funnel that ends at our domain.
Here are 5 tips to maximize website traffic from your YouTube videos.
1. Use keyword rich titles in your YouTube video.
You should always use a keyword rich title in your YouTube video. You've already done keyword research to maximize your website traffic for organic search and now you can use the same keywords in your video titles.
So how does SEOing a video on an external website help your traffic? It's worth mentioning that Google often adds video to it's search results, which ends up doubling your SEO efforts. And if you follow the next few traffic-driving tips, you'll see how that extra SEO traffic will increase video views, thus increasing clicks back to your website.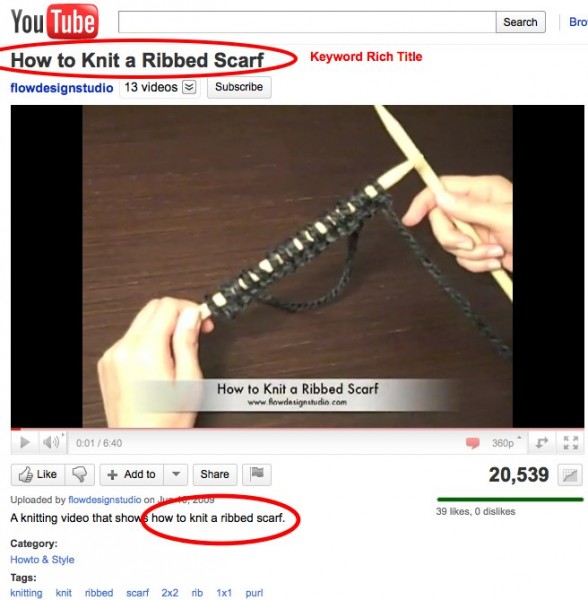 2. Always put a hyperlink to your website or related article in the description section in YouTube.
YouTube lets you add a description to your videos but it will also create clickable links when you enter in full URLs.
You should always add a link to your website or to a related blog post from your video. If viewers enjoy your video, they will want to learn more about you and your brand.
Because YouTube cuts off it's descriptions at 140 charactersou should add the link to your website or post at the beginning of this video description. Having a link in the beginning of the description ensure's your links will be seen and hopefully clicked.
In this example, Black Belt Magazine does a nice job of incorporating their URL in the beginning of the YouTube description.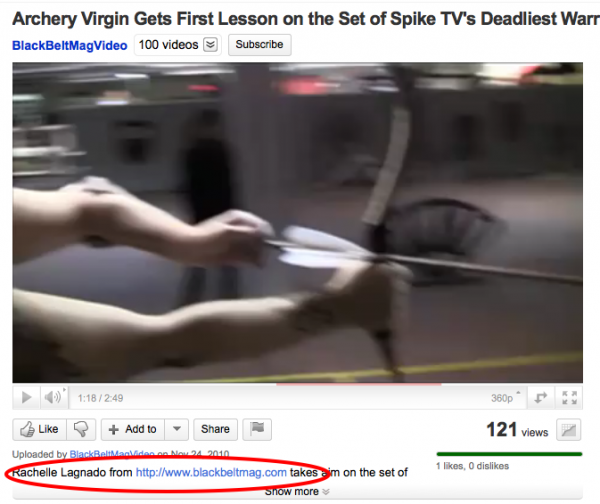 3. Use Keyword rich tags in your YouTube video.
Tags within YouTube are great. They help YouTube determine what other related videos will show up when your video is finished playing (and vice-versa). They also help YouTube index your video which can cause an awesome keyword chain-reaction.
Example of a Keyword Chain-Reaction
Someone Googles a keyword you've researched.
Your Youtube video appears in the search results.
The viewer watches your video.
They then click your link in the videos' description.
BAM! A new website viewer and potential subscriber.
4. Use graphics in your videos that promote your website.
If you have a video editor uploading your videos, you should look into having them create you a graphic for the bottom of the screen. In the video industry, these are called "lower thirds" because they are generally placed in the lower third of the screen.
In this example, the lower third graphic displays the title of the video as well as the website. This can be very helpful to your viewers that maybe hearing impaired and can help you maximize website traffic.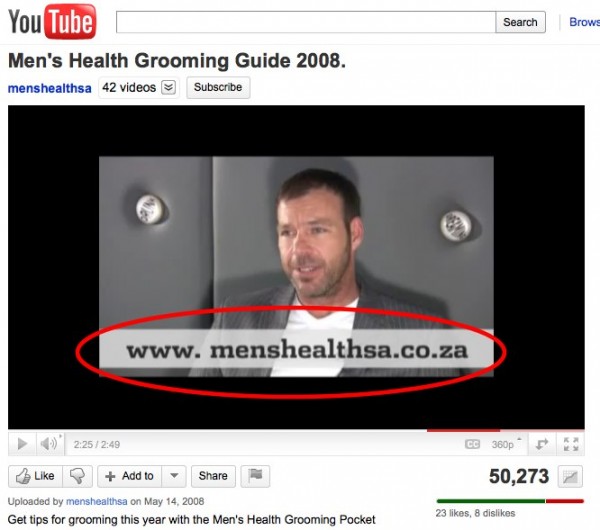 5. Mention your website in your video.
This one is the easiest things to do, but often gets forgotten. Direct the viewer to your website by mentioning your simplest URL in the video, both out loud and in closing. In this example, Knitting Daily clearly mentions its website as well as displaying a full screen image of their website to fully maximize website traffic from YouTube.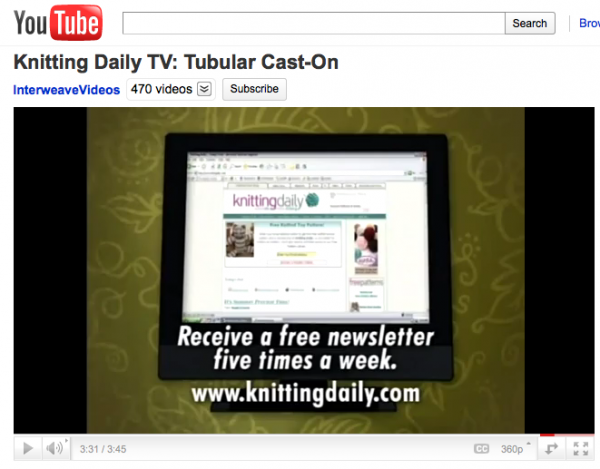 As with all videos, give your viewer a clear call to action. Tell them to visit your website by clicking link below, tell them to subscribe to your newsletter, be there to guide them and they will follow.