Learn how HootSuite can unify social media by letting you assign tasks and schedule tweets
Keeping track of all your social media accounts can get a little daunting. Some people like to organize with a thousand different browser tabs, while other people like to use desktop programs like TweetDeck. You might have to manage several Twitter accounts and make updates to the your company's Facebook fan page at the same time.
What we all really need is a place to unify social media, all in one window, so that we're not stuck trying to remember seven different passwords and trying to remember how to use several different platforms.
So, if you're feeling stressed out by having a thousand windows open, or you have lot of people on your team that manage social media, you might like HootSuite. In every social media presentation I give, I generally recommend it because it's so fantastic at unifying social media all in one place. Social media is confusing enough, right?
HootSuite is a (mostly free) online web service that lets you manage of your social media accounts from one place. I say "mostly free" because they offer free accounts, which many people can do everything they want with. For a large multi-brand business, I'd say to just cough up the small amount that they charge. For the analytics, ability to assign tasks, have multiple users and manage more than 5 accounts, it's worth it. They even have really nice apps for the iPhone, iPad, Blackberry and Android devices.
So if you have any (or all ) of the following business accounts, you can add them to your Hootsuite Dashboard for remote management:
Twitter
Facebook
Facebook Pages
Linkedin
WordPress.com
Foursquare
MySpace
Ping.fm
Mixi
Now lets get to the tips!
1. Customize your HootSuite Dashboard.
If you are constantly checking for people mentioning your brand on Twitter, try dedicating the first few columns within HootSuite to Twitter searches that target brand keywords.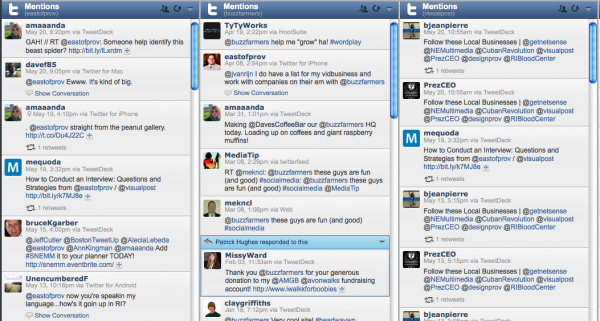 In the image above, I have the "mentions" columns for my 3 twitter accounts as the first things I see in my HootSuite dashboard. This way, I can see if anyone has responded to one of my tweets or shown me a little love and re-tweeted one of my articles. There are endless ways to customize your dashboard. A great way to get started is to make the things you use the most more accessible.
2. Save sometime and start scheduling your tweets.
One of the best features of HootSuite is the ability to schedule tweets. This feature will save you a ton of time and really help get organized. You also still get the flexibility of tweeting in the spur of the moment when you want to tweet back to followers or talk about new topics.
3. The real power is in HootSuite Pro.
Companies that have multiple people managing their social media presence need to take a good look at the HootSuite Pro's feature set.
HootSuite Pro has the following features:
Advanced Social Analytics
Google Analytics Intergration
Unlimited Social Profiles ( the free account limits you to 5)
The ability to add Team Members
Smaller businesses, or any company with only one person managing social media probably don't need Pro, but it's not a huge investment per month either, so I'd still recommend it.
4. Organize team members

If you have multiple people tweeting under the same account throughout the week, it can be difficult to organize who's doing what. Not to mention, the security risk of having everyone use the same login and password. With HootSuite Pro, you can add team members to your Hootsuite account, which means they only have access to the accounts you want them to. They make it very easy to add or remove users, so if a team member moves to another department (or company) you won't need to change the master password.
5. Assign tasks

One more great benefit is that team members can assign tasks to one another. This way, you can make sure that everyone who contacts you gets a response, new tweets get scheduled, and every daily social media action on your to-do list gets done.