"I would start reading mags again", said one Twitter user, when Martha Stewart asked about new media trends and eReaders
Today a Twitter friend, Stuart Foster threw out a statement that we see pretty much every day here in Mequodaland.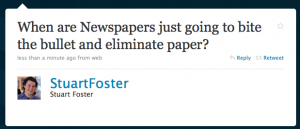 On this particular day however, it lead me down a rabbit hole of finding other Twitter users who think that digital is "the way to go"; whether it be a digital reader, blogs, or anything else.
What turned up was a very interesting dialog starting with Martha Stewart (@MarthaStewart on Twitter) on December 12th, where she reached out to her Twitter followers and asked them a series of questions about digital readers, and their preference for a reading platform.
Not surprisingly, Stewart got back hundreds of responses to this question: "How many of you will read magazines on an electronic tablet (interactive-full color) within two years? three years?"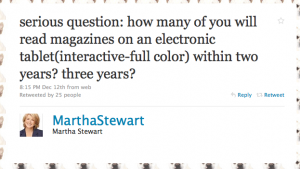 The response to the question elicited a lot of feedback in particular on the Amazon Kindle, and a somewhat low amount of responses to the "interactive, full color" part.
In some cases, people on Twitter would answer simply yes, absolutely, and others would say that they prefer the tactile feel of a magazine, especially such a rich magazine such as Martha Stewart Living, which has recipes and other clip-worthy articles.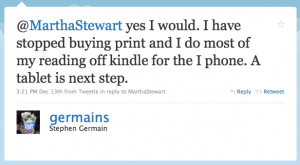 More than anything though, the enthusiasm for the Amazon Kindle from loyalists ended up trumping all other responses.
As publishers, how do you feel about this enthusiasm? Many publishers we've talked to don't see the importance of moving their content onto a new digital platform, yet it's clear that consumers are practically begging publishers to get content in their hands.
For consumer magazines like Martha Stewart Living in particular, there is definitely a loss when you go from print to digital. However, I think if Kindle could introduce a "clip & print" feature, they'd have this type of market converting even easier.
Oh and by the way, we have a Kindle for Publishers webinar coming up, so if you want the down-low on how other publishers are using Amazon Kindle, and how to prepare for the next generation of eReaders, register now!