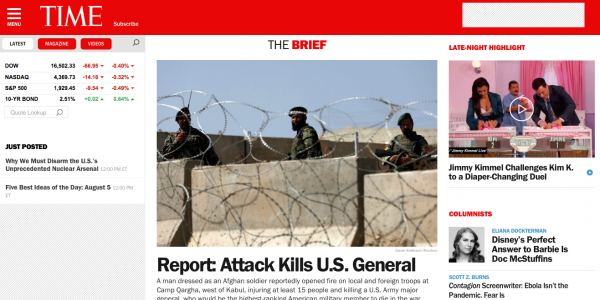 In its first fiscal quarter since breaking from Time Warner, Time Inc.'s overall ad revenue spiked 3% year-over-year, helped by a 12% jump in digital sales.
Ad Age reports that overall ad revenue for the second quarter totaled $461 million.
The publisher owns Time, Sports Illustrated, InStyle, Fortune, and People. It acquired Food & Wine, Travel & Leisure, and Departures from American Express Publishing last year.
"Time Inc. has sought to spur growth in areas such as digital ad revenue, marketing services, and events. Digital ad sales were lifted thanks partly to Time Inc.'s efforts around programmatic ad technologies like automated buying and real-time bidding. The company expanded its private online ad exchange with Google in February," writes Michael Sebastian.
"Some of its magazine brands are seeing digital and other revenue surpassing print, Time Inc. CFO Jeff Bairstow told investors. To bolster its presence among national advertisers, Time Inc. has created a 'prospecting team' to pitch the company to the top 250 ad spenders who don't currently advertise with Time Inc."
To read more about the ad revenue increase for Time Inc. digital, visit Ad Age.