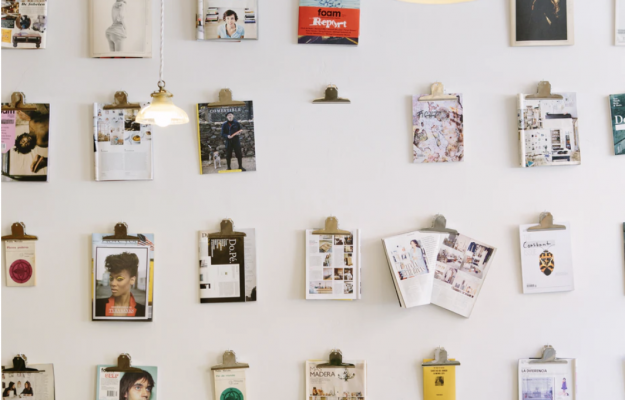 Magazine covers matter. As Samir Husni (aka Mr. Magazine) states in a recent article on Poynter, "The power of the magazine cover in print has always been significant…High-profile people, it's clear, know the power of the magazine cover." Magazine covers on digital magazine websites matter too, perhaps even more. And they come with benefits, like data-driven testing, which is so much more exact than splitting covers on the physical newsstand.
Do covers on digital magazine websites need to be glamorous and eye-catching? Why would you design a product that isn't?
The question should be: what's most important on the cover? Is it a big image? Is it readable text? Is it the theme? The colors?
How do you approach the creation of a digital magazine cover? Today we are looking at the value behind the cover design even when published on digital magazine websites, including cover components that can set a digital magazine apart from the rest and perhaps even add trustworthiness to digital-only magazines that are launching fresh.
[text_ad]
Understand what works on the cover for digital magazine websites
As MediaPost points out, "A cover image can define an era even if the more immediate goal of grabbing attention at the newsstand has been diminished in recent years."
This same concept works with the digital newsstand as well. With competition growing among digital magazine websites, and the onslaught of media online in general, there is a deep need to stand out while garnering attention for your niche content. The cover of a digital magazine can make all the difference, just like the cover of a physical magazine can catch one's eye and get them to thumb through the pages before buying.
This writer agrees with our belief in the digital magazine cover's importance. "As magazine publishers continue to evolve its business models beyond the core print medium, one media strategy in particular stands out: the digital-only magazine cover."
The article continues with the real connection between the physical print publication and the digital magazine noting that "Producing a full-on digital cover is notable in that it looks to capture the print magazine's tangible essence."
Magazine covers used on digital magazine websites can tell a variety of stories. They can grab attention by presenting a recognizable theme. This may work well with evergreen content being published on the website. They can also focus on historic events by providing their unique take on the event.
MediaPost makes this point in regards to the 2021 handoff of presidential power. "A variety of weekly magazines offered different takes on the historic handoff of power with their cover pages."
Audiences are then left to choose which magazine cover draws them in the most. Not all magazines covering the event will get the same attention, so the cover's aligning with the readers' ideals and sensibilities is vastly important in building readership. This can be transferred to digital magazine websites easily.
Digital magazine websites can fill the holes left by print
Magazine publishers utilize digital magazine covers in the same ways they do print covers, but the digital format affords some additional benefits.
For starters, more risks can be taken with digital content than publishers would take with print magazines. These risks can lead to bigger rewards in the form of website traffic and subscribers.
Jennifer Davidson, editor-in-chief of The Fashion Spot mentioned in an article, "There's no need to bog down a digital cover with a lot of text, which allows for more creativity when selecting images. They can also use digital-only gimmicks, like moving images, to add interest to a cover."
Additionally, just like when magazines have multiple covers they use on magazine stands, in the digital world you can actually a/b test covers if you have the site traffic volume to do so, or are running paid ads to your digital magazine landing page.
Recognize these characteristics for a strong magazine cover
According to The New Yorker, the word "magazine" comes from the word "storehouse". However, it feels like digital magazine websites actually afford a better opportunity to be a storehouse than the traditional print magazine does. Especially because purchases from digital magazine websites can happen immediately with ease, and with instant access to an archive of issues. Using a traditional print magazine as a storehouse is not as nearly as quick of a process.
It may be the digital magazine's covers that draw people into the storehouse itself, and this is why it's important to understand the components of a magazine cover that will lead to engagement. An article on Business 2 Community lists four key steps to designing a great magazine cover. Those four steps are:
Have a consistent design strategy: "You will need a strategy that will allow you to be visually consistent from issue to issue. A cover is more than a name and a trim size; it's your voice, it's who you are, your brand—front and center."
Create your own style: "Find out what it is that sets your magazine apart from the rest, and then make it unique."
Direct your readers with your cover composition: "Layout is an important part of any cover design. It's your opportunity through scale, contrast, and hierarchy, to direct your readers where you want them to go."
Take risks: "When the opportunity to take a chance presents itself, be mindful of the potential of a downside, and plow ahead.
Let's take a look at what each of these recommendations means and how digital magazine websites can take advantage of this information.
Recognize these four types of covers for digital magazine websites
Real View shares recommendations on how to design covers of digital magazines. These are the four main types mentioned:
Image-based magazine covers: These covers typically involve images of people or a single person. There is a connection with the camera and the person usually smiling.
Illustration-based magazine covers: Drawn illustrations on magazine covers were popular before the use of cameras. These types of covers can still be used today, depending on the target audience. Historically this type of cover would depict something funny, out of the ordinary, or historic in nature.
Type-based magazine covers: There may be a sense of boldness that can be attention-grabbing or powerful when type is front and central on a cover, and in the digital magazine world where thumbnails may be smaller, the size of type matters more than in print.
Concept-based magazine covers: This type of cover can include aspects of all the others mentioned above. The key with this type of cover is to be recognizable to the audience.
Publishers can get even more from digital magazine websites and strong covers by using social media to tease and promote digital magazine covers. It's a built-in advantage to digital magazine covers that print cannot quite replicate.
How do you design the covers on your digital magazine websites?