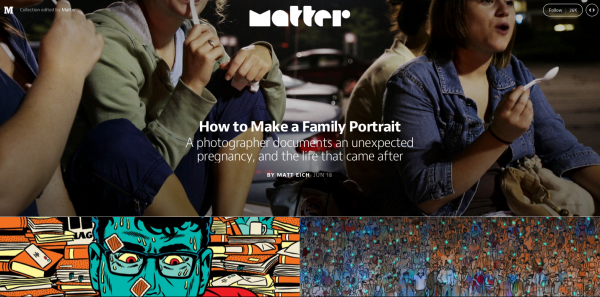 Solidifying its status as a publisher to be reckoned with, Ev William's long-form portal Medium has relaunched Matter, a digital magazine focusing on "in-depth journalism about the ideas that are shaping our future."
According to Fast Company:
"'The relaunch of Matter is our most ambitious publishing effort to date, but it's likely not our last,' Williams wrote in a Medium post. He described a somewhat shifted vision for Medium, which has evolved from a low-barrier blogging platform to a virtual publishing house with off-the-shelf tools available to all. Digital magazines like Matter, operating under the Medium umbrella, will serve as trailblazers for the broader community of contributors."
Matter was originally a Kickstarter-funded project meant to publish science and tech news, but that scope has now widened. Medium acquired Matter in 2013.
To read more about Medium's relaunch of Matter, visit Fast Company.