Few Things Destroy the Credibility of a Landing Page More Quickly than Content that's Out of Date. Remember to Keep Things Fresh and Always Offer an Urgent Reason for Visitors to Buy Now
Few things destroy the credibility of a landing page sales letter more quickly and effectively than content that's out of date. How can you expect the prospect to take your message seriously if you're not even interested enough in the content to keep it current?
Aim to convey a sense of freshness, excitement, timeliness or discovery. Some of your potential customers will only visit your site once. If they don't buy immediately, they may never return.
But if you offer a mouthwatering, gotta-have-it special premium that they will receive immediately upon buying, you can significantly increase your conversion rate.
Do you have a fast-reading special report or a handy checklist to offer new customers?
Do you offer a downloadable tool, a template or an instructional Flash video that solves an immediate concern that all your potential customers share?
Consider using a free e-zine, a blog, a "what's new" section, a media room, an articles library or a streaming RSS news feed for delivering fresh content to the reader.
Something as simple as displaying the current date on the site can help with content freshness. Or create urgency by letting the reader know that the price is a "market test" and may change soon.
Alternatively, announce an expiration date for the offer—a deadline by which the user must respond to get the free bonuses.
Caution: if you say quantities of an information product are limited, you have to make that claim believable by explaining why this is so, e.g., "We have a limited supply of our free CD, and once the inventory is gone, we will not be going back to press."
Find out the CMS features that publishers require to manage an online publishing business. Download a FREE copy of 7 Ways Haven Wordpress Goes Beyond Wordpress, and discover the features all publishers should have access to for a bigger audience, greater revenue, and higher profits.
Noteworthy Examples of Content Freshness and Urgency
Believe it or not, some investor subscription sites, don't keep up with economic trends or mention them at all. The 21st Century Investor landing page does. The publishers are extremely aware of what is going on in the geopolitical arena and address it right out of the gate on the landing page, where they tantalize the reader about hurricane stocks. In fact, the whole essence of 21st Century Investor is identifying investment trends of the future so the prospect can capitalize on them.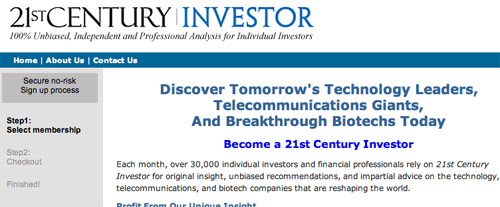 The 21st Century Investor landing page.
There isn't much reference to "limited-time offer" urgency in the American Writers and Artists Institute (AWAI) landing page letter, but maybe that isn't necessary. The urgency here is "How much longer do you want to put off this kind of an opportunity?" or "Why are you still suffering through your crummy job when you could be living the wonderful life of a freelance copywriter?"

American Writers and Artists Institute landing page letter.