Phillip Charles-Pierre of Guideposts.com accepts the first annual Mequoda Rocket Award, honoring America's fastest growing online publishers
Today at the Mequoda Summit, we announced our first annual Mequoda Rocket Award winner, Guideposts.
The Rocket Award honors the publishing company website that has seen the most growth in traffic year over year.
To create the Rocket Awards, Mequoda put together a list of nearly 200 online publishing websites. Companies were selected based on sites Mequoda.com has written about over the last 5 years, plus several sites that were nominated by the Mequoda Research Team.
In order to be considered for the award a site must following the four online publishing guidelines:
Content-driven – the website must publish content at least three times weekly, and host a periodical blog.
Google-friendly – the website must use proper topic pages, title tags, and meta tags or otherwise optimize content for search engines.
Email-centric – the website must encourage users to sign up for their email newsletters, RSS feeds, or otherwise subscribe to a regular free feed of their content.
Multi-platform – the publisher must offer content on at least three platforms, such as magazines, newsletters, books, events, etc., where at least one of the three platforms generates direct revenue either from the user, or from advertisers.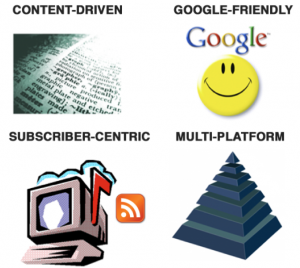 In addition to the four criteria above, each site must also have:
– had at least 10K unique visitors in the month of July 2008 according to Compete.com (anything fewer than 10K in the Compete.com tool is unstable data)
– had experienced at least 20% growth in traffic year over year (July 08 over July 09)
Out of the 200 websites originally nominated for the Rocket Award list, only 63 made it to the "Hot List", meaning that they met all four online publishing criteria above, plus they saw more than 20% growth in traffic from June 2008 to June 2009 and had more than 10K unique visitors per month in July 08 according to Compete.com.
As the winner of the Mequoda Rocket Award, Guideposts not only beat the other publishers on the list, but their growth was almost triple the 2nd and 3rd place with an 865% increase in traffic from 2008.
Runner up, Ragan.com came in with a 299% increase, and in third place, RealSimple.com with a 178% increase.