SSWUG.org, a subscription website that provides an astonishing amount of technical information for database administrators, uses three levels of membership to secure loyal, paying customers.
At one time, pay-for-access technical sites were virtually non-existent. No one believed computer technicians would pay for information. Stephen Wynkoop broke new ground. Today, his website, SSWUG.org includes 82,496 articles, 66,774 discussion forum posts, 580 reusable scripts of programming code and offers monthly how-to webcasts. Tiered memberships are critical to its marketing strategy, but pizza parties are a factor, too.
By offering three levels of participation—visitor, guest member and paid member, SSWUG.org is able to follow up and secure more memberships
Previously, SSWUG offered all visitors three days of completely free access, with no credit card capture—that was a big mistake, and now they use a seven day credit card required trial as a default
By sending an invoice via U.S. mail to anyone who does a free trial, but fails to join as a paid member (as well as to any member who cancels or whose credit card fails) SSWUG generates an additional 10 percent conversion for the price of a stamp
In addition to memberships, the site sells job listings and generates revenue from advertising: banner ads, Google AdSense, sponsorships in the newsletter and webcast sponsorships
Important lessons: split test everything AND use tools (mentioned below) to improve newsletter deliverability and get past spam filters
Introduction
Stephen Wynkoop started the SQL Server Worldwide Users Group "on a whim," he says, "trying to determine if anyone would sign up for a virtual online users group for database administrators."
That was in 1997, and originally the site, SSWUG.org, was simply a one-page registration form that asked visitors to join his virtual users group, "and we'll see if we can make some noise for Microsoft to listen to."
About 8,000 fellow database enthusiasts responded before Mr. Wynkoop really got serious, he says. In fact, SSWUG was a labor of love until 2003.
"Eventually we realized there was support for a virtual online user's group. So we decided we would kick it up a notch and make it a real site, make it membership-based, support local user's groups, provide forums and become a commercial site, and we would be different," Mr. Wynkoop explained.
"Our feeling was, this stuff takes money to run, you have to buy servers and everything else. If it's not worth anyone else's change, then it shouldn't be worth our change either.
"That's how we made the big decision—and it was not a trivial decision—to go to a paid site. At the time, tech sites that charged money were pretty much unheard of.
"We thought we were on to something. We thought we had a pretty good group. But we didn't know how to monetize it. We didn't know what to do with it."
He knows now.
Today, SSWUG.org has a total registered base of nearly 260,000 regular visitors in three categories (see below). The site offers more than 82,506 articles, 66,774 discussion forum posts, 580 snippets (scripts of reusable programming code), plus monthly how-to webcasts and on-demand webcasts packed with targeted, technical content.
"Everyday, in all of the subject areas, we publish between three and five articles, in every single subject area (of which there are seven)," Mr. Wynkoop said. "That's a lot of content every day."
Indeed, SSWUG.org provides an astonishing amount of technical information for database administrators with six list servers, 17 forums or discussion boards and more than 500 Frequently Asked Questions (FAQs).
"That's a very different service. Our FAQs let the community ask the questions and the community can answer them, and there can be multiple answers per question," Mr. Wynkoop explained. "Very much like a wiki."
Editor's Note: Wiki-wiki is the Hawaiian word for quick. Wiki Wiki websites are designed for the site users themselves to be able to make additions or edit any page of the site.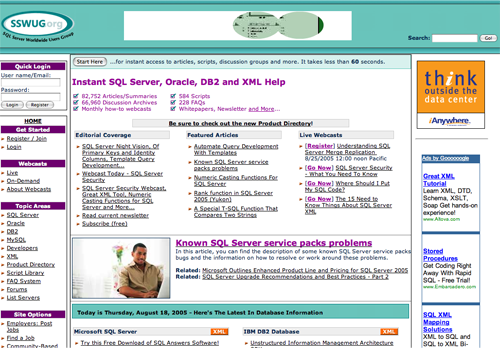 SSWUG.org's Homepage
Wynkoop As An Internet Pioneer
As far back as the early 1980s, with his original IBM 286 personal computer and a dial-up modem, Mr. Wynkoop was a volunteer bulletin board administrator for the original CompuServe. Visitors came to his site to ask questions about database management and received useful answers. The online community began to grow, and Mr. Wynkoop became famous for his online moniker, "Swynk" (derived from S.WYNKoop).
In 1990, he published a developer's guide to Access, the Microsoft Office database management program. Soon he began a personal website, Swynk.com, where he posted additional Access tips. He built an online community, and soon Swynk.com and Mr. Wynkoop had a loyal following of fellow database enthusiasts.
Then he wrote a couple of books on SQL Server and discovered that he really likes databases and writing about them. Over time, Swynk.com continued to grow as Mr. Wynkoop began providing technical information about all of the "back office" Microsoft technologies. Eventually, he sold Swynk.com "at the top of the Internet bubble" to what is now Jupiter Media (nee Internet.com). This publication eventually morphed into Database Journal.
All of that seems a long time ago in the brief history of the Internet. Today, Mr. Wynkoop's focus is on SSWUG.org, which has expanded its reach far beyond Microsoft Access.
"We're the only true cross-platform site," Mr. Wynkoop explained in a recent interview. "We cover SQL Server, Oracle, DB2, XML, Open Source, Developers and Security—all those different database platforms—and try to provide support for those. SQL Server is our main audience. We are growing, not shrinking, which is unusual in this space," said Mr. Wynkoop.
To produce and manage all its content, SSWUG has 11 full-time employees, including Mr. Wynkoop's wife, who edits and manages all the content. Mr. Wynkoop himself built the content management system to track article popularity, monitor search terms, etc. He is, first and foremost, a database specialist. He knows how to capture data and sort it. And while he has been asked to sell the content system for use by other publishers, for now, it's only used by SSWUG.org.
Pizza As A Marketing Tool
"What makes us different is, we are in all those fields, and we also support local users groups. We actually send cash to local users groups and support their meetings. We'll send them money for pizza and drinks.
"We'll announce their local users group meetings in our newsletter. We ask that they tell people about SSWUG in the meetings. If they're inclined, they can hand out membership forms that people can send in. We give them a VIP code that gives them a break on the price.
"We give them the VIP code, not completely altruistically, because we want to know how many people come from there. We've had some good success with that and some mediocre success. It depends a lot on the group and what they're talking about at the meeting. We're still testing that."
An Impulse Buy
"I describe us as an Enquirer sale," explained Mr. Wynkoop. "If you're going through a (supermarket) checkout line and you see a headline you like, you buy the Enquirer, read the article and throw it away.
"We're very much a 'Oh my God, I've got a problem I've got to solve. My boss is breathing down my neck, and there is an article or five on SSWUG. I've got to get the membership. Surely it will pay for itself.'
"We're very much an impulse purchase. We do convert way down the road on the newsletter and on webcasts. But the main hit is the people who come to us from Google. We've got a fairly comprehensive Google AdWords campaign."
Three Tiers of Membership
According to Mr. Wynkoop, Microsoft does not publish specific numbers for the size of the SQL Server universe. He figures there are about a million licensed copies of SQL Server and estimates there are between five and seven database administrators and developers per license.
"Which is probably really low," he said. "So we peg it in the five to 10 million range. It doesn't mean they're all candidates, of course. Online, I guess it's in the one to two million range.
"That's what we've based our business model on—the one to two million people that we can touch online and make a difference for them and get them interested in SSWUG."
The SSWUG site offers three levels participation—visitor, guest member and paid member. The visitor is one who can look around part of the site, but hasn't registered yet. The registered guest is one who has taken the time to register, but who is not yet a full, paying member. The full member has paid and has access to everything. There is no time limit on free guest membership.
Mr. Wynkoop chooses not to reveal the breakdown of visitors, guest members and paid members on his site, but says the total registered base approaches 260,000.
The paid members and registered guests, who total 125,000, both get a five-times-a-week daily newsletter. It includes an editorial column that Mr. Wynkoop writes ("Sometimes it's thin; sometimes it's verbose; sometimes it's talking about Fantasy Football.") It promotes the site's new original content, which is updated daily.
"We pick 500 articles at random from the database and make them available to member guests. And they refresh every day. You can access those articles anytime.
"That's the hook to let people see what we're doing if they don't want to do the full free trial. It keeps them interested because they can access some pieces of the site, but not the really meaty stuff (unless they become a paid member).
"We use the tiered memberships specifically to get people interested, to keep people involved. We don't want people to come and decide right that second and go away forever. If they decide not to join at that moment, I want to be able to come back at them and try to convince them to join us.
"That's how we use tiered members, and it's been very successful."
Paid SSWUG membership is currently $69.50 annually, $19.50 quarterly or $9.50 monthly.
A seven-day free trial is the default. You can't sign up and begin paying immediately—everyone gets a seven-day free trial. Unless you cancel within the first week, your credit card is processed on the eighth day. Members who join for a full year receive a SSWUG membership T-shirt in the mail (U.S. only) and a CD containing a webcast and industry white papers.
Previously, SSWUG offered all visitors three days of free access to the entire site before activating a new paid membership. The trial was literally 100 percent free, with no credit card capture.
"That was a big mistake," Mr. Wynkoop explained. "Because we're such an impulse buy, people would come in, find the two articles they cared about, then go away and never come back.
"We're not perceived to be an ongoing news source until people get to know us. When they first come to us, they see us only as a reference library."
Don't Let Them Get Away
Today, SSWUG sends an invoice via U.S. mail to anyone who does a free trial but fails to join as a paid member, as well as to any member who cancels or whose credit card fails.
"All we do is send them a renewal notice. We send an invoice that says 'Don't fall behind. Don't lose your information edge.' We tell them all what they're missing out on that they signed up for and that they are now expired. We send them an invoice and we pick up about 10 percent."
That's an additional 10 percent conversion of the dropouts for little more than the price of a 37-cent stamp.
Webcasts As A Future Profit Center
Today, access to the webcasts is a standard benefit of SSWUG membership and the site sells no backend products. Mr. Wynkoop said that beginning in September of 2005, SSWUG will offer a premium or executive level membership, yet to be priced, that will enable chief information officers and other executives to keep up with industry news.
Also available soon will be SSWUG webcasts on CD-ROM.
Additionally, the site sells job listings—$150 to post a job opening. Posting a resume is free to both paid members and guests, but paid members receive preferential treatment.
Additional revenue comes from advertising, including banner ads, Google AdSense, sponsorships in the newsletter and webcast sponsorships.
"We've heard from some of our major sponsors that we deliver better than any other webcast source they've used," Mr. Wynkoop said proudly. "That's because our webcasts are quite different.
"If you go to other webcast providers in this technical space, you'll find that when you watch a webcast, it's really an ad.
"We do what I call a sitcom format. If you were to sponsor a webcast with us, we would give you three slides at the beginning to introduce your company and products, and three slides at the end to do your advertising. In the middle, I write all the content and I present the general topic. At the end, you come on and save the day with your product and explain how your product solves all the problems we brought up in the webcast—how your product makes it all easier and better.
"So the users get really good technical content. And you get great contacts because (the names of) all the registrants on the webcast are yours."
Additional Lessons Learned
"Split test everything," Mr. Wynkoop advises.
"One of the things we learned is that (without testing) we don't have a clue about what people are really going to do. We can put little things in play and all of a sudden, it's as if the carpet was pulled out from beneath you.
"For instance, at the top of our site a button says 'Start Here.' It used to say 'Free membership. Click here to begin.'"
Mr. Wynkoop says they discovered that starting with the word "free" drives away nearly 100 percent of new visitors.
"I had to find a way to take them to the information first, show them what they will be getting, and then talk to them about membership," he said. "We've learned to test literally everything."
Defeating SPAM Filters
Mr. Wynkoop recommends Habeas to check outgoing email and make certain it isn't mistakenly perceived as SPAM.
Also, DeliveryMonitor.com, which can seed your list with 200 email addresses at all the major ISPs and provide daily reports on the deliverability of your newsletter through the SPAM filters at each ISP.
"That's been a huge boon for us," Mr. Wynkoop said. "We've been able to see where there are problems. We've been able to determine that Yahoo! delivers 12 hours late sometimes.
"We're a bonded sender though IronPort. They certify us as a legitimate sender. That has helped us with AOL and Hotmail and some of the major providers," he said. "Basically, you're buying your way onto a white list. It's not cheap, but it helped us. We saw about a 25 percent up tick in deliverability. That was significant."
Another Tip: Have the date in your newsletter subject line. Example: News for August 11, 2005 Re: Subject.
Filters will see that as a newsletter and your email will get treated differently than if you simply have a subject line without a date, according to Mr. Wynkoop. They want to see certain specific keywords in the subject line that make it look like a newsletter, he said.
"This has been a constant problem for us: deliverability and getting past filters," Mr. Wynkoop said. "People should start looking for tools like these. It's the smallest things that can flip the switch and, all of a sudden, you're not getting through."