How to get your readers to act with buttons and text
When you say "buy now" in an email, do people click and buy? If they do, what percentage of your email list open their wallets and follow those instructions? If you're taunted by this number, you're not alone.
As you know, the best emails are fully engaging; the content interests the reader enough to read through the entire email while the relevant calls to action persuade the reader to get more involved with a brand. This can equate to purchasing a product, signing up for a future event or subscribing to more content through Twitter or Facebook.
In order to start this process, strong email marketing calls to action must be established throughout the email. Decide on your goals, and set out to achieve them.
Be honest. Don't promise what you can't deliver, but don't be vague in your button text
Focus. Don't give too many calls to action (three to five are ideal)
Stand out. Don't let your calls to action blend in with the design
Could your email marketing calls to action be more effective? The five email call to action tips below will help you lead readers to other valued parts of your website and work to establish a deeper relationship between your brand and your readers.
Email call to action tip #1: Be honest.
Call to action buttons are a great deviation from an email comprised of all text. Below is an example from a recent email to our subscribers. The link leads to a form where the reader can schedule a 30-minute call with us, and the button is bright orange. This button is honest with intention, focused on the message, and stands out in a bright orange.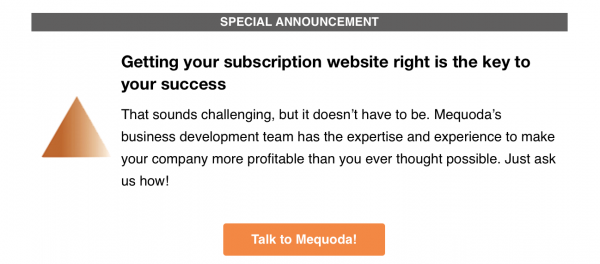 Email call to action tip #2: Focus. 
Successful email marketers have three to five calls to action in their emails which can be calls for products, or can include promotion of social media channels. However, as a marketer you know that too many options results in indecision, so decide on the intent of your email and focus.
At Mequoda we have three major calls to action in our editorial emails, for three different actions, but they're all contextually based. So for example, if the topic of the email is subscription website publishing, all three ads will speak to the reader who has opened the email based on a subject line about subscription websites. This indicates to us that this reader would also appeal to ads that focus on the pain points of building subscription websites. Here are the three ads you'd find in this type of email.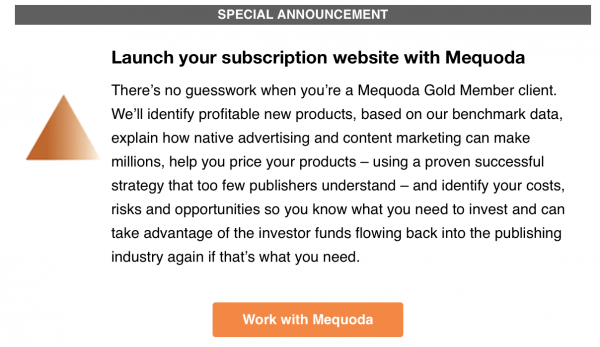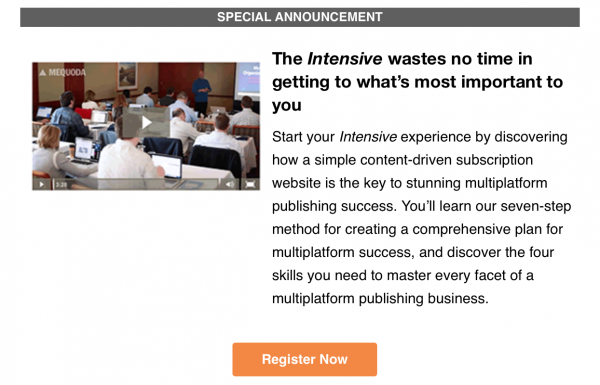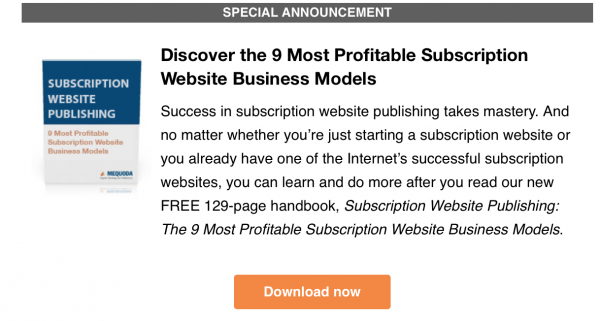 Email call to action tip #3: Stand out.
At this point, you've probably noticed the bright orange buttons we're using for the calls to action in our editorial emails.
We use these same buttons in our promotional emails, but another way to get clicks is to use video. Just take a screenshot of your video and use it as the leading image in your email. When the reader clicks it, make sure it leads to a page where the video is at the top of the page and can be easily played right away. When we tested using video in email, we increased our click through rate by 29%.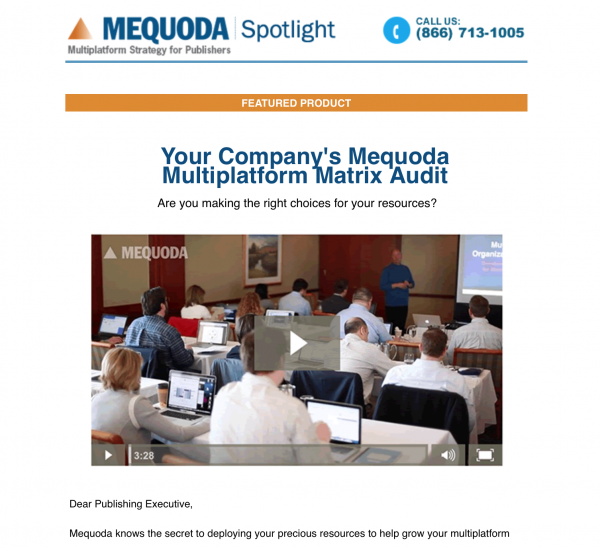 Email call to action tip #4: Rinse and repeat.
In promotional emails, create an adequate amount of calls to action. Unlike editorial emails where you might be sending them to more than one product, which could get confusing, a promotional email tends to focus on one product (or at least we'd recommend that it does.) This means you can repeat your calls to action more often.
For products or free downloads, we recommend at least five call to action buttons. These should be placed at the end of each persuasive paragraph and at the end of the email.
Place at least one clear call to action above the fold at all times. In the email below, we're using several different clickable options: the title, the image, the button and a text link in the second paragraph. Before the reader even scrolls, they're offered four ways to download this report from this circ-building email template.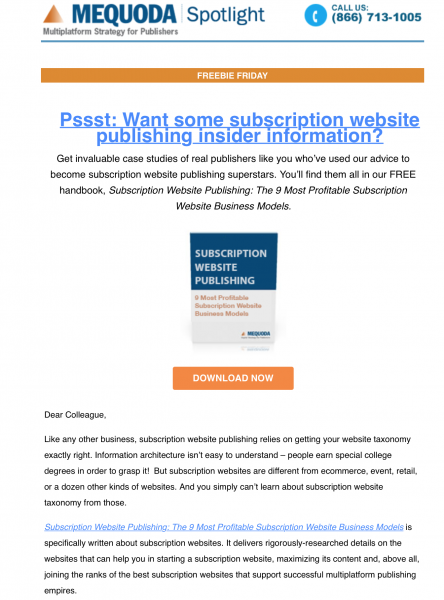 Email call to action tip #5: Use responsive buttons.
This last suggestion comes from Andrea Smith of ExactTarget. She suggests using "bullet-proof buttons" which will not be blocked by inboxes.
To create bullet-proof buttons, Smith recommends, "coding images, background colors and HTML text so that the button degrades nicely and still garners response in those environments." She states doing this within the table cells makes "it look more attractive and 'clickable'." In other words, don't use images as buttons, they could disappear in certain email clients and then your CTA becomes obscure and possibly hidden.

The Internet is no longer the Wild West. People want to interact and be engaged, so do your best to give them those opportunities within your email. Show them how to click when they want to click.
What type of calls to action are you using with proven success? Please post in the comments below!
This article was originally published in 2011 and is updated frequently.