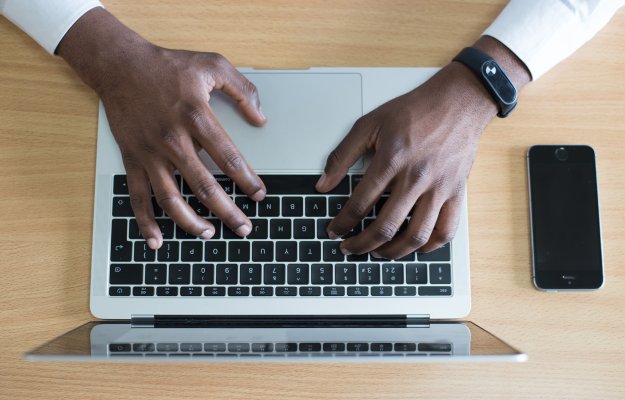 At Mequoda, we call any promotional email that features a single product or membership a Spotlight. When you're designing a promotional email, it's best to ask yourself: "how can I get the visitor out of this email and onto a purchase page as quickly, and as informed, as possible?"
The idea behind the Spotlight email template is that the publisher is shining a spotlight on one product instead of trying to sell a bunch of things at one time, like a catalog of products, or several different items. A Spotlight could also shine a light on an all-access membership pass, which we consider a single product, even though it includes a plethora of content.
There are plenty of benefits to featuring a single product, such as:
The ability to create multiple Spotlight frameworks, all promoting the same product, that you can test against each other and actively rotate to help vary the promotional messaging and avoid fatigue
Better conversion tracking from email because there's only one product to track
The ability to track different calls to action and copy within the email to see which one performs best for a single product
More creativity when testing specific vs. non-specific subject lines
Focus, focus, focus from your subscribers
A non-spotlight promotional email template is usually pretty messy and they remind us of Gordon Ramsay on Kitchen Nightmares. In every episode, he does three things: spits out their food, freaks out about how unorganized their cooler is, and tells them to chop their restaurant menu down to only a few items.
The reason is that buyers need focus. Having 50 items on a menu only confuses and distracts restaurant guests. Cutting it down to 10 things focuses not only on the guest but also on the chefs. Be responsible for only so many ingredients and dishes, and you can excel at all of them. Try to do them all, and you won't.
The same goes for email. Throw 10 different products at an email subscriber and you don't have the space to talk about each one. The subscriber doesn't know what to look at first, so they leave by closing the email.
But give them one thing to pay attention to, and not only do you have the ability to add more detail and "reasons why" they should buy, but the customer can quickly determine if the product is of interest and either close the email or keep reading and click through. The single-product Spotlight email allows you to be more dynamic every time you send one out.
Let's take a look at some examples of products that work well using the Spotlight email template:
All-access memberships

Magazine subscriptions

Newsletter subscriptions

Live events

Digital events
[text_ad]
Let's now focus on designing a promotional email Spotlight for an all-access pass, which we specialize in.
We'll reveal some of the promotional Spotlight frameworks that perform best for our partners when promoting their all-access memberships, so you can take a look at best-practice examples before you start designing a promotional email for your own membership library product.
Designing a Promotional Email with the Appeal of "Free": The "You've Been Gifted" Spotlight
What prospect of yours wouldn't want a free gift?
The "You've Been Gifted" Spotlight framework is a new twist on simply saying "FREE," and works well when selling an all-access subscription or membership where the vast digital library of back issues and content can be positioned as a "gift" for joining or subscribing—with the number of years or number of issues in the library used as a benefit.
Here is an example from Recipe Lion, where the "gift" is 75 digital cookbooks, 300 recipe videos and 10 cooking magazines. The subject line reads, "You've Been Gifted: 385 Cooking Surprises!"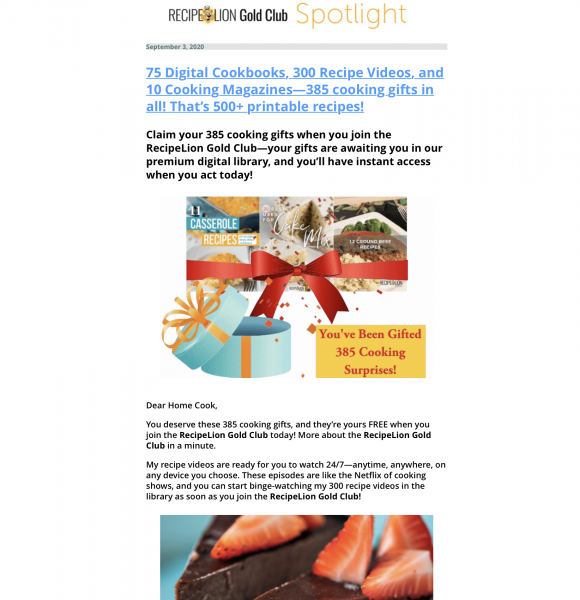 Another example of the "You've Been Gifted" Spotlight below from Yankee magazine features a "gift" which is the premiere issue of Yankee magazine that was published in 1935, a real collector's item! And yes, a digital version of the very first issue of Yankee was added to the digital library as part of the premium content: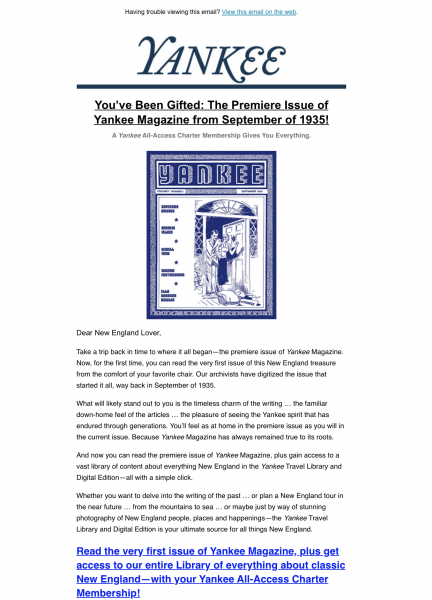 Click to see the entire message.
Designing a Promotional Email with a Special Offer: The "Charter Offer" Spotlight
The "Charter Offer" Spotlight framework is perfectly designed to highlight an all-access pass in a way that responders feel like they're "getting in at the beginning" with a new product or service. See how RecipeLion positions its Charter Membership in this magazine membership email marketing framework. A top subject line for these efforts is "Please Accept or Decline These Benefits."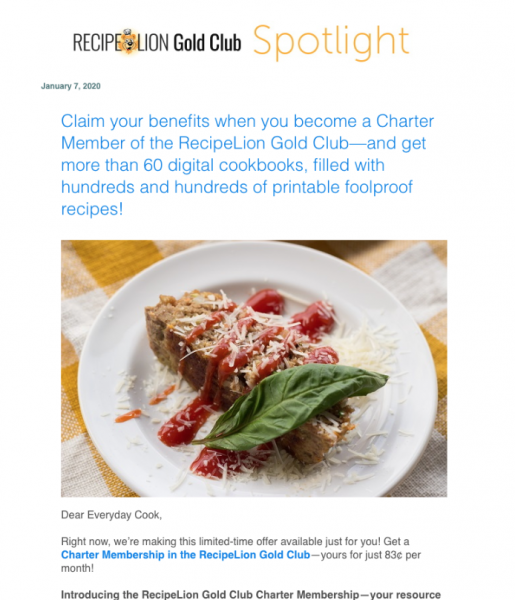 Click to see RecipeLion's Sales Letter Landing Page (SLLP) that details the Charter Offer.
Designing a Promotional Email with VIP Allure: The  "You Are Invited" Spotlight
The "You are invited" Spotlight framework appeals to anyone who wants to feel special about being invited to something exclusive—this approach works well with any type of membership offer, and here is an example from Cabot Wealth Network that invites readers to join their unique club for investors, Cabot Prime, which includes access to all of their Cabot Advisory Services.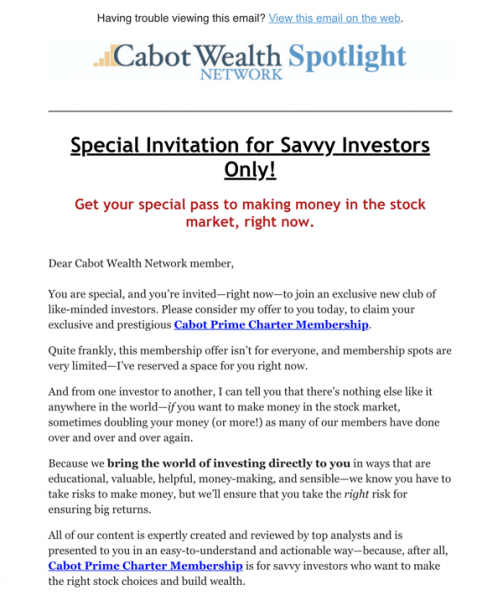 Click to see the entire message.
Designing a Promotional Email with Benefits: The "Statement of Benefits" Spotlight
The "Statement of Benefits" Spotlight framework is a digital take on an old direct-mail format—you've probably seen or received this type of offer in the mail, where all the benefits of the product are presented as line items in a statement-like format.
In this Statement of Benefits Spotlight framework, The Biblical Archaeology Society focuses on their magazine, and then teases the all-access pass in the last paragraph. When you get to the order page it is obvious you should take an all-access pass. Click to see the full Spotlight. The Statement of Benefits email is one of the strongest performing spotlights for all of our partners.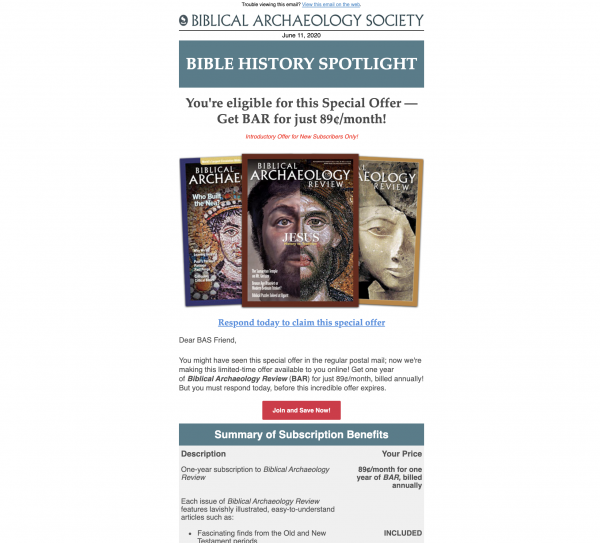 Click to see the entire message.
Another example is this spotlight from Food Gardening Network, with the email subject line, "Last Chance: Please Accept for Decline Your Gardening Benefits," one of our subject line formulas with the highest open rates.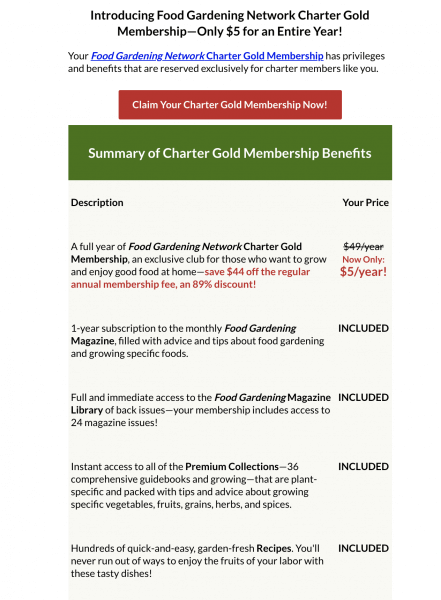 Click to see the entire message.
Designing a Promotional Email with Curb Appeal: The  "Hero" Spotlight
The "Hero Shot/Short Form" Spotlight framework works well when the offering includes highly visual products—and a multitude of platforms. In this example from Yankee, the image includes depictions of digital content, a magazine cover, a Summer Destinations guide, and the streaming video series Weekends with Yankee. The rest of this Spotlight framework simply states the product offering's features in bullet-list format with a prominent call-to-action button: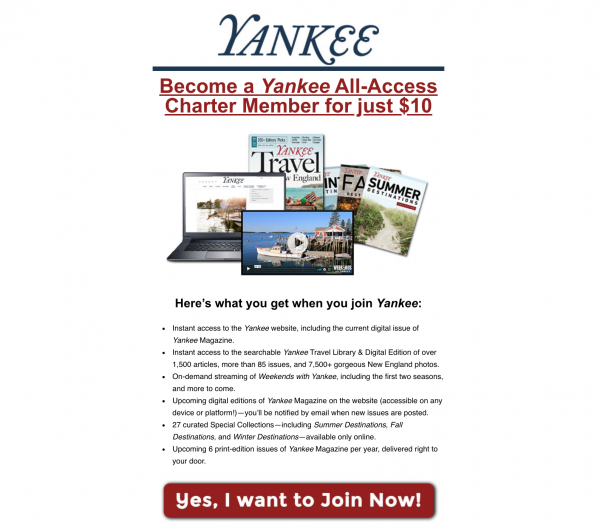 Click to see the entire message. 
Another Hero Spotlight from Yankee uses a large feature image above the list of benefits to get people's attention, then quickly get them to the order page like this eye-catching example from Yankee magazine that uses a plate of lobster, instead of the magazine covers.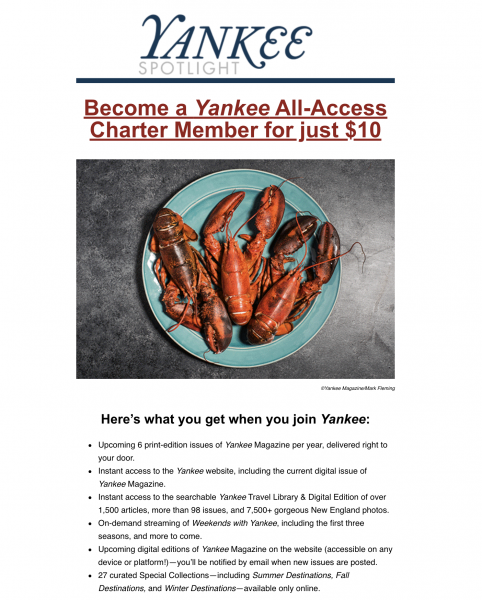 All of these Spotlight frameworks are examples of what's working for many of our Mequoda publishing partners—and, as always, we're constantly testing and seeking continuous improvement in our ever-changing world.
Tell me how you're using Spotlight templates in the comments!
Editor's note: This article was originally published in 2013 and is updated frequently. 
[text_ad]