A thorough look at what a complete Twitter Audit should tell you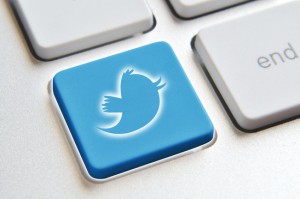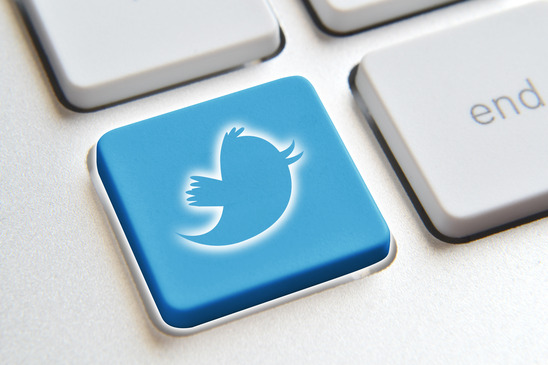 In the past we answered the question, what is a Twitter audit and showed you the first 11-question part of a Twitter content audit.
Many companies think the number of followers they have equals their influence in the Twitter ecosystem, but that's the furthest metric from the truth. The number of engagements you get from the content you publish is something you should keep an eye on.
And in order to do that, you must always be testing Twitter formulas.
[text_ad]
As you know by now, our 12x12x12 Twitter promotional strategy is the process we recommend publishers use to promote their content best.
12 unique tweets per post,
promoted for twelve days,
and again for twelve months.
Is my content being engaged with?
The second part of a Twitter Audit that you may conduct daily, weekly or monthly, is about whether or not people are engaging with the Tweets you're sending. (Read part 1 if you haven't already).
Of the 12 Tweets you send per post, which formulas are generating the most traffic?
Which ones are getting replied to most?
Which ones generate sales?
Which ones generate new email subscribers or leads?
Actively monitoring your feed can give you a basic overview of these answers. From this data, you can write better Tweets going forward. Most of this data can be discovered in Google Analytics and in your social media dashboard, if you are using a tool like Hootsuite or our own Haven Social powered by CoSchedule. Here's what 30 days of data looks like in Haven Social's dashboard: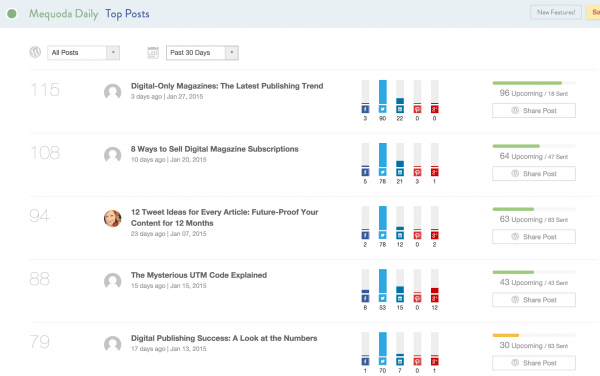 In general, you should always be auditing your Twitter efforts. And if you're new to Twitter, there are other things to look into before you develop a complete Twitter Strategy.
For example, who are you competing with?
It's not just your fellow publishing friends anymore – you have bloggers to worry about. If you want to know who's out there, try using tools like wefollow.
If you're Paleo Magazine, you can look up the keyword "paleo" to find 216 worthy competitors, including paleo blogger and author Juli Bauer, aka @paleomg, who has more than 23.3k followers, and @paleohacks, with more than 39k followers. Paleo Magazine, Juli, and PaleoHacks all do a great job on Twitter, but a new up and comer in the paleo market, or a less socially savvy magazine, might have a lot to learn from their Twitter circle.

[text_ad]
Where do you apply in the community?
Sure, it's easy to post and wait on Twitter: Post your content, then wait to see what people do with it. But what about actually spending time with the community and building up a little loyalty?
Audit your niche on Twitter by looking at HashTags.org and searching for Twitter Chats.  Joining these conversations will put your content in front of the right audience. There are many Twitter Chat lists here, here, and here.
How do people like what you're putting out?
At a conference a few years ago, Mike Hendrickson of O'Reilly told publishers to ask themselves these five things that I always remember:
What's my reach?
Are my Tweets interesting and informative enough to build an audience? Do people spread my content through retweets? Are people adding me to lists and are those lists being followed?
What's my demand?
How many people did I have to follow to build my count of followers, and are my followers usually reciprocated?
How am I at engagement?
How diverse is the group that @s me? Am I broadcasting or participating in a conversation? Hendrickson joked that "if you only Tweet about ice cream, you'll probably get all 35 ice cream people following you. If you want a broader audience, broaden your tweets."
What's my velocity?
How likely am I to be retweeted? Do a lot of people retweet me or are they the same few followers? How can I reword my tweets so that people find them interesting enough to spread?
What's my activity?
What's too much, and what's too little? Are my tweets effective in generating new followers, retweets, and @ replies? When I post more, do I get more followers or more unsubscribers?
When writing your 12 unique Tweets per article, keep these things in mind. Although there are many tools you can use to get this data, if you have a Twitter Ads account, you can also get most of this information for free. As you can see, New Year's Eve wasn't especially hoppin' for Mequoda!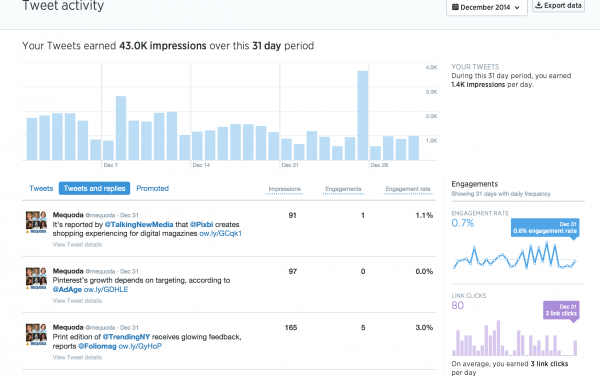 To get this same data, just log in to Twitter ads, head to Analytics, and then Tweets. It will give you engagement data for all your Tweets. Twitter is slowly rolling out built-in analytics for those with accounts also, so you can click on your own Tweets to see the responses.
Have you ever audited your Twitter account? Did it precipitate any changes in your way of doing things? If so, what kinds?
This article was originally written in 2012 and has been generously updated.