Guest blogging isn't dead for publishers doing it right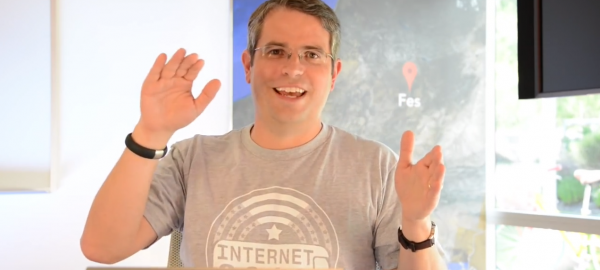 Yesterday I read Matt Cutts' new blog post—The decay and fall of guest blogging for SEO—that craftily puts guest blogging to bed, without truly banishing it forever. I know that many of our clients guest blog, so I wanted to just clear up how his response applies to you, the legacy publisher.
Cutts' response to guest blogging isn't shocking – spammers use guest blogging as a tool to game search engines constantly. What better way to get them to cut the crap, than to tell them it doesn't work anymore? More importantly, he called out these spammy folks to the people who have been victimized by them.
Matt Cutts called out a spammy email in his post, the same one tons of publishers get every day from different spammers. The email comes from someone, or a company, who offers free guest posts. The truth is that they're spammy SEO companies who will post links back to their spammy customers on your site.
Matt Cutts isn't referring to legacy publishers or credible online publishers who already have multiple authors. For example, one of our publishers, Natural Health Advisory, has two medically-certified writers who guest blog for Mother Earth News. He's not talking about them.
If anything, he's telling legacy publishers to be careful who they let guest blog. If you're letting a stranger write a guest blog, and you agree to let them have one outbound link in their post, then you're telling Google you support the site to which you're linking. If you let a bunch of spammy guest writers post on your blog because they offer it for free and you think all blog content is created equal, then you're taking part in a black hat version of guest blogging for SEO.
Let's dissect his post as it applies to publishers:
"If you're using guest blogging as a way to gain links in 2014, you should probably stop. Why? Because over time it's become a more and more spammy practice, and if you're doing a lot of guest blogging then you're hanging out with really bad company."
My dear legacy publisher, he's not talking to you. If you're guest blogging for the New York Times or Mother Earth News, you're hanging out with really good company. If you're guest blogging for a site like allthebestblogpostsintheuniversecontentfarm.com, then probably not.
Then he jokingly says:
"…this is why we can't have nice things in the SEO space: a trend starts out as authentic. Then more and more people pile on until only the barest trace of legitimate behavior remains."
You are legitimate. You are not some little blog with a bunch of scrappy guest writers, and you're not a little blog trying to get inbound links from junky little sites, either. Are you? You care about the content. At least one editor reviews the content you publish, maybe two or three. You're not some homespun blogger burnt out and looking for someone to fill the editorial calendar.
"In general I wouldn't recommend accepting a guest blog post unless you are willing to vouch for someone personally or know them well. Likewise, I wouldn't recommend relying on guest posting, guest blogging sites, or guest blogging SEO as a linkbuilding strategy."
The first part is applicable to everyone, but as reputable publishers I don't find this to be something you should be concerned about because you're probably already only taking guests posts from people and writers you trust for the same reasons I've already mentioned.
And the second part is understandably written to dissuade spammers from keeping up the practice. He has to scare them off somehow, right? But there are things we already know as white-hat SEOs:
Don't write guest posts and link back to yourself using the same anchor text every time (spammy)
Don't write guest posts on blogs that have a lower PageRank than you (not doing yourself any favors)
So, going back to my previous example of Natural Health Advisory, if you have two medically trained writers who are guest blogging for Mother Earth News, both parties are doing it right. And on the part of Mother Earth News, they have two trustworthy, credible sources of fresh content. Both parties benefit from this arrangement and it barely looks like what Matt Cutts is referring to at all.
In fact, after getting many questions, Matt Cutts updated the post, saying:
There are still many good reasons to do some guest blogging (exposure, branding, increased reach, community, etc.). Those reasons existed way before Google and they'll continue into the future. And there are absolutely some fantastic, high-quality guest bloggers out there.
And, the most important added tidbit for publishers:
I'm also not talking about multi-author blogs. High-quality multi-author blogs like Boing Boing have been around since the beginning of the web, and they can be compelling, wonderful, and useful.
My point is this: as a legacy publisher, you're more likely to be accepting spammy guest posts than writing them. So stop accepting guest posts from people you don't know and trust, and keep partnering with other multi-author blogs like your own.