The German magazine giant reports 8% of magazine revenues were generated online in 2007 and promises shareholders 16% for 2009
When FIPP Conference Moderator Mike Hewitt asked Andreas Wiele from Axel Springer Verlag what percentage of his revenue was generated online at last year's FIPP Digital Magazine Media Conference, he did not know.
This year the head of magazines for the German giant came prepared with an answer. For 2007, 8 percent of magazine revenues were generated online and by 2009 Wiele has promised shareholders of the publicly traded company the percentage will grow to 16 percent or about 400M Euros. Further, he has promised shareholders a 20 percent profit margin, or 80M Euros, in online profits.
The key online publishing strategy: Wiele says Axel Springer will no longer fear cannibalization of print by online media. His sentiments echo almost exactly what Time Inc. CEO Ann S. Moore said at the 2006 American Magazine Conference. Fifteen months later, People.com has become America's #1 magazine website with 10M Unique U.S. Visitors for January 2008 according to Compete.com.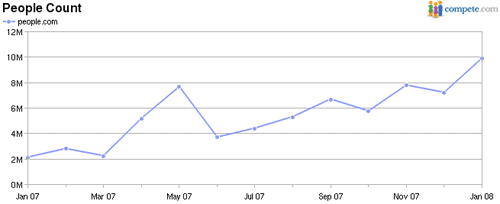 Can Axel Springer produce similarly spectacular results? Time will tell.