When selling a product through the retail channel, always give buyers your URL and a reason to visit to your website. Include, for example, an offer—either implied or overt—that encourages, requests, or requires the buyer to go to your site, a particular landing page, or an exclusive URL.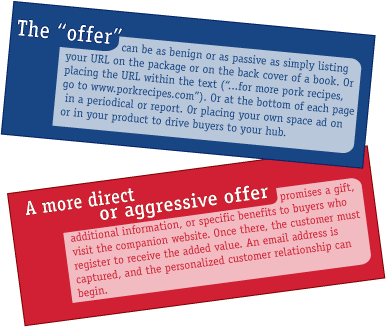 A granddaddy of this strategy is software manufacturer Intuit, which sells many software products, including a highly successful tax-preparation guide. The customer purchases a packet with a CD-ROM. When the CD is inserted into the PC, the individual must register in order to use the software. Intuit then has that customer information in a database and can use it to make special offers and market other products of interest—not the least of which are the annual updates to the tax-preparation software.
Any publisher of magazines, newsletters, books, or forms should be able to do something similar—with or without a CD-ROM. The advantage of a CD or DVD, though, is that it automates the registration process and dramatically lifts the number of people who go to the website to register.
Examples:
Self magazine, published by Condé Nast, sells workout DVDs in retail bookstores such as Borders and Barnes & Noble. Following the content description on the back of each DVD package, a message appears: "For more great workout ideas, visit Self.com." Once at the website, the visitor sees a prominent invitation to sign up for Self's free email newsletter.
The many "…for Dummies" books, published by Wiley Publishing, Inc., carry an invitation on the back cover of each book to go to Dummies.com to sign up for free "eTips" on a wide variety of topics in the Internet, computing, or general interest categories.
The Denise Austin exercise and weight-loss DVDs sold in retail outlets have her URL listed on the back, although it's a passive marketing device. No incentive is offered to get buyers to visit. Once on the DeniseAustin.com site, however, the visitor will find opportunities to sign up for a "Free Success Plan" and to access exercise routines, weight-loss tools, online dietitians, and live support.
Author Seth Godin includes an invitation on the back cover of his book, "All Marketers Are Liars," for buyers to visit a dedicated website for additional information and to sign up for his blog.
All of the various guidebooks published by Fodor's Travel Publications have a highlighted area on the back cover that invites readers to "enrich your experience" by visiting Fodors.com. There they can research and book airlines and hotels, link quickly to other travel sites, talk to fellow travelers, and sign up for Fodor's free weekly e-newsletter.
"The Wall Street Journal Complete Personal Finance Guidebook" and its companion "Personal Finance Workbook," which are published by Three Rivers Press, reference many worksheets and tools "that can help you tackle a range of personal-finance decisions, from creating a monthly budget to planning for your retirement." The worksheets and tools can be accessed for free at WSJ.com/booktools, downloaded, saved, printed, and recalculated. The Wall Street Journal, which is notable for its somewhat unique and continuing success as a pioneer of the subscription-website publishing model, unfortunately makes no attempt to capture any visitor information on the "booktools" landing page—except for an offer to subscribe to the online newspaper.
This article was written by Don Nicholas with the help of Jane E. Zarem. This is only one part of a whole series on using offline products to make money online.
See the rest of this series below: