Learn Steve Forbes' approach to online publishing
Gain immediate access to our Digital Media Podcast: Interview with Steve Forbes now
Forbes.com hit the online community in the mid-90s and took the industry by storm. At that time, the power of the Internet wasn't fully realized by most, but Steve Forbes already had great interest in it.
With a strategy in mind, Forbes began to show online publishers what's possible through the depth of the Internet. Now, almost 15 years later, Forbes.com is still one of the most successful online publications, reaching tens of millions of users each month.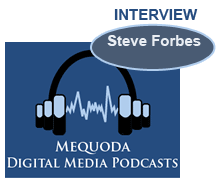 Our Digital Media Podcast: Interview with Steve Forbes highlights an interview Mequoda's Executive Director Don Nicholas conducted with Steve Forbes a few years back. The two publishing gurus discuss the successes of Forbes.com, the strategy that allowed for prosperous growth, and overall business practices that can be useful to any entrepreneur; especially all of you positioned in the online publishing environment.
A big take-away found in this digital media podcast is the focus needed for each medium a publisher embarks upon. A great deal of consideration needs to go into the planning of each medium's strategy as using the same strategy for each medium will most likely lead to failure. A magazine cannot simply be read on television, it's content needs to be adapted to that medium.
To experience the insight from Steve Forbes on his approach to online publishing with Forbes.com, download our Digital Media Podcast: Interview with Steve Forbes now.